Catching up with John Updike and the Roots of the 20th Century Cultural Wasteland
I've been reading John Updike's Rabbit novels.
This was a quartet that was published from the 1960s to the 90s that followed the career of an everyman shlub former basketball star, Harry "Rabbit" Angstrom, through the corresponding decades. It's been considered a modern classic and been featured on several "best books of the 20th century" lists.
I decided to pick it up after coming across a few articles condemning Updike: for what a misogynist he was, whether his career and reputation should be "cancelled" (that deplorable, soul-chilling term), the usual debates about whether an author's character can be divorced from his work. (Kind of appropriate, I suppose, since his stories center on infidelity and divorce.)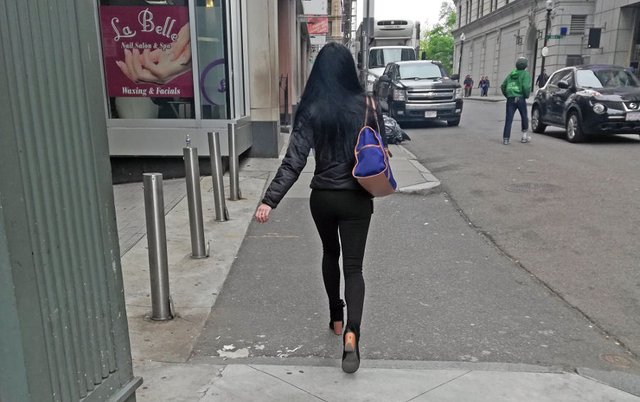 When I start reading hatchet jobs about an author or thinker I haven't read for myself, it makes me want to pick up their work all the more. Peterson, Houellebecq, Yiannopoulos...as soon as people start shrieking about an author without having read a word of his work--well, someone should actually read the stuff, don't you think? (I found a lot to like in the three I just mentioned. Courage, for one thing: the courage to follow the line of their own thinking at a time when social media brings the mob to any door within seconds.)
With Updike, though...well. He has me conflicted.
This is success of a sort. I like a book that keeps setting things off in your brain weeks after you've finished reading.
But.
My first reaction was this: Never has such exquisite prose been yoked to such a dismal story.
You can open at random to just about any page of Rabbit, Run and sink into language that is penetrating, psychologically powerful poetry. It's impossible not to point at passages and say "wow." I could do this all day but I'll restrain myself to a handful.
Harry seen through the eyes of his mistress:
She is struck by the helplessness in his posture; in the interior darkness, to which her eyes have not adjusted, he seems a suit of clothes hung from the broad white knob of his face.
I've felt that way on more than a few mornings, myself.
Harry meeting his pastor in the waiting room of the hospital where his wife is giving birth:
Rabbit stands up on ankles of air and Eccles comes over with that familiar frown in his eyebrows made harsh by the hospital light. His forehead is etched in purple. He's had a haircut that day; as he turns his skull, the shaved planes above his ears shine like the bue throat feathers of a pigeon.
The feeling of ankles of air-- doesn't it make you rise up on your own legs, almost involuntarily? And he doesn't talk about the head. it's a skull; with the feathers of a pigeon; this is language that brings out all the sharpest sensations of an acid trip. This is "stream of consciousness" done right.
Here's Harry resigning himself to fatherhood (you know, a few years after having his first child):
The fullness ends when we give Nature her ransom, when we make children for her. Then she is through with us, and we become, first inside, and then outside, junk. Flower stalks.
(I've never had a kid, in part because I've imagined just this feeling.)
Seeing his baby for the first time:
When Rabbit goes over to look at her, to reassure himself that she is there, he sees her somehow dimly, as if the baby has not gathered to herself the force that makes a silhouette.
Later, Harry faces despair as he learns that his baby has died:
Such an unnatural darkness, clogged with spider-fine twigs that finger his face incessantly, a darkness in defiance of the broad daylight whose sky leaps in jagged patches from treetop to treetop above him like a blue monkey.
The blue of the sky--it's alive. It's moving, and it's somewhere else. (As when Nick Drake sings of his own depression on Pink Moon: "Know that I see you. Know I'm not there.")
Finally, here's Harry when he's discovered that his mistress is pregnant too. Despite the loss of his second child (spoiler: his wife accidently drowned it in the bathtub) he's now going to be the father of a third, and the mistress, unspririsingly, wants him to make some plans:
He has nervously felt her watching him for some sign of resolution inspired by this speech. In fact he has hardly listened; it is too complicated and, compared to the vision of a sandwich, unreal.
It's this last quote that gets to the heart of my discomfort with this novel.
Harry Angstrom is an asshole.
I'm okay with the fact that very little happens in these novels. I think I was drawn to them in hope they might provide an antidote to the constant click-baiting, attention-grabbing, and general over-stimulation of 21st century living.
As Updike said of his own work, he wanted to "Give the mundane it's beautiful due."
We do need a bit more of that in the world. It's why I take so many photographs on the street, and comb through them for flashes of the sublime.
So it's not the slow pace that gets to me. It's that the little that does happen is just so dark and dismal, so easily avoidable, so frankly reprehensible, that I start to understand the recent condemnation of these novels.
I fucking hate this Harry Angstrom fellow. And Updike's skill at getting me into his head just makes me hate him all the more.
I hate his lazy, fat, peaked-in-high-school-athletics American complacency. I hate his idiotic lustful simplicity. I hate his smug, self-assured, swaggering confidence. I hate the way, in the later novels, he steps into the upper middle class through inheritance, joins the country-club set, and turns into the kind of entitled motherfucker that makes life miserable for anyone who works in retail or the service industry. I hate his casual spirituality, his confidence that while he may not know anything about religion, by golly he just feels that God put something out there and wants him to find it.
I hate how he so casually typifies everything that went wrong with families in the 20th century: affairs, drugs, drinking, broken homes, hippie communes, and the whole baby-boomer, it'll-all-work-out approach to parenting that's still fucking over every generation that followed, so that many of the millennials I know today have to work multiple jobs to support parents who couldn't be bothered to get their shit together.
These are the sorts of adults who sent to counseling to be told, "I'm okay, you're okay," when what they really should have heard was "If you're not going to stay married and raise your fucking kids, don't have the kids in the first place, you self-involved twats." (So, yeah, maybe I hate Harry because he so closely resembles the disposable father-figures my serial monogamist mother cycled us through. Three kids with three men? Why not! Groovy. Do what you feel!)
Much of the novel's power comes from the contrast between the author's intelligence and Harry's simplicity. This is an impressive trick: bringing such clarity to a man whose mind is terribly out-of-focus. But what's really interesting is how well these novels capture the boomer experience of the 20th century; with their dismantling of norms and behaviors and propriety.
When they were published, the Rabbit novels shocked conservative readers with their frank depictions of sexuality. From a modern perspective, these scenes feel passe. For example, there's an implied description of fellatio in the first novel that makes it sound so degrading I had to check Wikipedia to make sure I understood what just happened; the language made it sound like Harry was committing some kind of violent tentacle anal rape; nope, he just got a blowjob.
How funny that, Within a decade or Rabbit, Run, Woody Allen had a character in Sleeper mention that her college major was "Oral Sex." I wonder, if Updike hadn't opened this cultural door, would we have more taboos arond sex today? Would monogamy have remained a little more fashionable?
While Updike's work used to be bashed by conservatives, today it's liberals who condemn it. In its depiction of infedility and desire, of 1960s free love opportunism, we get Harry, a boorish man who actually goes around satisfying his desire. I can't help thinking what did you expect?
The counterculture sold itself pretty successfully by being sex-positive; I'm not sure what it's pitch is today but it's definitely not that. There's a real prudishness among the left today, or maybe it's just the eminations of fear and loating cycling around the Me Too movement. In any case it's interesting to see a work get attacked from opposite directions over a period of 60 years.
Anyway, I'm still nibbling away at the second book. I went ahead and read summaries of the rest of the series to see if the plot was going to continue as dismally as I expected. I mean, these aren't the sorts of books you read in order to find out what happens next; best just to get the plot out of the way ahead of time.
In short, yeah, the spoilers all confirmed that things are only going to get worse for Harry, anyone who meets him, and anyone determined to read about him.
But for some reason I can't help myself.
It's the language, man. The fucking language:
He hates all the people on the street in dirty everyday clothes, advertising their belief that the world arches over a pit, that death is final, that the wandering thread of his feelings leads nowhere. Correspondingly he loves the ones dressed for church; the pressed business suits of portly men give substance and respectability to his furtive sensations of the invisible; the flowers in the hats of their wives seem to begin to make it visible; and their daughters are themselves whole flowers, their bodies each a single flower, petaled in gauze and frills, a bloom of faith, so that even the plainest, sandwiched between their parents with olive complexions and bony arms, walk in Rabbit's eyes glowing with beauty, the beauty of relief he could kiss their feet in gratitute; they release him from fear.
He's so close to what could have been great about the last century; yet I can't help thinking he might have been instrumental in drilling the hole that let it all drain away.
I don't know how many stars to give these books but I know I'll never forget as much as I read.
Have you read any Updike? How did you feel about him?
---

---

---
Unless otherwise stated, photography is the work of the author. Feel free to copy, remix and share photographs from this post according to the terms of a Creative Commons Attribution Sharealike 4.0 International license.
Camera divider and signature illustration by @atopy.
If you'd like to read more, you can check out a categorized catalog of my posts on Steemit here.