"Read a Damn Book – 006: Dead Until Dark"
As I was re-editing this piece, it occurred to me how frequently my older daughter has had brushes with the medical field. Now that she's older and expecting a child of her own in a few months, let's hope the emergency room visits are behind us!!! On a more book related note, this is one of my favorite series (although it's not the type of book that I would usually read) and only the first of, I believe, five reviews of these books that I've so-far written. Book six is sitting around somewhere, and I may get to it someday, but probably not anytime soon...
"Read a Damn Book – 006: Dead Until Dark"
[Originally posted on March 3, 2017, by richardfyates]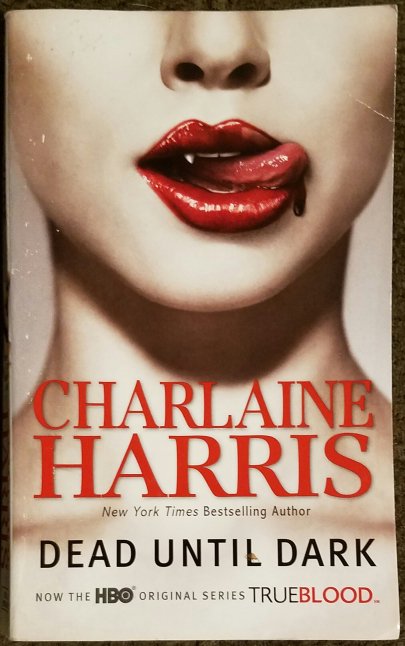 [This is a photograph that I took of the actual book that I read. The image is included for review purposes only!]
Charlaine Harris – Dead Until Dark (2001/2008)
Perhaps you are surprised to see a "paranormal romance" book in my list. Maybe you'd be even more surprised to discover that this was the 3rd or 4th time I've read this book…but maybe you shouldn't be. I originally bought this book (when it had a different cover) a decade or more ago when my daughter was having surgery to remove a "thyroglossal duct cyst," but as I'm phobic about hospitals, truly terrified of anything to do with illness or medicine, I was completely unable to focus on the story, only made it a few pages into the book, and then set it aside and forgot about it…
Flash forward a few years, and a professor of mine and I start working on a paper discussing the process by which vampires went from scary, soul destroying monsters to sparkly heroes (which we presented at a conference in Colorado Springs, and which was later published in the conference proceedings! That's right, I am officially a VAMPIRE SCHOLAR.) Meanwhile, this new t.v. show appeared, called TrueBlood, which my wife and I both enjoyed, and I spotted that the show was based on that book series that I'd started and forgotten about. At that point, my wife and I dove into the books, bought them all and read them, buying each new book as they came out, and loving them, until Harris ended the series with book thirteen. (Fitting.) My wife and I have both read the books a couple of times now. They are easy to read, fun, a bit disgusting, and a bit steamy.
For anyone who hasn't seen the show or read the books, here's the low-down. The premise is that vampires have "come out of the coffin" and presented themselves as real to the people of the world. An artificial blood drink has been produced that allows vampires to live without harming humans, and they want to be treated like normal people (who have a strange allergy to the sun and silver and garlic.) Sure. Our main character for the series is Sookie, a mind reading waitress, who falls in love with a Civil War era vampire named Bill. And then the fun begins as Sookie is introduced to the vampire world, and a number of strange creatures start popping out of the woodwork.
Truthfully, this book fits most securely in the MYSTERY genre, as the primary story line is about a series of murders that take place in the small town where Sookie lives, with the police wanting to blame either her vampire boyfriend or Sookie's brother, who seems to have had vigorous relations with all the deceased women. And I should mention that this series is swimming in (necrophiliac tinged) sex. It is a sweaty romance series, as well as a mystery series, as well as a supernatural fantasy series.
But why do I like the book? Like the Harry Potter books or Watership Down or even the Supernatural t.v. series, it's the familiar characters and the fun/intriguing situations that keep me coming back. Sookie is a girly girl, which sometimes gets on my nerves, as Harris will spend pages talking about the clothes that Sookie is trying on, the shade of lipstick, the way she's doing her hair… But then something hilarious will happen, like when Sookie uses her psychic abilities and the vampire catches her and asks her WHAT she is, and Sookie replies, "I'm a waitress." To me, that's funny.
So if you can handle urban fantasy with explicit undead sex, bloody murder scenes, and a sly sense of humor, then this book (and this series) might be for you. And YES, the books are much better (and make a tiny bit more sense) than the t.v. show.
—Richard F. Yates
(Primitive Thoughtician and Supreme Bunny Lord of The P.E.W.)
SUPPORT INDEPENDENT FOLKS WHO ARE JUST MAKING STUFF BECAUSE THEY LOVE IT!!!
https://steemit.com/@richardfyates
https://primitiveentertainment.wordpress.com/read-a-damn-book-list/
https://makersplace.com/store/richardyates/