"Blue Whale" (Game)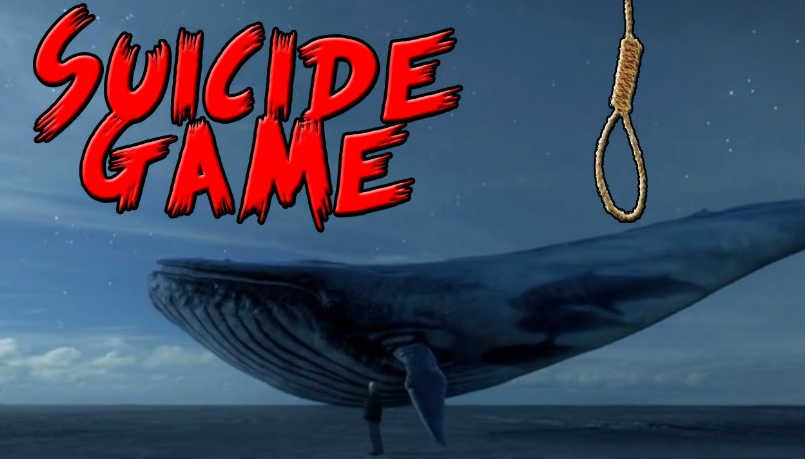 The Blue Whale Game (Russian) also known as "Blue Whale Challenge", is a 21st-century social network phenomenon that is claimed to exist in several countries, beginning in 2016. The game reportedly consists of a series of tasks assigned to players by administrators over a 50-day period, with the final challenge requiring the player to commit suicide.
"Blue Whale" came to prominence in May 2016 through an article in Russian newspaper, Novaya Gazeta, that linked many unrelated child suicides to membership of group "F57" on the VKontakte social network. A wave of moral panic swept Russia. However the piece was later criticised for attempting to make a causal link where none existed, and none of the suicides was found to be as a result of the group activities.
In 2016, Philipp Budeikin, a 21-year-old former psychology student who was expelled from his university, claimed that he invented the game in 2013. He said his intention was to cleanse society by pushing persons to suicide whom he deemed as having no value. Although originally claiming innocence and stating he was "just having fun", Budeikin was arrested and held in Kresty Prison, St Petersburg and in May 2016 pled guilty to "inciting at least 16 teenage girls to commit suicide." He was later convicted on two counts of inciting suicide of a minor.
In June 2017, postman Ilya Sidorov was arrested in Moscow, also accused of setting up a "Blue Whale" group to encourage children to self-harm and ultimately commit suicide. He claimed to have persuaded 32 children to join his group and follow commands.
Many of the countries including India, China, Pakistan, Italy, Kenya, Saudia Arabia, Russia and Turkey reported cases...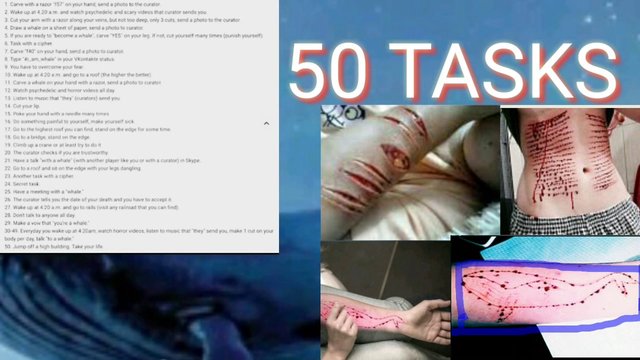 A Reddit user posted a completed list of tasks which were supposedly posted in a comment on a story about the game on a Russian news website. The list of 50 challenges has been translated from Russian:
Carve with a razor "f57" on your hand, send a photo to the curator.
Wake up at 4.20 a.m. and watch psychedelic and scary videos that curator sends you.
Cut your arm with a razor along your veins, but not too deep, only 3 cuts, send a photo to the curator.
Draw a whale on a sheet of paper, send a photo to curator.
If you are ready to "become a whale", carve "YES" on your leg. If not, cut yourself many times (punish yourself).
Task with a cipher.
Carve "f40" on your hand, send a photo to curator.
Type "#i_am_whale" in your VKontakte status.
You have to overcome your fear.
Wake up at 4:20 a.m. and go to a roof (the higher the better)
Carve a whale on your hand with a razor, send a photo to curator.
Watch psychedelic and horror videos all day.
Listen to music that "they" (curators) send you.
Cut your lip.
Poke your hand with a needle many times
Do something painful to yourself, make yourself sick.
Go to the highest roof you can find, stand on the edge for some time.
Go to a bridge, stand on the edge.
Climb up a crane or at least try to do it
The curator checks if you are trustworthy.
Have a talk "with a whale" (with another player like you or with a curator) in Skype.
Go to a roof and sit on the edge with your legs dangling.
Another task with a cipher.
Secret task.
Have a meeting with a "whale."
The curator tells you the date of your death and you have to accept it.
Wake up at 4:20 a.m. and go to rails (visit any railroad that you can find).
Don't talk to anyone all day.
Make a vow that "you're a whale."
30-49. Everyday you wake up at 4:20am, watch horror videos, listen to music that "they" send you, make 1 cut on your body per day, talk "to a whale."
Jump off a high building. Take your life.