The Blue Paper has been translated into French!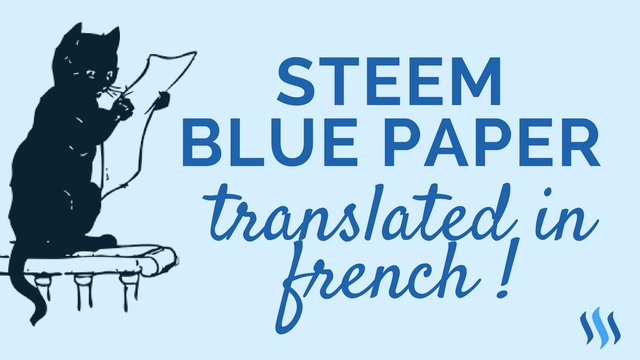 The Blue Paper finally in french !
With the massive arrival of new French-speaking users, I thought it was important to translate the Blue Paper, which is an a bridged version of the Steem White Paper for the general public, and more specifically, for content creators.
Comprendre-Steem ("Understanding Steem") already had the chance to (collaboratively) translate the White Paper into French. This time, for the Blue Paper, we have called upon professionals.
I encourage everyone to read the Blue Paper to get a better understanding of what Steem is and how it works.
If you're feeling courageous and want to know more, you can deepen your knowledge of Steem by reading the White Paper, which you can download here, in English. You can download the French version here.
As a reminder, both the Blue Paper and the White Paper show the concept and values of Steem as well as the way those values have been implemented into the blockchain.
You can find the Blue Paper in French on the Comprendre-Steem website and on GitHub.
A more accurate second translation
The BluePaper has apparently been translated twice by two Steem users. However, as you will see, there are two problems:
The document is only accessible through Crowdin provided you are registered on the platform.

The document was translated by non-professionals who used Google Translate and a French/English dictionary.
This resulted in incorrect French sentences, many spelling mistakes, or meaning less words/sentences. Moreover, some technical terms (such as Token and Proof-of-Brain) have been translated even though leaving them in the original language would have been more appropriate.
I would like to point out that translation is a real job. It shouldn't be left to improvisation, even if someone does it with the best intentions (and GoogleTranslate...).
That is why we wanted to give you this final translation. This version was translated and revised by three young people who are going to get their translation degree soon.
As you can see here under, we have even copy-paste the exact form of the original Blue Paper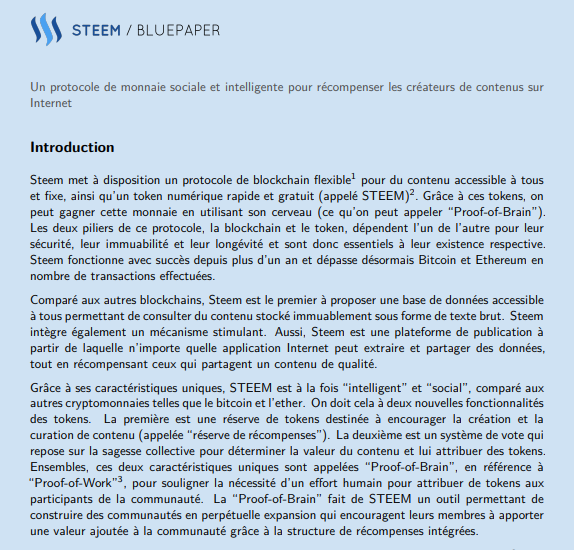 Please note that for the White Paper, Steemit Inc. has designated Comprendre-Steem as the depositary of the French version. In the same way, the Blue Paper will stay onComprendre-Steem's GitHub . However, as with any open source file, anyone can take it and use it however they like.