More Than 500 Millions Potential Subscriber That No Blogger Write for them Yet On Steemit
After couple months on steemit reading, up-voting, posting and commenting I have see only posts about steemit, introduce your self , cryptos, blockchain, some travel and photography but non of most topics searched by millions people every day.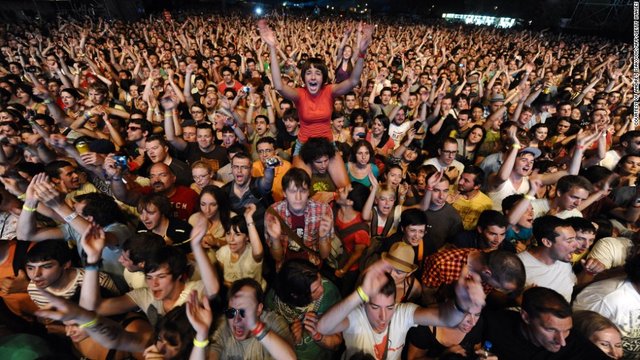 Steemit is a social network means a mix of information in all different topic, let's take Reddit as example if we search for any thing we will find social network in google results where we can find all kind of people and they talk about every thing. 
Here is a real example : if we search for the word fishing on google (one of the most competitive keywords) we find Reddit in the 5th position on the first page of google but we can't find Steemit in the first or second page, why: the answer is pretty easy there is no category on steemit called fishing, proof on the image: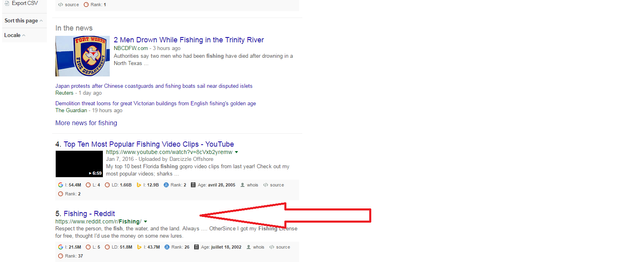 Why people don't find steemit on google first page:
Steemit is a baby and was created since couple months we all know about that but steemit also has more than 2000 bloggers with unique content what exactly google spiders are looking for, content is king all bloggers know about that too but they didn't start blogging yet, no blogger is writing about what people are looking for.
People can't know about steemit if Steemit people don't talk about, people can't ask for something unknown, I can't ask google : Hey Google tell me about some thing I don't know, that's insane.
Why bloggers need more subscribers on steemit : 
Most of bloggers try to do their best for money some earn others no, why: because there is not enough people on steemit, let's take an example if steemit has 100 millions subscriber and only 3% up-vote your post but every up-vote give you ~ 0.01$ , 3% of 100 millions = 3 millions, multiply by 0.01$= 30 000$ , it's huge so every body can make a lot of money.
I'm talking just about money that you can make on steemit and there is other opportunity for example you are writing reviews about tv's brands , companies can contact you and ask you to review some other products and they pay you for that review because you have millions of followers on steemit.
50 categories don't exist on steemit searched by more than 500 million person every month:
I have make a list of most topic searched every month, I will give you also 3 first search proofs from Google Adwodrs, just to make to post easy to read and not too long:
1/ News :  37,200,000 unique search per month only for this word not for all other related keywords , here is the proof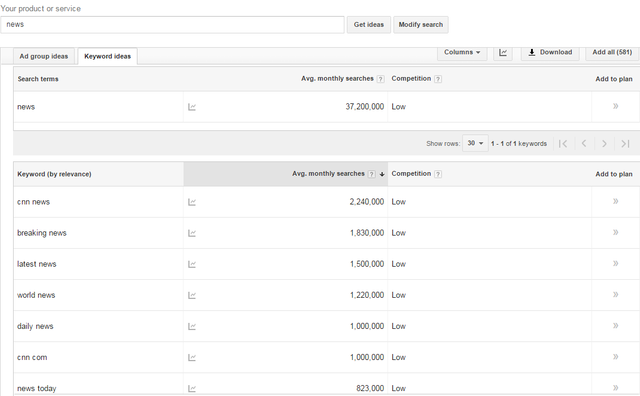 2/  Restaurants near me: You can write about restaurants in your city , this word is searched by 6,120,000 person every month, check the image :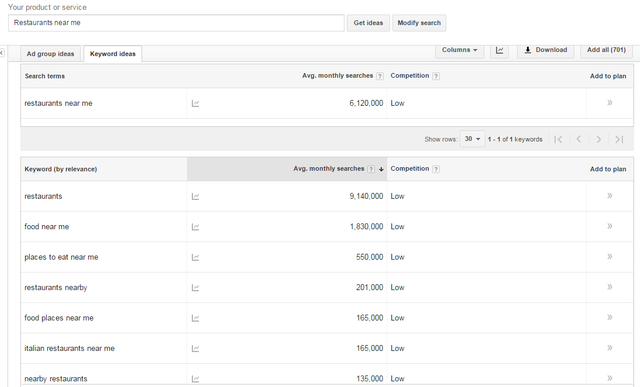 3/ Movies: Searched by  7,480,000 people every month, just this word of course and here is the third proof: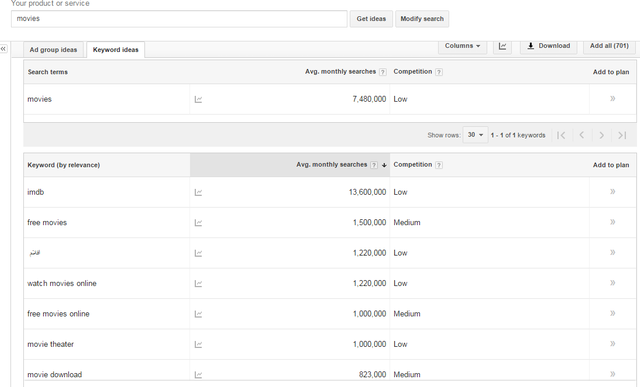 And here is the rest of the 50 topic that bloggers can write about :
cheap flights  
horoscope  
unblocked games  
mortgage calculator 
games  
love quotes  
restaurants  
social security  
pill identifier 
earth day quiz  
periodic table 
tis the season  
halloween 
quots  
cheap tickets  
cars  
reverse phone lookup 
scrabble word finder  
school closing  
once upon a time  
home  
flight jobs 
beauty fitness  
make-up 
Wood 
economy  
SEO search engine optimization  
book reviews  
products reviews  
decoration  
software  
hardware  
tutorial how to 
hotels review and tips  
recycle  
adventure  
dogs training  
cats training  
birds training  
fishing  
hunting 
educations blogs 
town culture  
music  
fish tanks and tanks
Conclusion: 
Lets make Steemit huge guys , if we can love steemit enough steemit will love us, lets make new topics and blog about every thing , check successful what they talk about, check successful bloggers like  stellabelle , cryptoctopus , sean-king , craig-grant and all successful guys what they blog about, I hope that help you and thank you for reading.