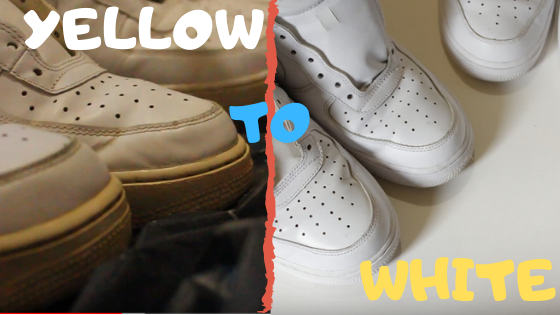 In this article, we will reveal how to unyellow shoes, follow this easy step by step guide to unyellow your shoes for less than $5. We will show you how to turn those yellow shoes back white at home. Spring is here and those white Air Force 1's in your closet have turned yellow. Here is your quick easy fix for that. First, let's look at why this happens.
Why Shoes Turn Yellow?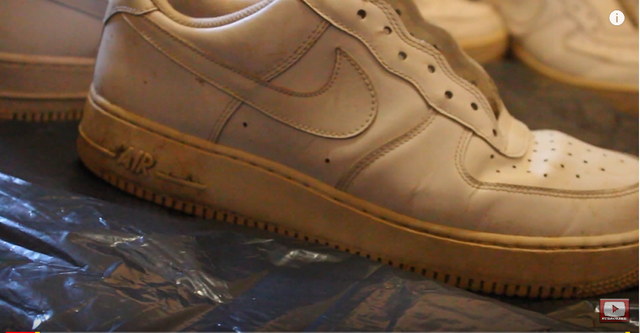 White shoes turn yellow over time for a few different reasons. The most common reason is being exposed to the air over time. Oxidization happens naturally. Some other reasons are sweat and dirt being soaked into the materials.
Another reason your shoes will turn yellow is cleaning them incorrectly. Not all cleaning supplies are ok to use on shoes. To learn how to correctly clean your white shoes check out this article.
With summer right around the corner, it is time to break out those white shoes. Unfortunately after sitting in your closet all winter those once beautiful white shoes have turned yellow. In this guide, we show you how to whiten those yellow shoes.
Step 1: Apply 40 Volume Crème
Assuming the shoes you just pulled out of your closet are clean we are going straight to applying 40 volume crème. You can find 40 volume crème at your local beauty supply store for under $5. If your shoes are not already clean check out how to clean shoes.
Picture of 40 volume creme being added to the sole of white air force 1.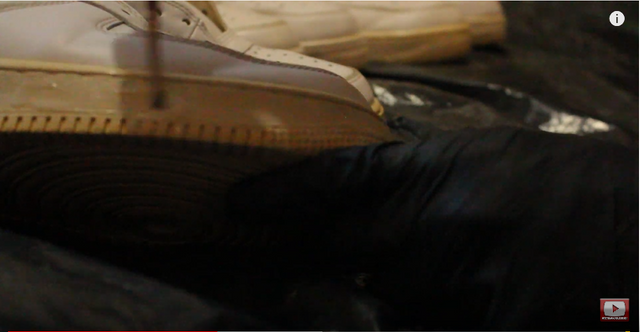 Using a paintbrush apply a good layer of 40 volume crème to the yellow shoes. Be sure to cover every part not leaving any empty space.
Step 2: Plastic Wrap
Pull off a piece of plastic wrap that is a little longer than your shoe. Place your shoe on the plastic wrap sole down. Wrap your shoe with the plastic wrap.
We find it easier to start at the toe of the shoe and wrapping around the shoe. The plastic wrap traps the 40 volume crème in place and helps to hold in the heat.
Step 3: Set Your Shoes In The Sun
After you have wrapped your shoes it is time to let your shoes sit in the sun. The sun will bake the 40 volume crème and whiten the shoes. We suggest rotating your shoes during this step.
Picture of shoes wrapped in plastic wrap and sitting in the sun.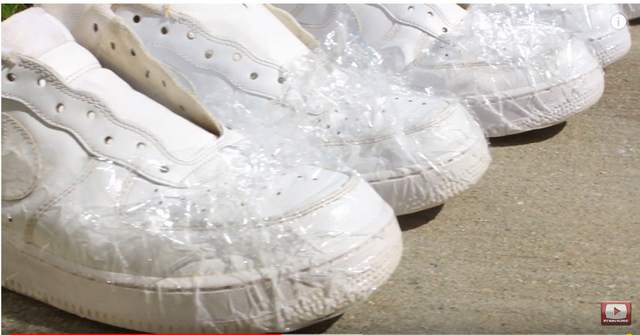 Start with your shoes facing down with the soles up. After 20 minutes place your shoes sole down. Do this to ensure that every part of the shoe covered in 40 volume crème gets hit by the sun. Leave your shoes in the sun 30-45 minutes.
Step 4: Rinse And Repeat
Remove the plastic wrap from your shoes. Using warm water and your scrub brush rinse your shoes off while gently scrubbing. Do not soak your shoes with water. You only need to let enough water hit the shoes to scrub off the 40 volume crème.
Picture of shoes being rinsed off.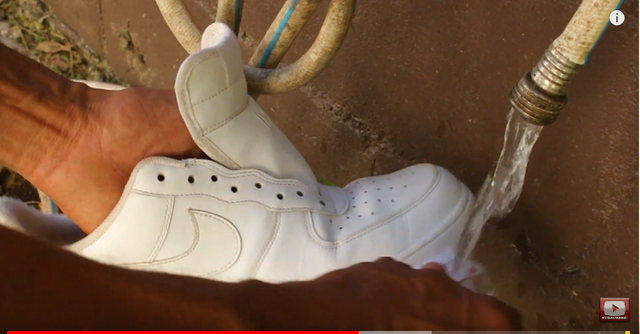 Depending on how yellow your shoes were, you may need to repeat the process 2-3 more times. Once your shoes are as white as you want them pat the shoes dry and show them off.
Oxidization happens to all shoes. You can use this method to turn your soles from yellow back to its original color. Below is a video showing you how to unyellow your shoes at home cheap and easy.