Background of Tantra
Tantra is often misunderstood in the West. The phrase can often conjure up sexual ideas, strange practices and difficult positions and the term is often used as shorthand for a certain type of sexual practice. Traditionally, this is not accurate. Tantra is a highly-evolved set of ideas with a long and fascinating history. It is more the study of turning the ordinary into the extraordinary and the sublime into the divine.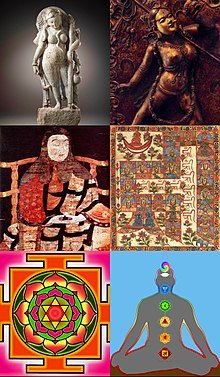 Tantra art
Tantra can be said to have been developed in the East in countries such as India, Japan, China and Tibet and overlaps with practices such as Buddhism, Hinduism and Yoga. The origins of Tantra are often unknown as the various practices differ widely and they are as diverse as they are fascinating to discover. Usually, it is difficult to label Tantra as any specific thing or practice. Some Tantric sects may perform certain rituals or have certain rituals but to label any kind of practice as specifically being "Tantra" is misleading.
The Seeker is often encouraged to discard the conventional in search of the spiritual. This can be done in methods that are very different to other practices. There are no strict and fast rules and the Seeker is not necessarily encouraged to lose interest in the material world. Most often, it is an internal journey within the seeker and those practicing are encouraged to find their own way to practice.
Although sexual activities are those most associated with Tantra in the West, it is really an all-encompassing spiritual practice focusing on much, much more both in the physical, material, intellectual and spiritual realms.
Tantra, as it is often practiced in the West today, can be labelled as being "NeoTantra" and bears little resemblance to ancient traditions. This, however, does not necessarily label this form incorrectly, although most modern people associate the phrase with esoteric sexual practices rather than an all-encompassing philosophy or way of being.
Those seeking purely sexual or hedonistic practices are encouraged to look elsewhere. There is a large element of the divine in the practice and there is much more to Tantra than most in the West commonly believe.
To discover Tantra is to discover yourself and your partner. To find the areas where you overlap and the areas where you differ. It is to submit to the divine and, in doing so, to achieve a higher level of spirituality. Yes, there can be sexual activity involved and when these energies are exchanged, the seeker will bring themselves closer to their purpose and to the divine.