The natural world, which I am sure I've said it before is all about balance - a balance between between a predator and its prey, which is not usually pretty to watch - especially if thus prey is an adorable seal or a cute penguin. However, it does seem at times that truces are called and somewhat accepted. It could just be that the predator is too tired or not hungry enough to chase a food opportunity that has just arisen.
Hence, this photo. We were cruising one afternoon in an area called Port Charcot, which is located at the north end of Booth Island on the Antarctic peninsula. This is when I saw something I couldn't quite believe...
---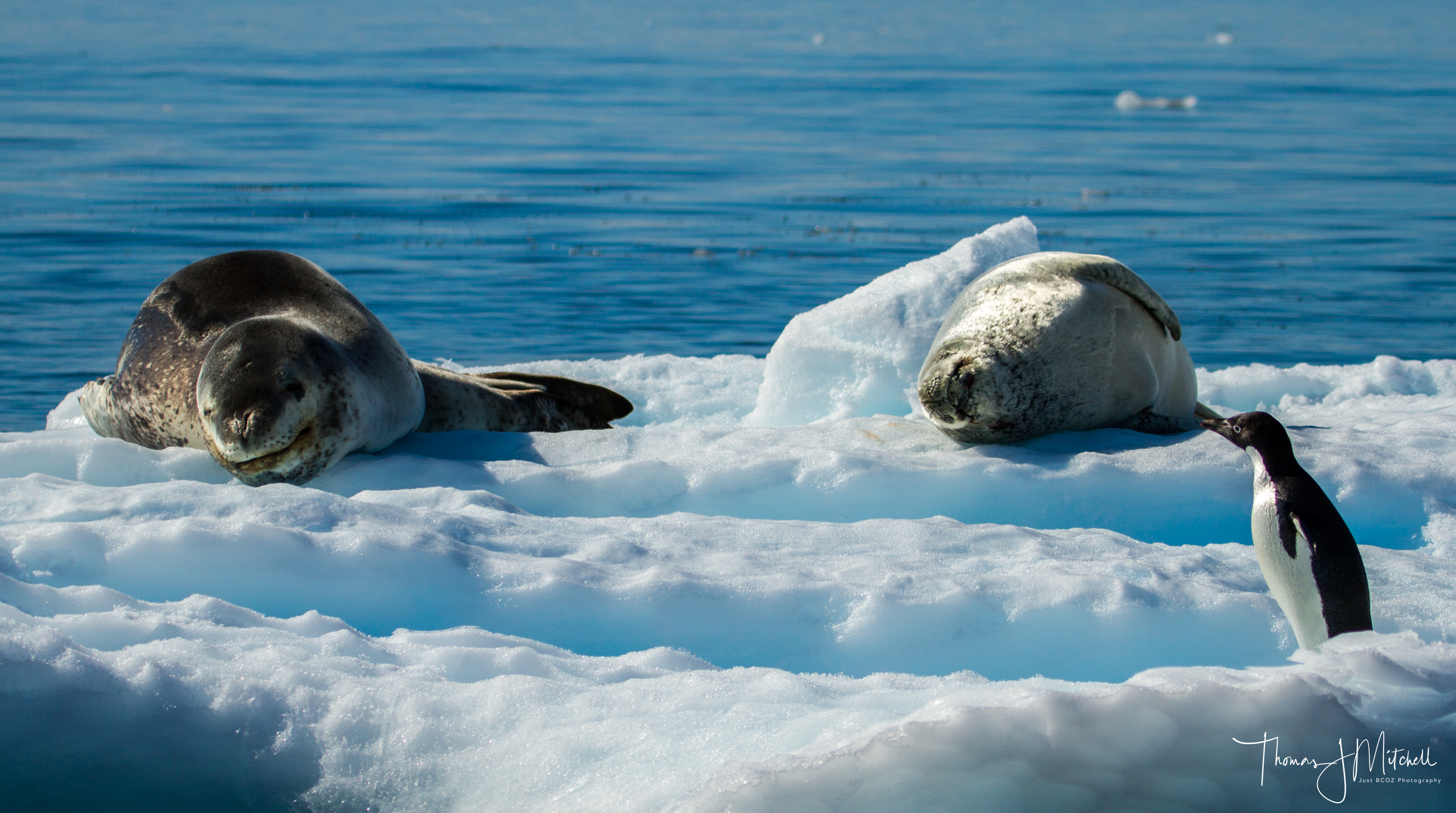 A leopard seal (left), a crab eater seal (right) & an Adelie penguin.
Click image to view full size.
---
WHAT THE HELL?!? Leopard seals are written off to most people as being this big bad predator that will eat anything cute that it can get close to. Obviously, not the case when its floating on a small piece of ice next to a crab eater seal (one of its food sources), and then an Adelie penguin jumps up and starts walking around it (also a food source).
It was an amusing moment, as the crab eater seal (right) was not fazed at all and I don't believe it even opened its eyes once while we were observing. The Adelie penguin though was squawking its head off and running around the Leopard seal. Followed by jumping in the water swimming around the ice floe and then jumping back onto the ice, just to continue squawking around the leopard seal. The leopard seal wasn't overly too impressed, as he continued to open his eyes and stare at the penguin with a ferocious glare, which looked like the ultimate death stare..
If you have read some of my previous posts I have mentioned that Leopard seals aren't all that bad as what people believe.
Here is the link:
---
The apex predators are not as bad as some might believe ~ https://steemit.com/wildlife/@thomasjmitchell/apex-predator-not-as-bad-as-some-might-believe
---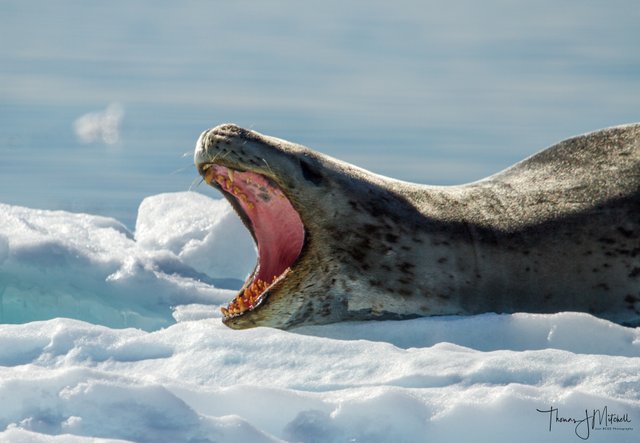 The leopard seal baring his teeth towards the brave and bold Adelie penguin squawking around him, as he was trying to sleep.
Click image to view full size.
---
Thanks for reading and all the support, Steemit!!
All stories & photographs are of my own work unless noted under the picture in question.
For more stories and photos check out my Instagram feed: https://www.instagram.com/thomas_mitchell2912/