Travel Blog - Ski Adventure and Road Trip to Auli, Uttarakhand in India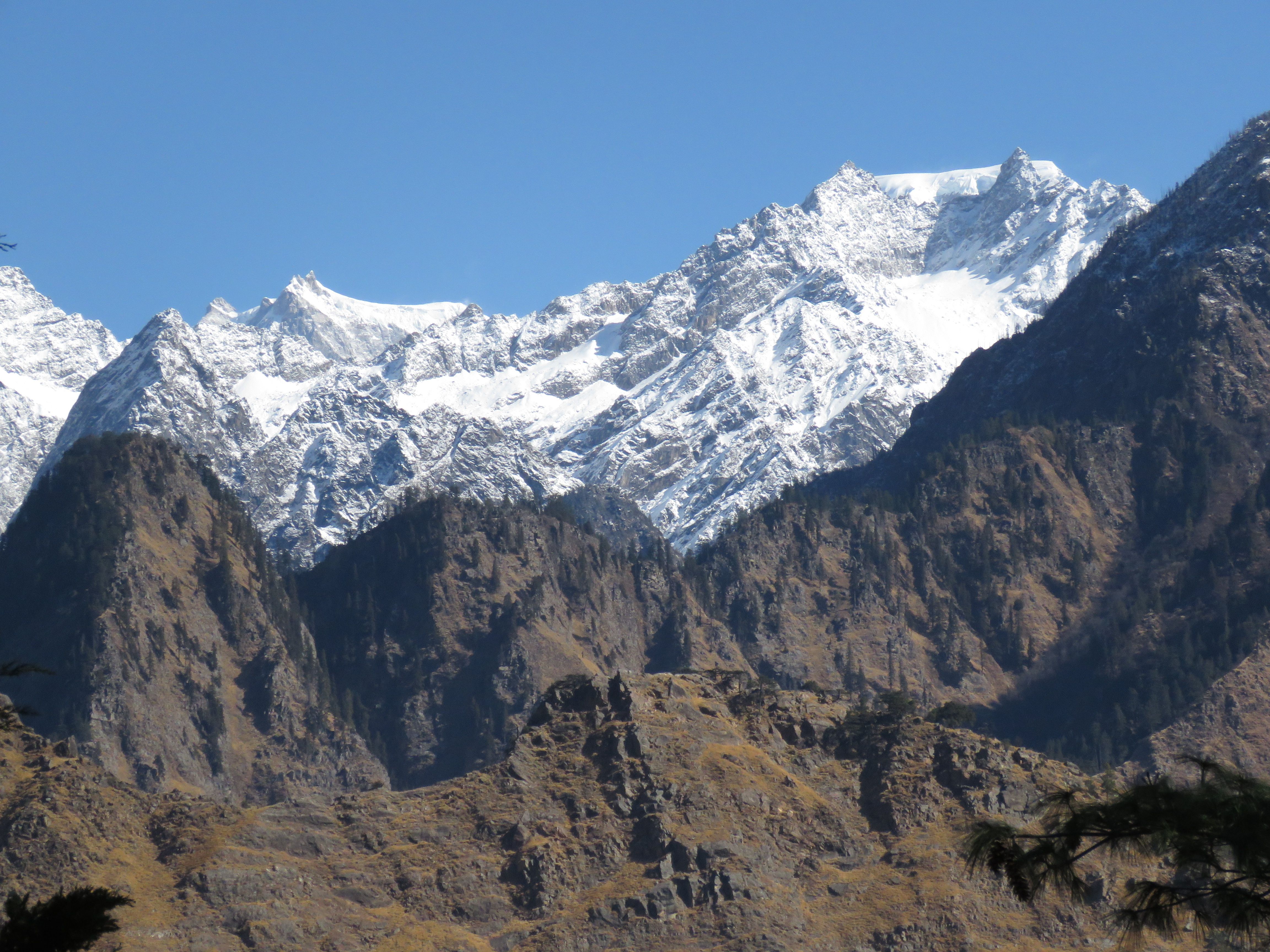 Auli, located in the hills of Uttarakhand, is a mesmeric place indeed. Sure, there are more scenic views across the state itself if not the country, but the charm lies in its people. Our journey is more about the great people we met on the way that defined our trip more than the adventures we did.
We decided to visit Auli more than a month back during one of our evening get together. The thought was random, but we decided to go ahead with it. With a decision taken to travel we quickly settled on the long republic day weekend which gave us a 4 day break from office.
Preparation for the trip - Our preparation revolved around four key areas:
Stay – We traversed through multiple hotels and resorts from the expensive to the downright cheap lodges. We would have gone through each hotel's review on TripAdvisor, Google ratings etc. and finally booked Dream Mountain Resort. The Resort is based in Joshimath close to the Rope-way which takes you to the snow clad slopes of Auli directly.
Transportation – The drive to Joshimath/Auli is around 505 Kms from our office (our boarding point). We started by searching for Self Driven Car rentals since we were 5 people with sufficient bags. After exploring/negotiating with several renowned players like Myles, Avis, Zoomcar etc. we settled with a local taxi vendor who charged us Rs. 13 per KM + Rs. 300 per day driver allowance for a 7+1 seat Innova along with a luggage carrier (we specifically asked for it). This was a really sweet deal since we got ourselves a private registered vehicle instead of a commercial vehicle.
Gear for Snow – Once the two key areas were covered, our thoughts now focused on getting the right kind of gear to counter the cold which was expected to range between -5 to 10 Degrees. Decathlon was our first choice of course due to the quality and budget. More about the gear is covered in this section.
Food and other travel articles – Lastly we sourced food and drink which were high on sugar and energy content to face the extreme weather. We stocked ourselves with Frooti, candies, Dry fruits (Cashews and Almonds) Gajak and of course our trusted Rum with individual hip flasks to show off. We also took medicines for cold, fever, anti-vomiting and stomach relief. First aid kit, Hanzo wildlife Knife (really mean stuff), Large Swiss Army set, magnesium rod to start our own fire (Oh yes, we were prepared for anything)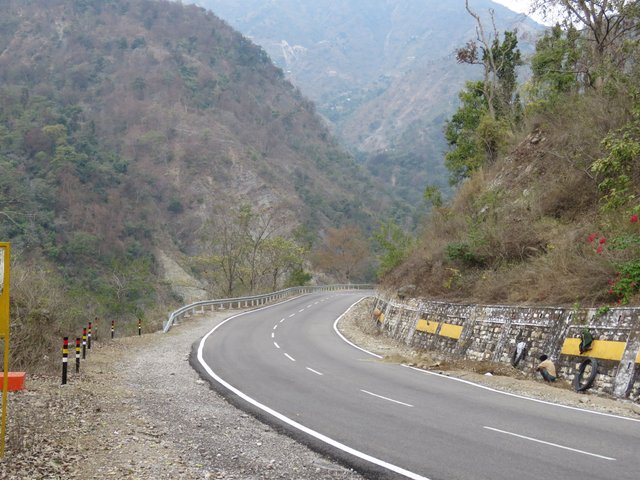 Day 1: D-Day arrived and we quickly wound up our work to start our journey at 5 PM (delayed by one hour from original schedule). Ours is a small office and practically everyone on our floor knew about our sojourn and some of them came down to wish us happy journey. We knew we would have to brace for a lot of traffic knowing lot of people would be travelling out of the city just like us. It took us 3 hours just to get out of the city (30 mins stoppage to pick up additional drinks and additional medicines). Our first stop was at a local dhaba to eat dinner at 11 PM.
We knew that we had a 14 hour plus drive and it made sense for us to stay somewhere overnight than drive non-stop. So we decided to stay in Haridwar at a cheap motel on the recommendation of our driver since we hadn't planned this stop previously. The overnight stay cost us Rs. 1000 for the five of us and gave us a comfortable bed to sleep in (Not the cleanest one you will ever get though).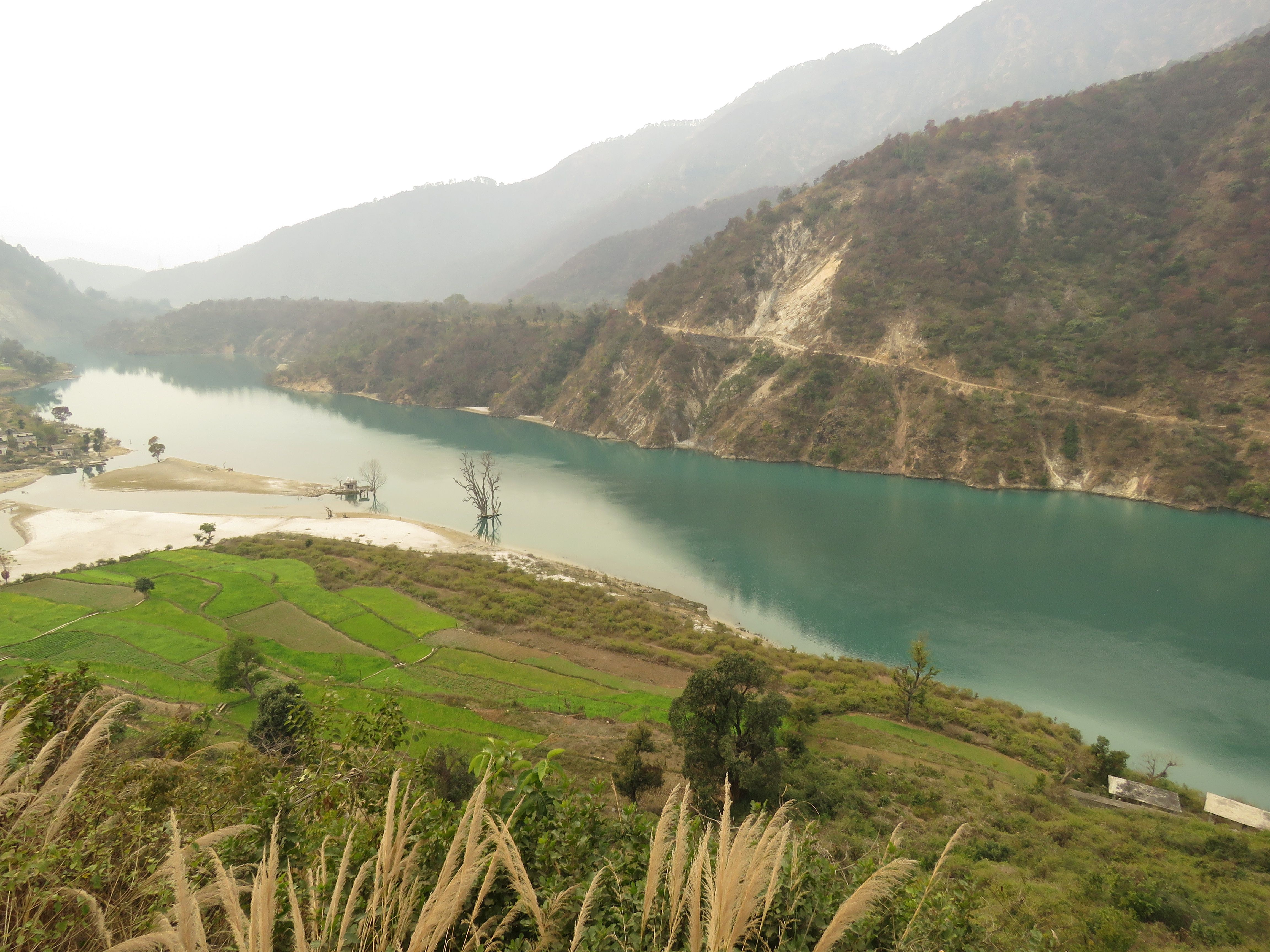 Day 2: After retiring to our beds we had planned to move out by 6 AM to reach our resort by 6 PM in the evening, but we overslept and started from Haridwar only by 9 AM after repacking our bags which were taken out previous night. For our breakfast we stopped at a local dhaba at Byasi. We stopped at one point post breakfast when we realized our car started smelling foul. The reason was a faulty clutch plate. The driver cleaned up the filter hoping that it would resolve the issue. It seemed to do the trick momentarily and we moved ahead.
We stopped frequently thereafter to either take pictures at scenic points or for some refreshing tea. All this while our fuel levels were coming down and our driver insisted on getting refueled at a later point. For some reason we also were okay with it assuming he was under control. The driver skipped a few petrol pumps and when our driver finally decided the stop the pump was closed (Oh the horror). That's when we started to panic a bit. It was post 7 PM and almost all the pumps close down and we didn't know this (inexperience). Our fuel level had hit the reserve and knew that we might not make it to the next pump even if it was open. Quickly we decided to stop our car outside The Uday Palace hotel at Pipalkoti around 7.30 and started asking around for spare diesel to reach our destination. After approaching several hotels, one military depot, shops we finally found one generous hotel named Alaknanda who helped us with 10 liters of diesel (phew!!). They overcharged us very nominally considering we were in dire need, we were glad not having to pay two or three times the market rate (Our first experience of meeting Good Samaritans). Happy that we had enough gas to reach the resort we resumed at 8.30 PM. On our way we realized that we were right in making that stop as there were no souls for the next 30 odd kms on the dark roads and kept wondering what would have happened if he had not stopped.
Finally we reached our resort just before 10 PM and were quickly helped to get our luggage off the car and into our rooms. The check-in was smooth and the rooms provided were great. Even our driver was offered a room to sleep with meals taken care of. Sohan Rawat and his boys took care of wonderfully for the next two full days.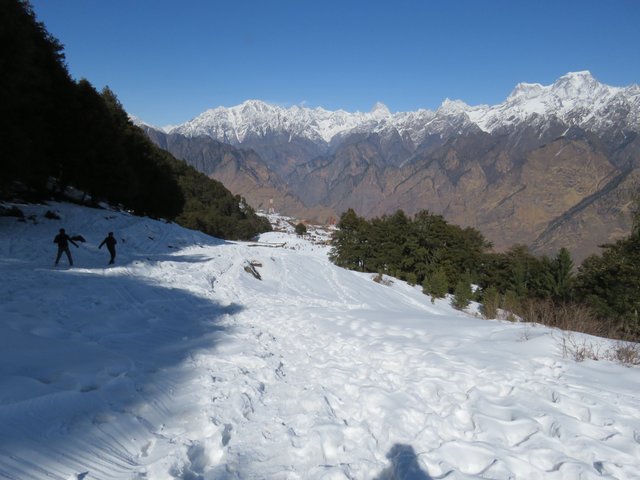 Day 3: As usual we had decided the previous night that we would move out of resort early to start skiing as early as possible and then move on to trek further up, but as usual we were lazy getting off our beds and got going only around 11 AM after a wonderful breakfast. The early morning view from our balcony was covered with thick fog which had engulfed the mountains in the distance. We could barely make out what was in front of us. On top of that it was raining since early morning and we were certain it was going to test our gear and us today. We reached the Rope-way at Joshimath after a brisk walk of 1 KM through rooftops and by lanes. To our amazement the place was teeming with people mostly from Delhi who had come down to experience Auli. We were late in getting a ticket for the Rope-way and were left wondering what to do. Finally we became adventurous and hired an open Bolero Pick-up truck (Yes you heard it right) to take us up 14-15 Kms to the GMVN resort from where we could use the chair car. The drive was truly magnificent to say the least. We were actually enjoying the mist across our faces while driving in the open pick-up jeep. The view was foggy and biting cold, but our hip flasks filled with rum made it exciting. We had to wear our Balacklavas to endure the cold wind. Onlookers were gazing at us with amazement. We were pretty excited and were waving back at people. Towards the end of the journey we saw snow on the sides of the roads. Tree leaves were lined up with snow on top of them. Some trees were so close to us that we could disturb the snow resting on top of them. Trust me this was one of the most amazing short rides ever taken by us.
At the GMVN we picked up 5 tickets for the chair car and got our chance to ride it at 2.30 PM. The entire area as covered in snow with fog covering the entire sky. The chair car ride was thrilling to say the least and of course very cold. Once we got down we started looking for Mohan Rawat our guide for the trip. He met us at the man-made lake and from there we commenced our 1.3 Km trek up to the Pillar number 10 of the rope-way to commence skiing. This trek took us around 1 hour and was very tiring for us. If we were not short of breath after a few steps then lack of grip at other places kept us busy. We had to stop on place to calm our breathing down. We resumed again after some refreshments and started climbing again. Oh by the way the view was magnificent even though most parts of the Nanda Devi range was engulfed in thick fog in front of us. The place looked as grand as any other mountain you will come across. More of this awaited us on Day 4 when the sun was out.
On the base of Pillar number 10 we set our gear down and ate some Maggie and hot coffee. One by one all of us started to wear the ski boots (They are pretty heavy) and strap ourselves on the ski ledge. Only Avinash knew how to ski since he had taken classes previously. The rest were grappling with balance and ensuring not toppling over. We spent the next hour and a half trying our hand at skiing while taking pictures and videos of us managing it.
We finally called it a day (forced rather by the timing) at 4.30 PM since we had to make it back in time to catch the chair car by 5 PM to avoid being left out in the cold. We managed to take a slightly different route on way back which was faster but ever so dangerous due to slopes on both sides. Finally we made it back to GMVN and hired a Maruti 800 to drive down to our Resort.
Back at the resort we were happy to eat some well-deserved snacks and hot tea after a long day. Our fitness tracker indicated a walk of over 7.5 Kms throughout the day. After a nice dinner we retired for the night prepping ourselves to go back earlier to do more skiing or trekking depending on what each one of us wanted.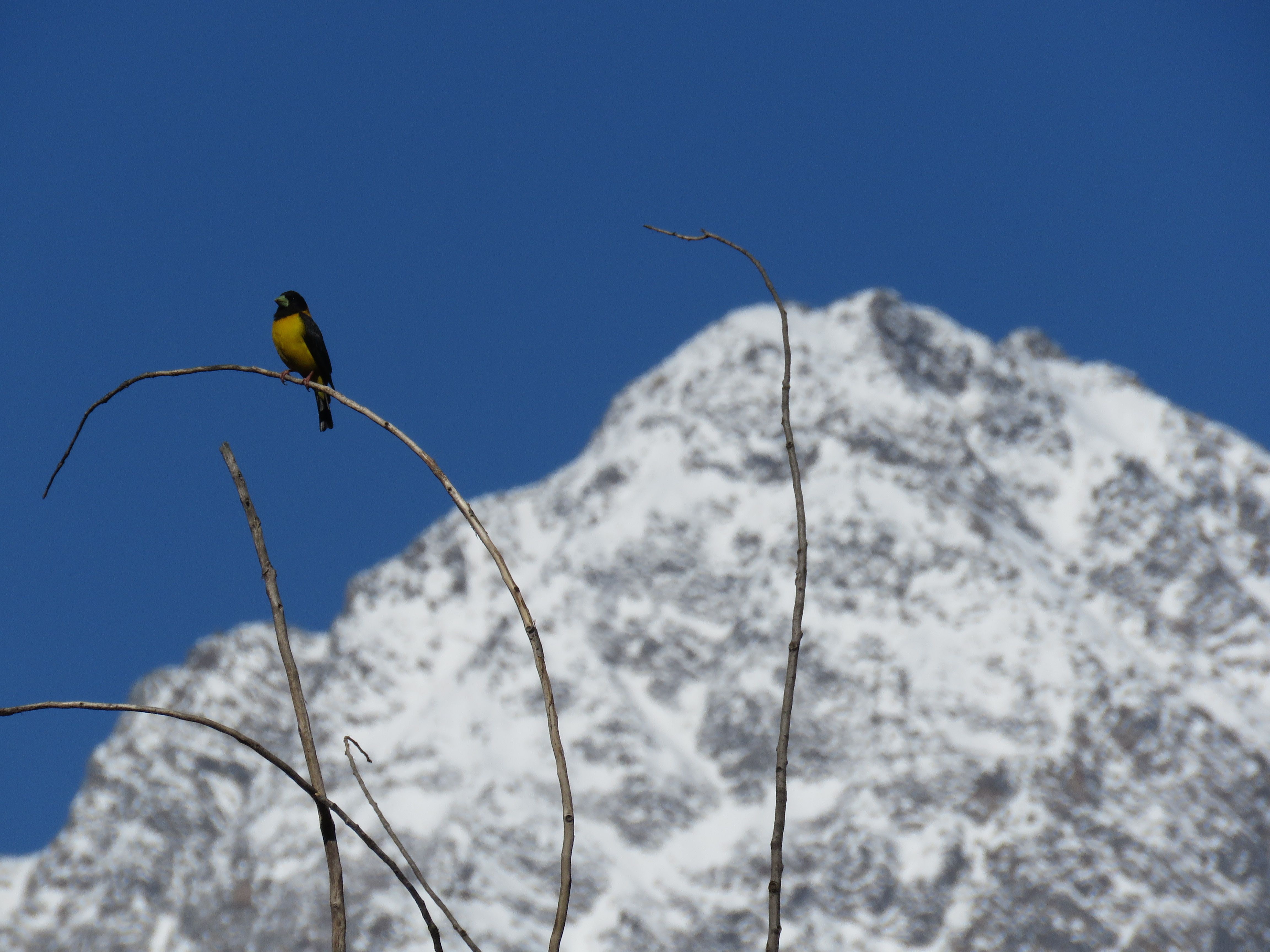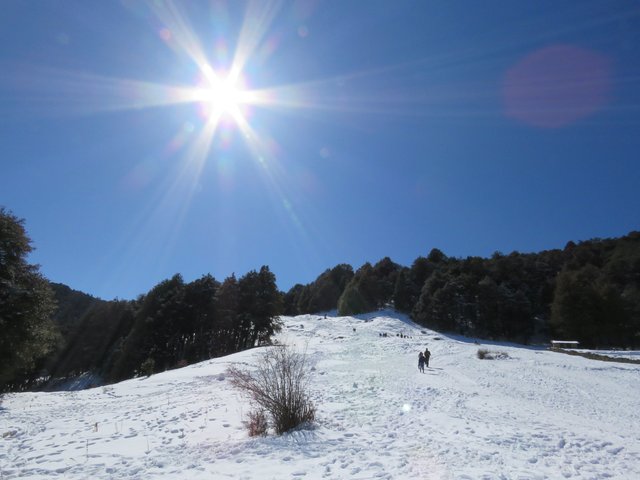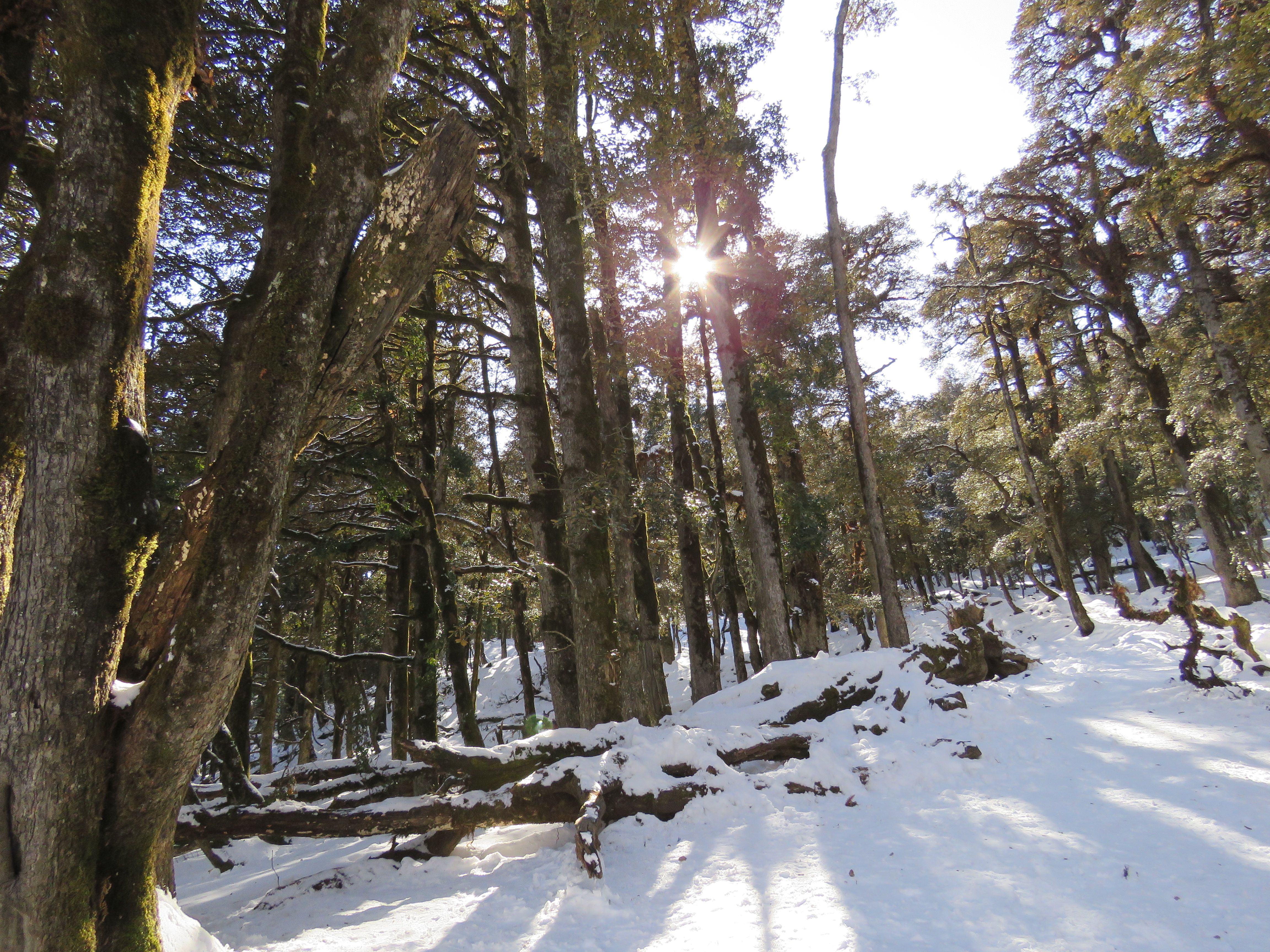 Day 4: The view today from our room was breathtaking as the weather had cleared up. You could see the Nanda Devi range right from our balcony in all it majesty. The peaks were covered in snow and offered you an unmatched scenery that city dwellers can only dream of. The early morning sun gave us ample opportunity to take out our cameras. We even made friends with Tuffy – a three month old pup who took a liking for our faces.
Sohan's team had arranged Rope-way tickets for all the guests at the resort who wanted to go up to Auli. This was a nice gesture since it saved us the hassle of standing in a long queue. We got a slot at 11.45 AM, so after a hearty breakfast we left our resort at 11.30 to make it on time for our onward journey.
The Rope-way can carry 25 people plus the controller. Trust me 25 people in that cabin is a lot and obstructs your view of the outside especially if you are stuck in the middle. That said it still gives you a nice view while making the ascent. The entire journey takes approximately 20 minutes to complete and takes you right to the final point which is pillar number 10. It was very today and we needed to get our Sunscreen and sunglasses out to protect from the blinding light. The sun at this altitude can really hit you in the eye and one needs to take precaution. The weather was perfect for skiing and trekking. We split in three groups – Avinash and Sanjeev L opted to have fun with skiing, Rohit and Ankur wanted to go trekking upto a point referred as the 'Mini Switzerland', while I stayed back to venture into the adjacent forest to click pictures. The weather while being warm was still cold inside the forest with the snow melting off the leaves and falling beneath.
We continued this way till about 5 PM and then boarded the Rope-way back to Joshimath. We had managed to negotiate with Dinesh (the Rope-way manager for Pillar 10) to grant us extra time on the slopes. This was again one more gesture of kindness shown by a local person.
Once back at the resort we changed into more comfortable clothes and prepared some wood for evening bonfire. By now our limbs were pretty sore from all the walking and skiing for the last two days. We all decided to call it a night by 10.30 knowing we have come to an end to a memorable journey.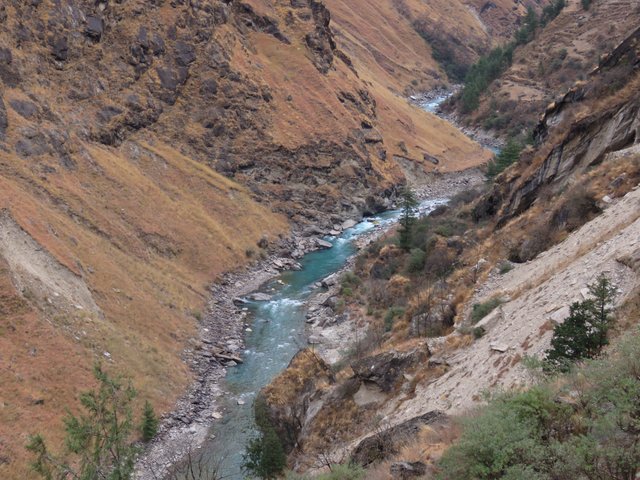 Day 5: We all woke up late today at around 9 AM and realized we were late to get up. We woke up slowly, packed up our stuff and checked out post breakfast at 11 AM. We bid farewell to the entire staff and clicked pictures one more time.
We had decided to stop at one more place on our way back to Delhi and decided Tapovan Hot Spring was the place to visit since it was close by (17 Kms). Tragedy struck when our Innova couldn't climb the hills any more. The faulty clutch plate had given up and she couldn't drag on any further. Luckily we were able to reach a local garage and they coordinated with someone who had a new clutch plate and pressure plates for Innova. The garage even sent us a pick-up truck just in case we couldn't drive back down to the garage.
At the garage we were told that it would take upto 4-5 hours to repair the car before we could resume our journey back home. This gave us an opportunity to hire a taxi and head to Tapovan and off we went in a slightly less adventurous Tata Sumo.
At the Hot spring we managed to boil some raw eggs, potatoes and Maggi which we had collected on our way. It turned out to be a good exercise and were able to boil each of them and eat it as well.
We headed back to the garage at 5 PM to pick up our stricken car. After some further refreshments at a local dhaba we started for Delhi. At this point we were also told that the local cops prevent you from travelling on the highway beyond 8-9 PM due to traveler and local wildlife safety. We were concerned since we were desperate to reach Delhi by late night so that we could get some sleep and resume office from the next day. We managed to cover most of the hills on the way down but were stopped at the Srinagar check post by the state police. After some convincing we managed to move further only to be stopped again at the next check post. Again we took some time to convince the police to let us go so that we could reach home. Our final police check post was at Rishikesh which was a shorter halt.
Relieved that we didn't have to stay back for the night, we were confident of reaching Delhi by early morning. We stopped at a local dhaba post Haridwar to eat dinner and proceed further. It was here that our journey came to a halt – FOGGG!!!! It was massive and near zero visibility. Our driver tried in vain to navigate through the thick fog but to no avail. We decided to park our car off the highway and rest inside the car till the density of the fog reduced.
Day 6: Our late night driving had ensured that we hit Day 6 of our journey. We finally managed to resume our journey at around 6.30 AM after a quick tea. Since the driver was beginning to tire, Sanjeev L opted to drive since he had prior experience in handling an Innova. We made good progress in cutting the distance but we knew that we were about to hit the Delhi/NCR Monday morning traffic (ARGH!!). We had to slow down our pace considerably while crossing the Meerut Bypass and our worst nightmare came true when we hit NCR at around 9 AM. It took us a further 3 and a half hours navigating through the rush hour.
Finally our journey ended at 1 PM on Day 6 and everyone headed home to change clothes and head back to office.
It was an incredible journey with a few up and downs which made the trip all the more interesting. We would like to thank Sohan, Rahul, Subhash, Arun, Mohan, Dinesh, Anuj, Hotel Alaknanda and many more who made this Journey incredible.
A big salute to the spirit of the people of Joshimath/Auli.
Travelers:
Sanjeev Raghu - Author
Sanjeev Lamani
Ankur
Rohit
Avinash
!steemitworldmap 30.5376 lat 79.5642 long description d3scr