1000+ Followers Milestone Reached Means Time For Stats: How Important Is The Followers Metric Anyway?
Reaching a milestone is always pleasant, but I can't help but wonder how valuable a thousand followers actually are. But first let me thank you all!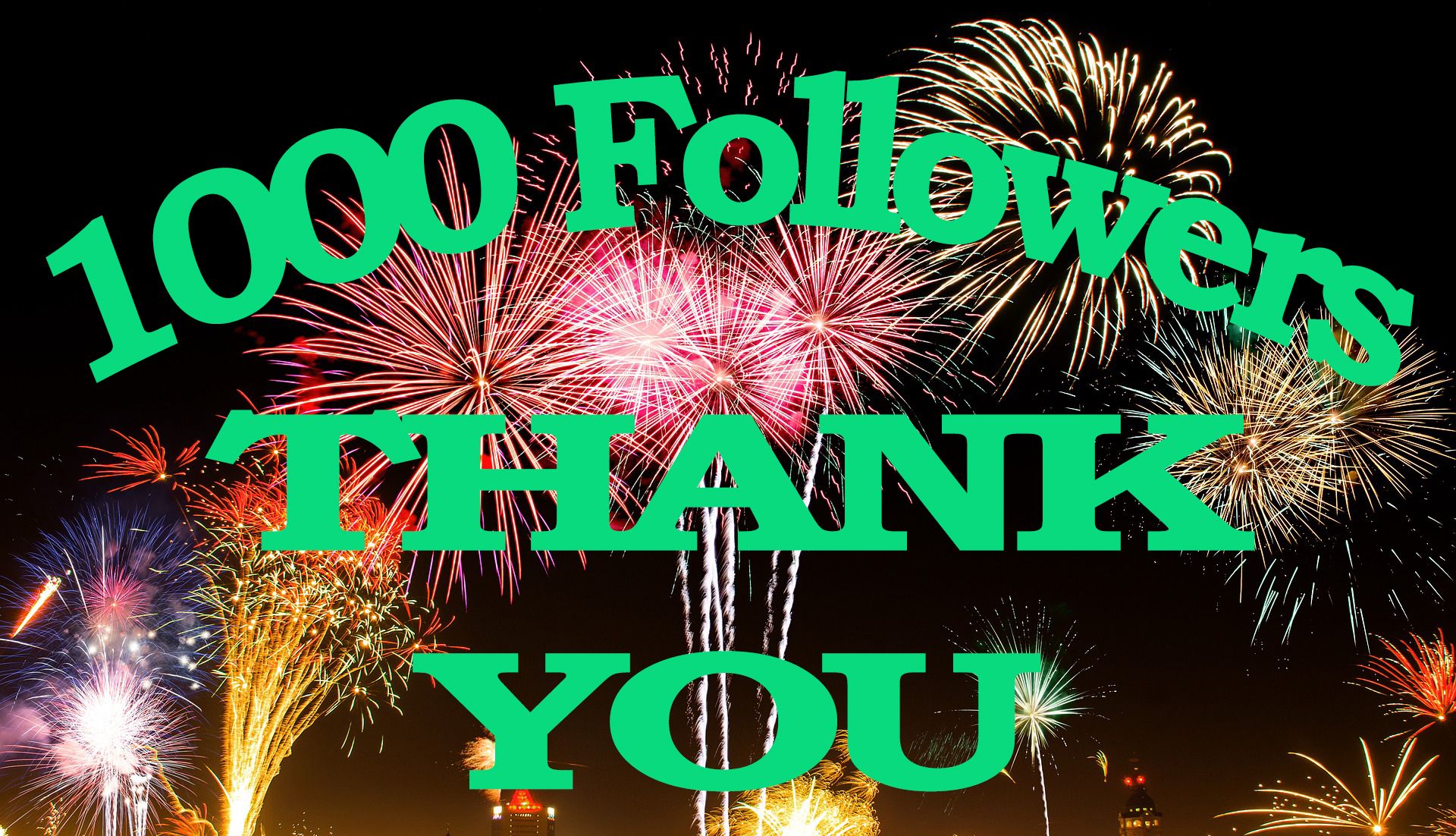 Source
I really appreciate the fact that I got to this milestone and it was a real honor and a real pleasure to be here. I came here in May 2017 with very low expectations and a lot of curiosity, but the Steem blockchain has become an important part of my life. I'm really thankful to have met a ton of interesting people, to have made a ton of new friends and to finally feel like being a part of an online community is worth the time and effort - that's a feeling I had forgotten a long time ago.
I'm really thankful to everybody that has decided to follow me and to everybody that has supported me in one way or another!
I couldn't take a screen shot of the round 1000 followers mark, but I actually have an equally significant figure about in binary: 1024 or 210.

But while this milestone does feel like a worthwhile achievement, it's value might deserve some probing into. While there are certainly a number of people who are following me that I really appreciate and often engage with, this metric is bound to include some or a lot of dead weight. There are certainly people that are not active, people who never look into their feeds and accounts that were never people to begin with who'd follow you just for the follow-back so they can resteem spam into your feed.
But since I don't want to be guessing in the dark what is going on, I decided to mark my milestone with a little case study.
My Follower Stats
I wanted to know how many of my followers are actually people who see and enjoy my content even if it's just a tiny bit. So I decided I'm going to check what percentage of my followers has actually upvote any of my 2018 content. Just one upvote on any of the 32 posts that I've made this year would qualify a follower as an active one.
At the moment I conducted this little case study, I already had 1027 followers, so I took that as my sample. I looked at all of my posts from 2018 and recorded everybody that has upvoted any of them. The number of unique accounts that have upvoted at least one of those posts turned out to be 672 at the time the study was conducted.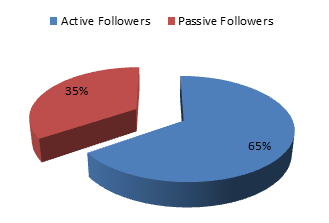 An inaccurate way of interpreting the data
On the face of it, this seems like very good engagement with almost two thirds of my followers giving me upvotes, right? Well, that's not really the case as not everybody who has upvoted at least a single post is necessarily a follower. So let's actually compare the lists properly.
The number of unique accounts that actually follow me and have upvoted at least one post of mine since the beginning of 2018 are actually 266. This means that almost 26% of my followers have engaged with me at least once. It also implies that more than 74% of the people who follow me have not upvoted a single post made by me in almost a month and a half and it might be fair to consider them inactive followers. If the sample period was shorted, there engagement would probably be even lower. It's also interesting to see that my followers comprise about 40% of my unique voters. Still, this does not mean that 40% of my total votes come from followers as followers are more likely to have upvoted me more than once (as there are people who have upvoted posts from me dozens of times already).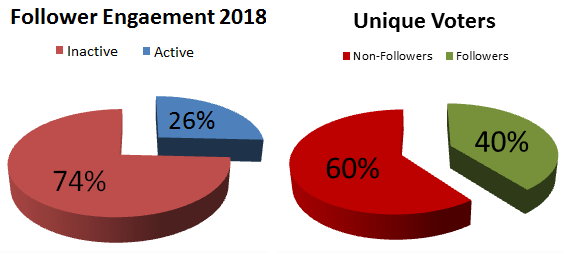 Is This Representative?
Of course not, this is justs a simple case study I have compiled based on my own data extracted from busy.org and steemd.com. One could look a lot deeper into this issue, looking at repeated upvotes, not just unique upvoters for a lengthy period, considering voting power percentage and steem power, but I will not go deeper than this today. I hope it's still interesting to look at.
---
Do you think your stats will be similar or different?
---