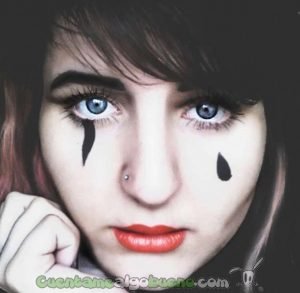 Source
Good morning steemians today I want to present one of my writings, this is a novel in which I seek to explain the feeling that may arise in a person due to the circumstances of life. This novel consists of several episodes that can be enjoyed in future installments. The story is centered on Amelia, a girl who had a childhood full of joy, but as it grew several circumstances made that tender girl has changed a little, becoming a woman with tempera and heart of stone.
Episode I "From happiness to anguish"
Amelia was born in a wealthy family in a small town called Acacia, her parents spoiled her because she was the only daughter, her childhood was very happy, between gifts, trips and games, however this was not going to last long since 10 years a tragedy occurred, his father lost his life in an accident, he fell off a horse while riding outside of the city, although his death was full of mysteries because the horse that supposedly rode did not appear, it was only the chair next to the lifeless body of Álvaro, Amelia's father.
Ana (mother of Amelia) and Amelia herself, upon hearing the news, were overwhelmed with anguish and great sadness, her whole world fell apart, as the father was the manager of all the family businesses, the future of the women seemed unencouraging. Álvaro had a brother named Aníbal who, together with him, was leading the reins of the company, which was in charge of manufacturing fabrics. Ana went to Hannibal and asked that Amelia's early age be explained to her in the business.
So it happened 5 years and at the age of 15 years Amelia was already with her uncle at the head of the company, but again the tragedy assaulted her life, since her mother became ill with a serious illness and died quickly. From that moment, Amelia's personality changed a little, she did not laugh like before, the deal with her employees was much harder, she did not look like a girl her age. And how to blame her if she was pushed to be an adult prematurely. One of his virtues was his great intelligence, which made his vision was much broader than his uncle, he to notice that and as Amelia was a minor, he sent her out of the country to get her out of orbit. In those years Amelia learned from many cultures, visited many countries, Europeans, Africans, Asians and South Americans, enriching her imagination, becoming a young polyglot, already at the age of 18 she decided to assemble her suitcases again for another trip, but this time To return to his hometown, and recover what rightfully belongs to him, Hannibal knew perfectly well what would happen in the next few days, so he was waiting for Amelia's arrival to face her ...
This concludes this episode, the next installment of this novel called "Amelia the indomitable" you can enjoy in my next publication, says goodbye to your friend @mariam007.