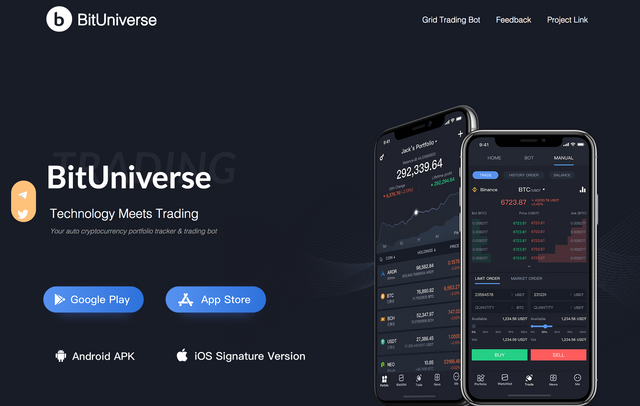 I was looking for an alternative to Blockfolio and came across BitUniverse. Downloaded my copy from the play store and it seems to pack a LOT of features. I'm not sure where to start but i'll try to cover the basics. For starters it's got realtime coin tickers along with support for 6000+ coins and tokens.
It also supports 240+ exchanges, has 3-Layer security protection, AES encryption, code security review and AWS Private VPC. One of the cool features which I am yet to try is the exchange trading terminal and grid trading bot.
BitUniverse also claims to be one of the first cryptocurrency portfolio apps which supports auto tracking of your your crypto balance and profit from exchanges or wallets. This sort of makes it easy to keep track of the changing portfolio values; not just it's worth but also changes in crypto tokens held by us.
It also supports switching to be fiat currency, BTC and ETH based data which is pretty cool in itself. Although it's the trading bot features that might interest many users in addition to the portfolio capabilities.
BitUniverse supports more than 22 exchanges for trading your coins including Binance, Huobi, Bittrex, OKEx amongst others. Their new Grid Trading Bot feature supposedly lets us make more profits. Although I'm yet to use it. If you have any experience with it please give me some feedback in the comments below.
The app also claims their average annualised return of their users using Grid Trading is over 100%. It seems a little too good to be true but i'm hoping to test it out soon enough with a small sum and see if it yields any profit.
You can join their telegram group to learn more: https:/t.me/butrader
Their partners are Mars Finance, BitMax, BitForex, Slowmist, Wandarin and BitRabbit and after some quick digging on social media it turns out that many users indeed prefer BitUniverse over other rival apps.
You can visit their website here to learn more about the app.
Lemme know what your thoughts are if you have been using this for a while and please don't forget to mention what features you love the most.
---
If you like my work kindly resteem it to your friends. You may also continue reading my recent posts which might interest you:
---