Through the Trodden Path
"Arms stretched out long, rigidly dangling over my right shoulder screaming with tears streaming down his round rosy cheeks "daddy, don't go!" This was the moment I realized our story book life had come to a complete end."
---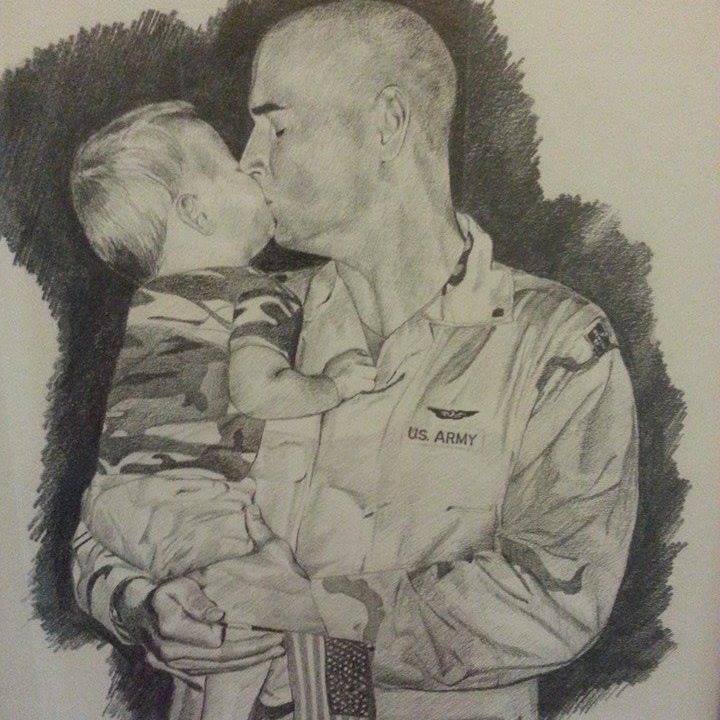 ---
This is the first few sentences of my book I am in the process of creating. It will be a book to help military spouses work through the difficult task of deployments and the aftermath of deployments, as I know it.
Some of you know @derangedvisions and have had the opportunity to read his very RAW details of what he goes through day in and day out.
I am so proud of him and his choice to open up and talk about his battles, rather than holding them in. He wasn't always like this, so, it is humbling to get a clearer look into what he goes through. I know what I see and what I have gone through, but until recently, not much of what he had endured.
I always had this jealousy (I was SUPER YOUNG) thing, I was caring for our kids while he had a "vacation". For years at a time, we would live life through letters and near the end of his time with the military, Webcam. The first tour he had was in 2003, and some of you have read the story. We lost our 2nd baby during that deployment. I was 14 1/2 weeks along, and just weeks before had seen a very active baby bouncing around in my belly. Our son was 1 yr old and literally the ONLY reason I stuck around. I fell into a deep dark place, upset I had no one around to help me through this difficult trial. Our family lived in Utah and we lived in Texas. We had amazing neighbors that helped me the best they could, and as much as I would allow.
I had made the mistake of acting like I could handle it, my young 18 yr old self, could handle the loss of a baby during a year long war deployment from my husband...yeah. I couldn't. I was a MESS!! Rylan (our son) saved my life. He was my reason to get up and move out of bed each and every day. He was a goofy, fun boy and was the light I was missing. I look back upset that I was so lost in such darkness! I missed out on a lot of memories, even though I was physically present, I was totally mentally checked out.
Wes (DV) came home, 10 months after I had lost the baby. I was FINALLY able to mourn..and mourn I did. I failed to realize then, that he also was holding the burden of not being home while I was falling apart. I vividly remember a night where Wes came in and sat next to me on the couch in our room. He wrapped his arms around me, and I broke. I was so angry with him for being away, I was so angry I lost the baby, I was angry at God, angry at the Military, angry at the war, and so angry with myself for being so ANGRY. I pushed myself into a tight ball, and blocked him from getting too close. I didn't want to be hurt again. The wall was up, not for long..as he is amazing and worked through this difficult time with me.
We are going on the 15th year of our baby moving on to whatever comes next. It never gets any easier, especially around the time I lost the baby. And the baby's due date (which happens to be my FAVORITE HOLIDAY) Halloween. I don't think losing a child, whether in utero, or after having the opportunity to raise your child is ever something you can just get past, or work though. I definitely think you can heal and process, but to "get over it" I find impossible.
I have recently realized that my trials have no definition of WHO I am, but actual building blocks of what makes me the strong person I have grown in to.
I have gone from a 16 yr old bride, and mommy to be. To a mother and wife of very incredible people! My husband astounds me day in and day out. And our children are powerful influences to all that are blessed to know them.
My life has been one of massive UPS and massive DOWNS. But knowing that I continue to build off these trials, helps me through each and every one. I am proud of the person I have grown in to, and love myself more each day! Taking time for Personal Development each day has made an incredible difference on my view of life and what it means to live life, rather than get through life alive.
We all want to make a difference in other peoples' lives, but most of us don't try to put the effort in to do so. Making this shift in my mindset will make it possible to be a better influence in other peoples' lives.
Thank you for taking time to read this long winded post. I am grateful for this outlet to get my words out. I am looking forward to working more on my book and making a difference for any and all military spouses, or family members that I will have the blessing of reaching. Be blessed, be a pineapple, and BE YOU!

Thank you @helenoftroy for my beautiful footer <3