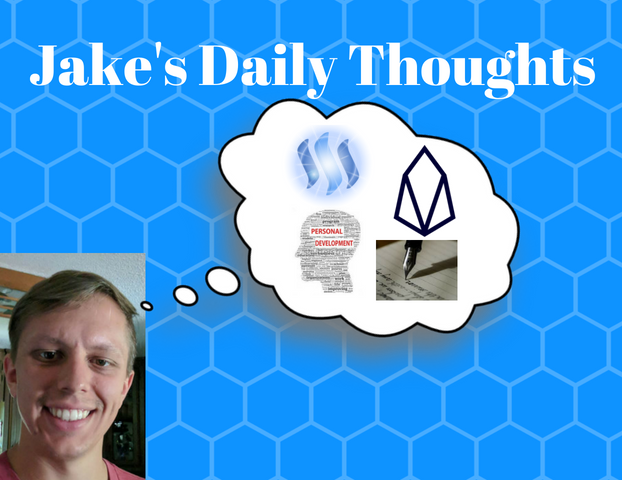 Learning
Today I am relaxing for the most part and enjoying my day. I am listening to High-Performance Habits by Brendon Burchard to help me perform better. The current chapter I am on is about Seeking Clarity. Clarifying your prime field of interest (PFI) and building your curriculum to be that PFI is key to being a high performer.
My PFI is cryptocurrencies. I will build my writing, coding, and speaking skills to increase my standing within the cryptocurrency market. Every day I will write and read an article or book about writing. To improve my coding skills, I will contribute to a project and read an article on the subject. Increasing my speaking skills will be an enjoyable task. I am starting a podcast, and before any guest comes on, I will research them and their project to ask the best questions possible.
Work Primary Field of Interest
I decided that I associate the word work too much with doing tasks that I hate. Instead, I decided to call this field Primary Field of Interest while I search for the best label to place on my business.
Relaxing and enjoying time with my family took the priority today. I will write tonight on my long-form article for the Tribe.
Lifestyle
My morning routine went well. I started off with oil pulling, drank tea, and finished off by taking supplements. I walked to the gym for my exercise.
Part of spending time with family include going to the gym with my dad. We showed off our mad skillz at basketball and racquetball. I lost in both matches but it was worth it! Lifting weights together was fun.
I broke my fast after exercising with some great ketogenic food. My favorite dish was the steamed broccoli!!! I napped after my meal and watched comedies on Netflix.
I listened to the book Ready Player One on Audible and loved it! My dad and I went to see the movie in theaters and enjoyed it tremendously. I thought the movie was great for non-readers but I enjoyed the book much more so.
Comments
If you have any thoughts or insights on how I can improve then please comment below and I enjoy learning and listening to others' experiences!
---

Written with Love by Jake Bryan
You can support Jake by upvoting or donating Crypto
BCH: 1PFKomF5sPrdVi95iYK8743jDCjLHUStog
DASH: Xf1eoSHWYhW86v4TkidS19STP3WHoWkCkB
LTC: MEdKZwGHi4SUdy9uiBJ4EwxJCYcuPoBnuj
ETH: 0x62fFEB0863f8F1EC6d6739e8a3d2D094A5777F8c
BTC: 34YHwe8k7iyxHz1XeXqh3zKNz8AKMpmt1s