The @blocktrades World Cup | My selections for the Quarter Finals
Knockout stage is finished, now enter the quarter final. Where 8 teams will attack each other. As usual in the previous Russian world cup contest by @blocktrades, on the knockout stage I failed to guess the exact score of 8 matches, but I managed to guess 6 teams as winners.
6 teams that managed to go are France, Russia, Croatia, Brazil, Belgium, and England. For Uruguay and Sweden, I failed to predict as a winner.
As for this time, I re-participate for the quarter finals which will begin tomorrow night. Here are my predictions:
| Score | Team | vs | Team | Score |
| --- | --- | --- | --- | --- |
| 1 | Uruguay | vs | France | 1 |
| 0 | Brazil | vs | Belgium | 1 |
| 1 | Sweden | vs | England | 2 |
| 3 | Russia | vs | Croatia | 2 |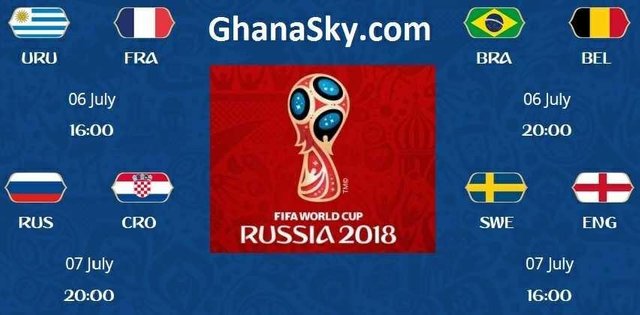 Source
Group stage
https://steemit.com/blocktradesworldcup/@mushthafakamal/the-blocktrades-world-cup-or-my-selections-593b5d6a4852d
Knockout stage
https://steemit.com/blocktradesworldcup/@mushthafakamal/the-blocktrades-world-cup-or-my-selections-for-the-last-16-1fbf17139f7b6
Contest info
https://steemit.com/blocktradesworldcup/@worldcup-russia/quarter-finals-stage-submit-your-entry-to-keep-competing-for-the-2-000-sbd-prize-pool