Normally I only like to post a couple of times each week. I usually aim for Wednesday and Saturday. Although I am going to stick to the two times this week, I have had to adjust the days I am posting.
You see, this is a special occasion.
I don't only mean the World Cup.
More importantly, this special occasion has brought together over 1800 steemians!
Of course I am talking about....
Although I have absolutely no idea what I am doing, I am having fun! That is what this is all about. This contest has given me reasons to watch some of the games. Thank you to @anomadsoul & @acidyo for putting it together!
Before I ramble too much, here are my picks:
| Score | Team | vs | Team | Score |
| --- | --- | --- | --- | --- |
| 2 | Uruguay | vs | France | 0 |
| 2 | Brazil | vs | Belgium | 1 |
| 0 | Sweden | vs | England | 3 |
| 1 | Russia | vs | Croatia | 2 |


Now that I have my losing picks out of the way, how about a mini movie review?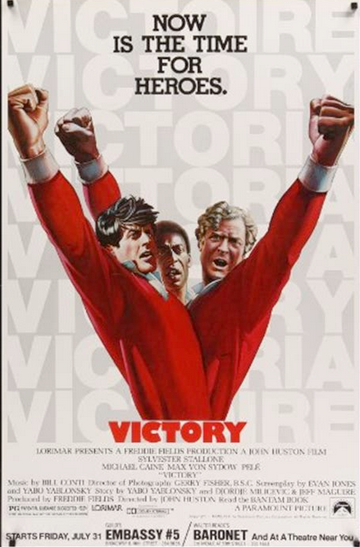 As an American child of the 70s, I am not a big soccer guy. In fact until very recently, like most Americans my age, the only famous soccer player I could name was the great Pele.
This got me thinking about one of my absolute favorite movies that I used to watch as a kid: Victory.
I used to rent that movie at least 3 times a year (on BETA) when I was a kid. I absolutely loved it!
Yesterday, I realized I was going to have to write another post including my soccer picks. Considering I seem to be allergic to posting anything under 600 words, I knew I had to add something to spice up my pick post. My mind immediately wandered to Victory.
Because I have fallen prey to the phenomenon of my memory believing something was better than it actually was, I decided to buy an instant download of Victory from Amazon. Then I told my 13 year old son we were going to watch one of my favorite movies from when I was his age.
I sat him down and pressed "play".
I have to admit I was nervous. On more than one occasion, my memory has failed me. Something I loved as a child turned out to be absolutely horrendous (for example Battle Beyond the Stars). However, as soon as the movie began, I was filled with confidence that my son and I were about to enjoy the next two hours of our lives.
Because I fell in love with this movie when I was 12, I honestly cannot tell you if it is a good movie or not. What I can say is that I love it as much now as I did 35 years ago (perhaps more).
When I first watched Victory I had no idea who the director was... and I didn't care. Budding action star Sylvester Stallone played the lead and it was about POWs escaping from a German prison camp during WWII. That is really all I needed to know. Throw in some sports and I was over the moon.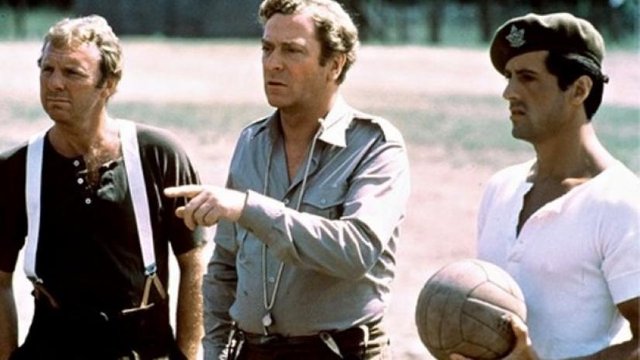 But yesterday I discovered that the director was actually John freaking Huston! The same Oscar winning guy who directed The Maltese Falcon and The African Queen. What? I had remembered the movie as pure nonsense, not an actual high quality film.
Here is what I remembered.
By 1981, I had already seen The Longest Yard and The Great Escape at least 20 times each. Victory was a combination of the two. For 13 year old me, that was pure heaven!
Before I go any further, let me just state that I 100% understand that the premise of the movie is completely ludicrous. A Nazi officer, played by...


Max von Sydow!!!!


discovers that a member of England's World Cup soccer team is imprisoned in a POW camp he visits. Sydow's character, who was a former player himself, decides to set up a game between the POWs and Germany.
At first glance, this is ridiculous. However, there were some historical cases of POWs playing against German soldiers.
After the game is set, the movie becomes the delightful combination of The Great Escape and The Longest Yard I mentioned earlier.
Because I hate spoilers, I won't say anything else about the movie except for the fact that all of the players on both teams were actual international soccer stars from the 1970s. The biggest of these stars was the great Pele himself. Not only does he play an important role in the movie, he also choreographed all of the soccer scenes (and there are many) that included some of the soccer stars' signature trick moves.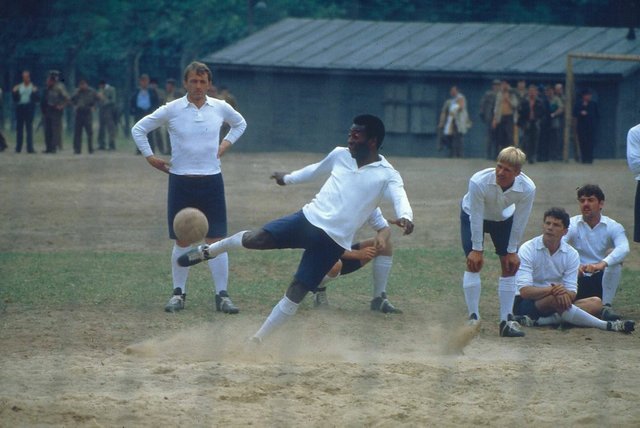 Without ruining anything, I can tel you that at several points, I paused the movie to discuss the topics of: honor, sacrifice, and courage with my son. In addition, there is a tear-jerker scene that reminds us that under Hitler's reign, people from Poland and Czechoslovakia were not considered worthy of being treated with the respect of a prisoner of war. This scene inspired me to discuss the fact that there are administrations today that do not feel that all people should be treated with dignity and respect.
Although I still loved watching Victory yesterday, I realize that I am biased by childhood nostalgia. I would be curious to hear from someone who watched it for the first time as an adult. Is Victory a good movie?