Ang mga trader nga taga-US kay makapalit/makabaligya na og EOS sa BlockTrades
Ang kini nga artikulo kay mabasa usab sa pinulongang Ingles/English ug Tagalog.
---
Sa miagi, gikinahanglan namo nga ang mga tiggamit nga mopatinuod nga dili sila lumulupyo sa US o mga residente usa sila tugtan namo nga mopalit og EOS ngari sa amoang sige, tungod kay nabalaka mi nga ang ICO nga nabuhat alang sa EOS kay nahimong dili rehistrado nga security.
Ang kaso nga bag-ohay lang nga nahuday tali sa SEC (tig-bantay sa mga security sa US) ug BlockOne (ang nagmugna sa EOS) nga nagpakita nga ang amoang kabalaka kay medyo nagarantiyahan, pero murag ang SEC kay ningdesisyon nga ang ang samtang ang sa nauna nga token nga ERC-20 nga gipanghatag isip bahin sa EOS nga ICO nga daw usa ka security, hinuon wala na nila gikonsiderar ang mainnet token sa EOS kay security. Ang amoang pinakasakto nga panagna nga ilahang giila isip utility token ang "tinuod" nga token sa EOS, pareha sa pamaagi nga ilahang gidesisyonan ang Ethereum nga dili na security token.
Ang kini nga desisyon kay nagpasabot lang nga makatugot nami sa mga lumulupyo ug mga residente sa US nga makapalit og EOS ngadto sa amoang site. Ug usab kini kay usa ka maayo nga balita alang sa amoang mga kustomer, tungod kay dili na sila kinahanglan pa nga mohatag og impormasyon para KYC aron nga pamatud-an nga dili sila mga kostumer nga taga US.
Ngadto sa pareha nga mubo nga sinuwat, ang amoang wallet sa EOS kay gipaubos sa maintenance human sa hardfork sa EOS sulod sa taas nga panahon. Tungod kini sa mga tahas nga adunay koneksyon sa pagpadagan sa blockchain gikan sa sinugdanan aron nga maka-adjust alang sa mga bag-ong mando sa hardfork. Nahimo na usab nga operasyon ang amoang node sa EOS, ug usab nakabuhat nami og bag-o nga imprastruktura aron makakuha og mga snapshot sa database sa node aron nga mapaubos ang higayon nga makabaton mi og mga pag-hunong sa kini nga dili mousbaw nga gidugayon sa umaabot.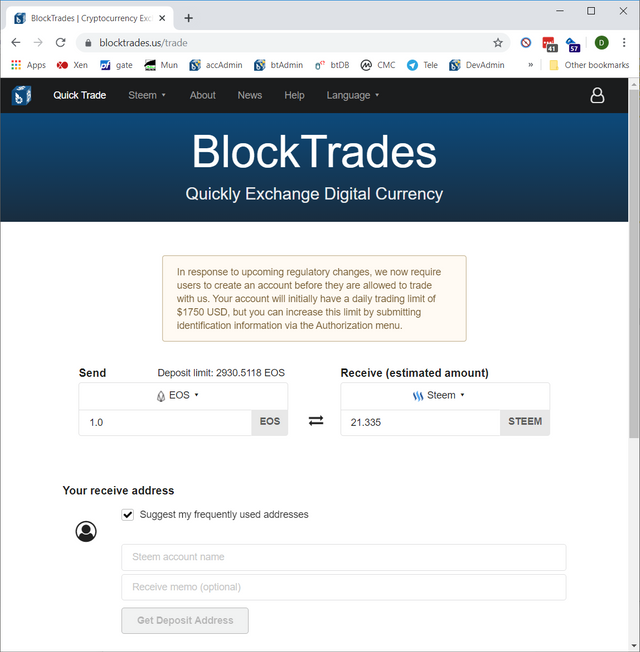 ---
All photos/contents from this post are obtained from @blocktrades-help / @blocktrades (also BlockTrades website) and is used with permission for translation purposes only.