We get a lot of questions from new customers about how to use our service to gain access to the Steem community, so we've decided to write up a little tutorial for it!
From our main page click "Buy Steem Account" under the "Steem" pulldown menu, or go there directly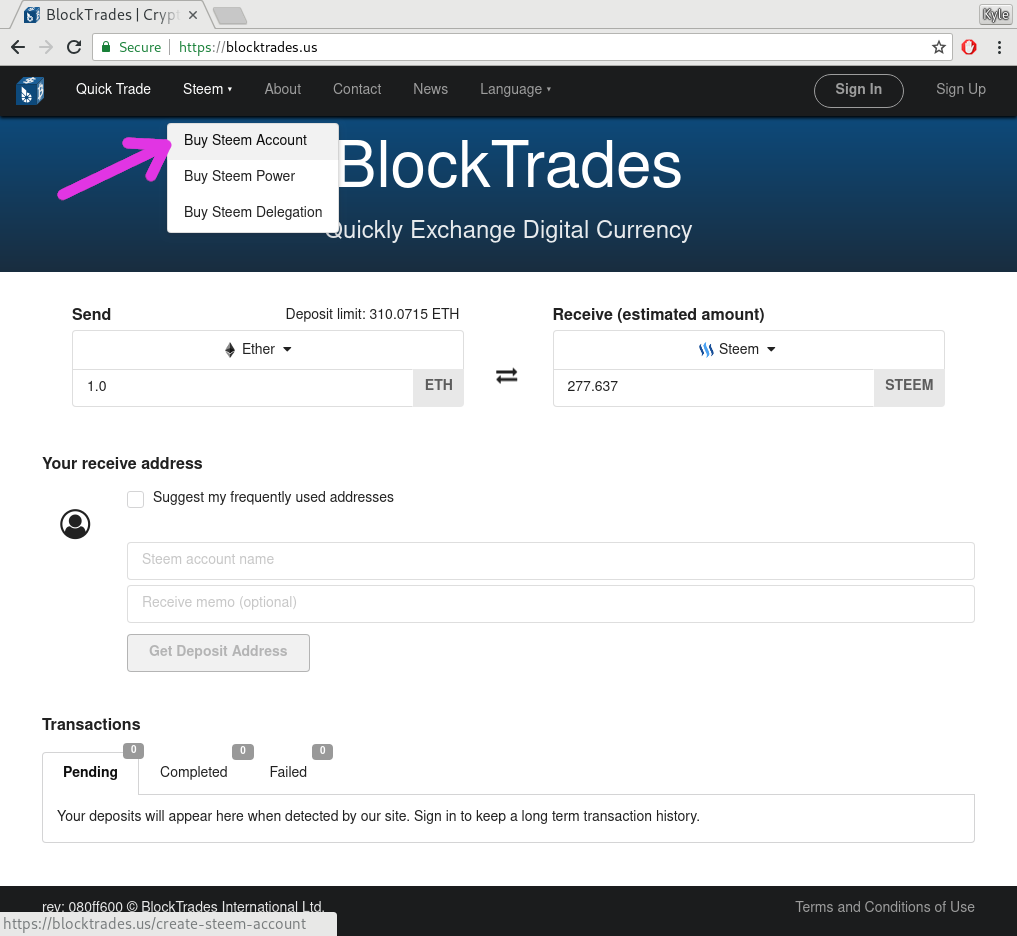 Choose your account name
Enter your desired account name under "Step 1" and make sure our system responds with "Account name is valid." Your account name must be 3-16 characters long, can only be comprised of lowercase letters, numbers, and dashes, must begin with a letter, and must end with a letter or a number.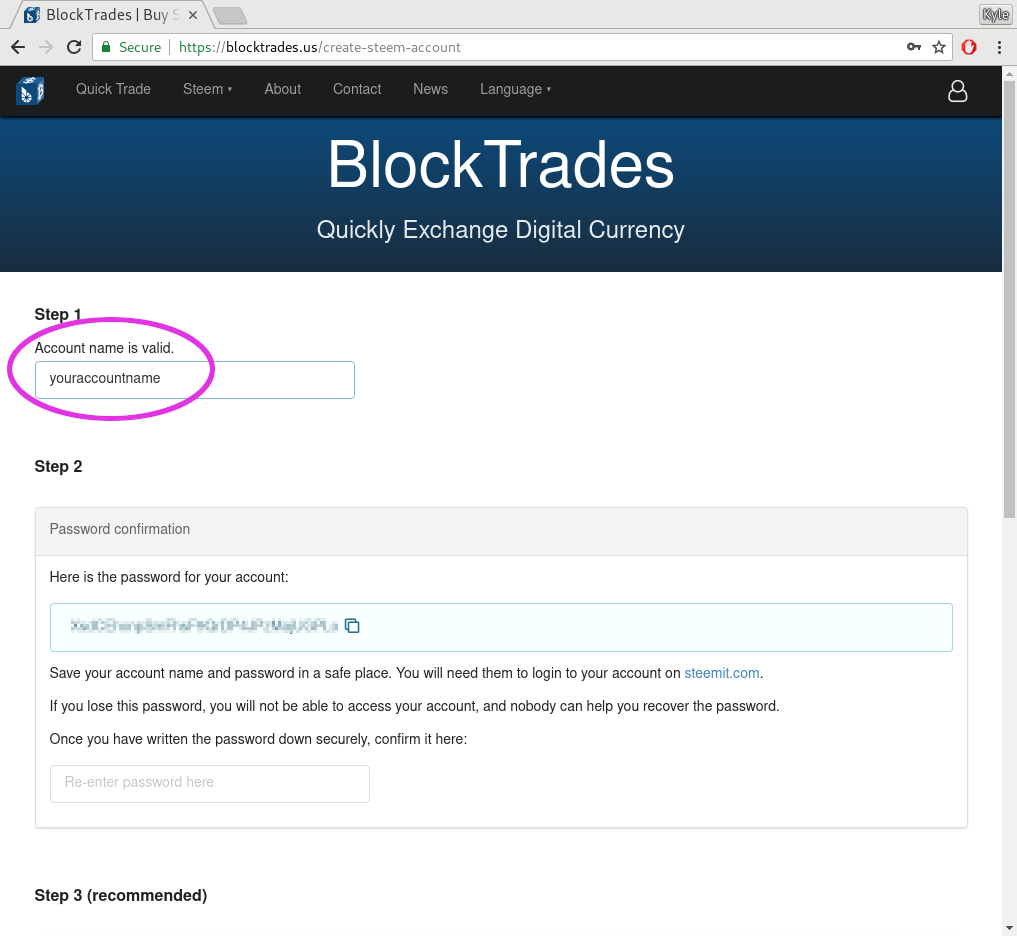 Write down the password that has been generated for you!
We cannot stress this enough: if you lose this password and do not have a backup saved somewhere then there is no way to recover your account. We also recommend typing it manually, as opposed to copying and pasting, into the confirmation box to verify that you have it 100% correct.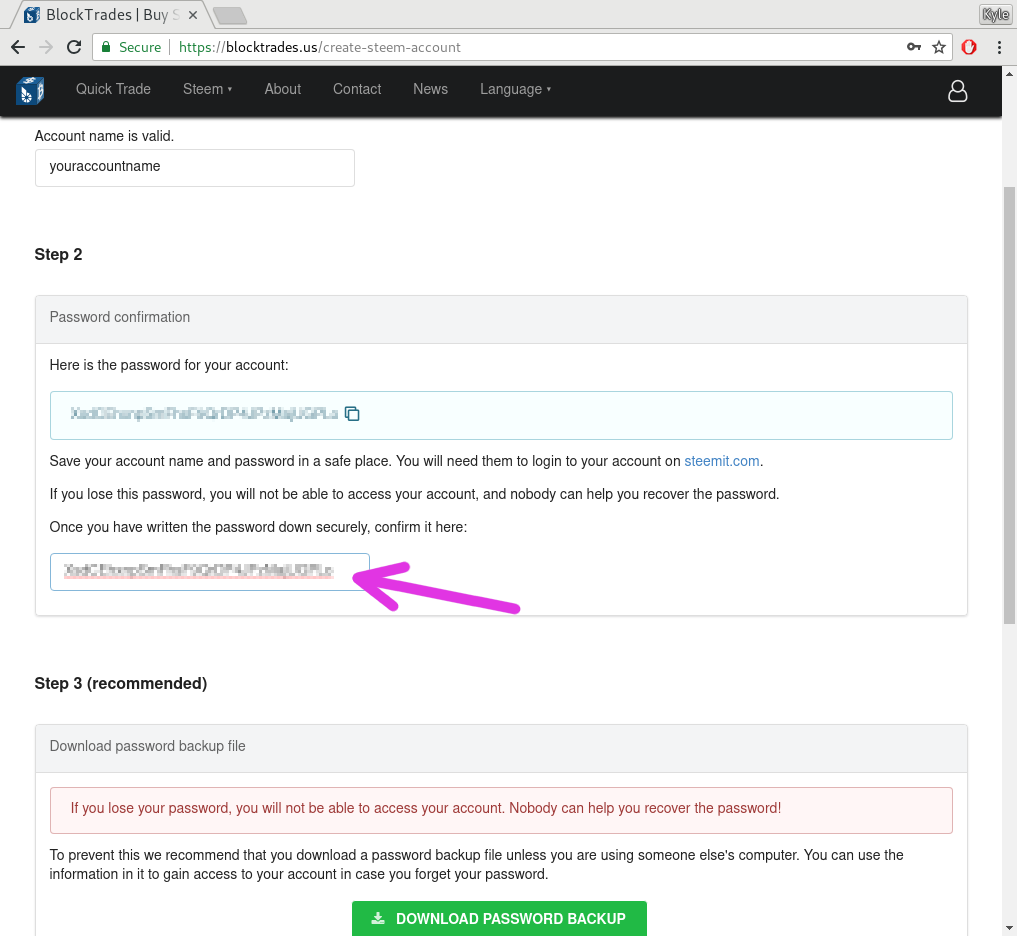 We understand that keeping track of a piece of paper can be a hassle, so we offer two password backup solutions for you:
First, you can download your master password (as well as owner, active, posting, and memo keys) as a convenient plaintext file to your personal computer. For an added layer of security we recommend burning this information to a CD or copying it to a flash drive and physically storing it in a lockbox, as opposed to on a computer that likely contains a wealth of other personal information.
Alternately, if you have registered your email address with us (instructions and benefits forthcoming in a future installment) you can opt to have us store a copy of your password in our secure database.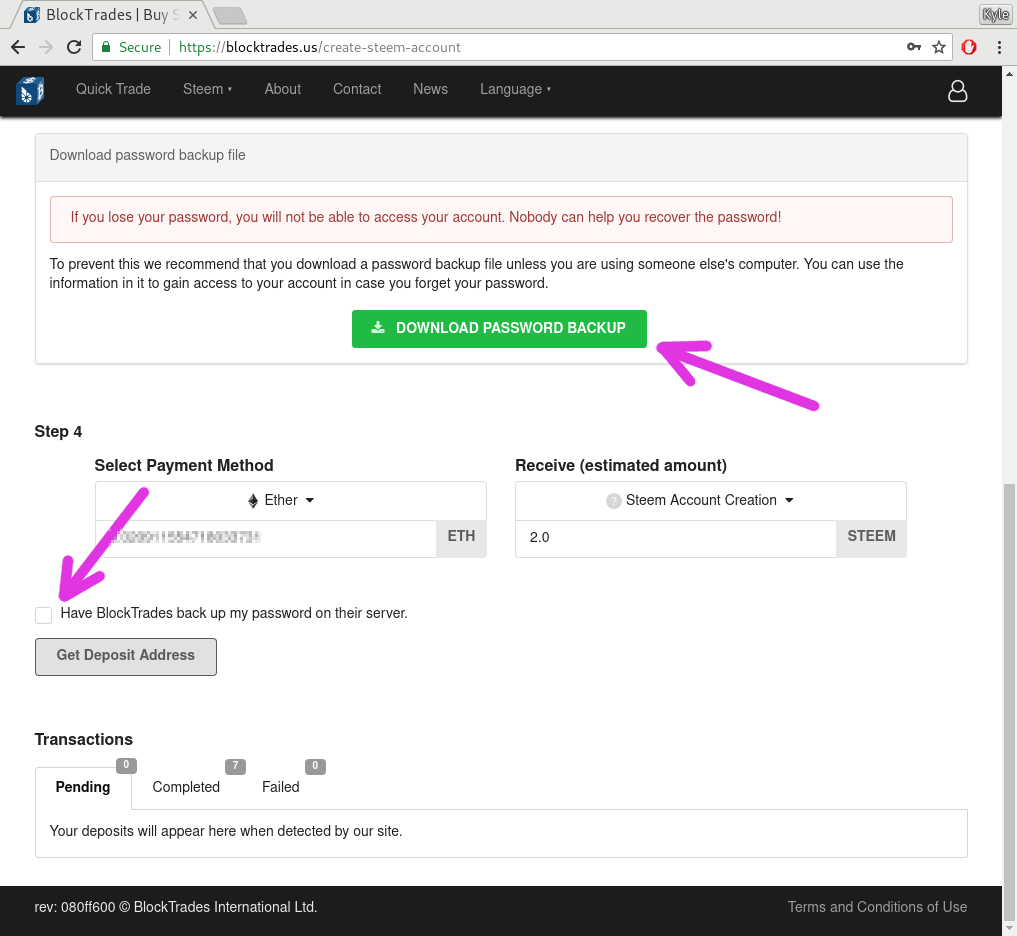 A disclaimer: Although our servers are secure and we have multiple backups, there is always the chance that something goes wrong. As such this service comes with no guarantees, but we still want to offer what we can to protect our customers from their own potential for accidental data loss. And if you're worried about security: Dan himself curates these records!
Payment
Select your method of payment from one of our supported cryptocurrencies (for this example we will be using ETH) and input an amount of Steem that you wish to receive to start your new account. Our system will calculate how much you need to send, then click "Get Deposit Address" for instructions on how to transfer this money to us. Keep in mind that this is explicitly the amount of money we need to receive to create your account and that there may be blockchain fees to be paid on your end to initiate the transaction. This means that cryptocurrencies with lower transaction fees will inherently be more efficient in this regard than others.
We currently recommend a starting balance of at least 10 Steem to be "powered up" into Steem Power so that you don't get hit with bandwidth caps when posting comments or upvoting posts, but SteemIt is reworking their code to run on generated "Resource Credits" so this may change in the very near future.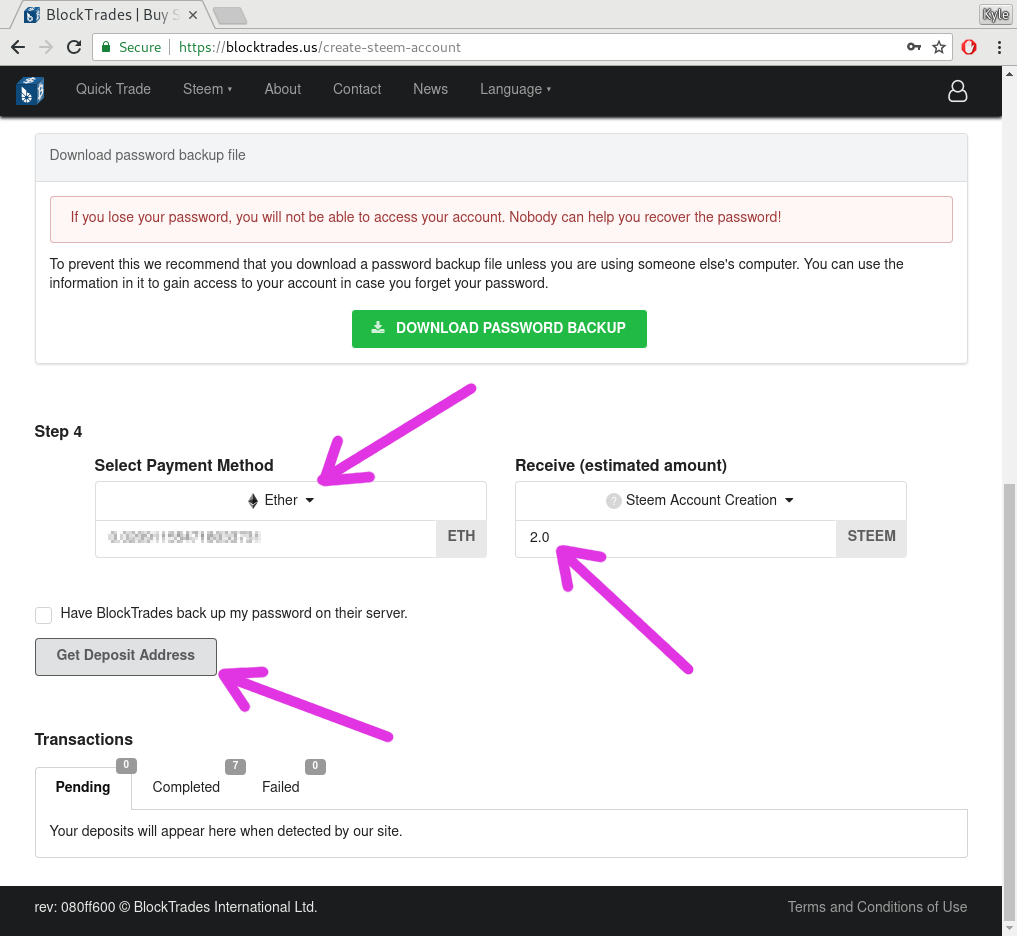 At this time we do only support cryptocurrencies as a form of payment, so if you are trying to buy a Steem account with fiat currency you will need to first exchange that on another market. We do hope to eventually expand our services into fiat currency, and we promise that we will let you all know when that launches.
Our system will generate either a deposit address or a memo to attach to your transfer, depending on the type of cryptocurrency you are using, and give you a minimum amount to send to that address to create your new Steem account.
Please note that we do not have any control over market fluctuations, so to be safe we recommend that you send at least 10% more than this minimum amount to ensure that your account is created successfully. If your transaction gets rejected by the Steem blockchain as insufficient then we will not refund your lost money. Although we have refunded these in the past, these particular support issues have unfortunately outgrown our ability to process them.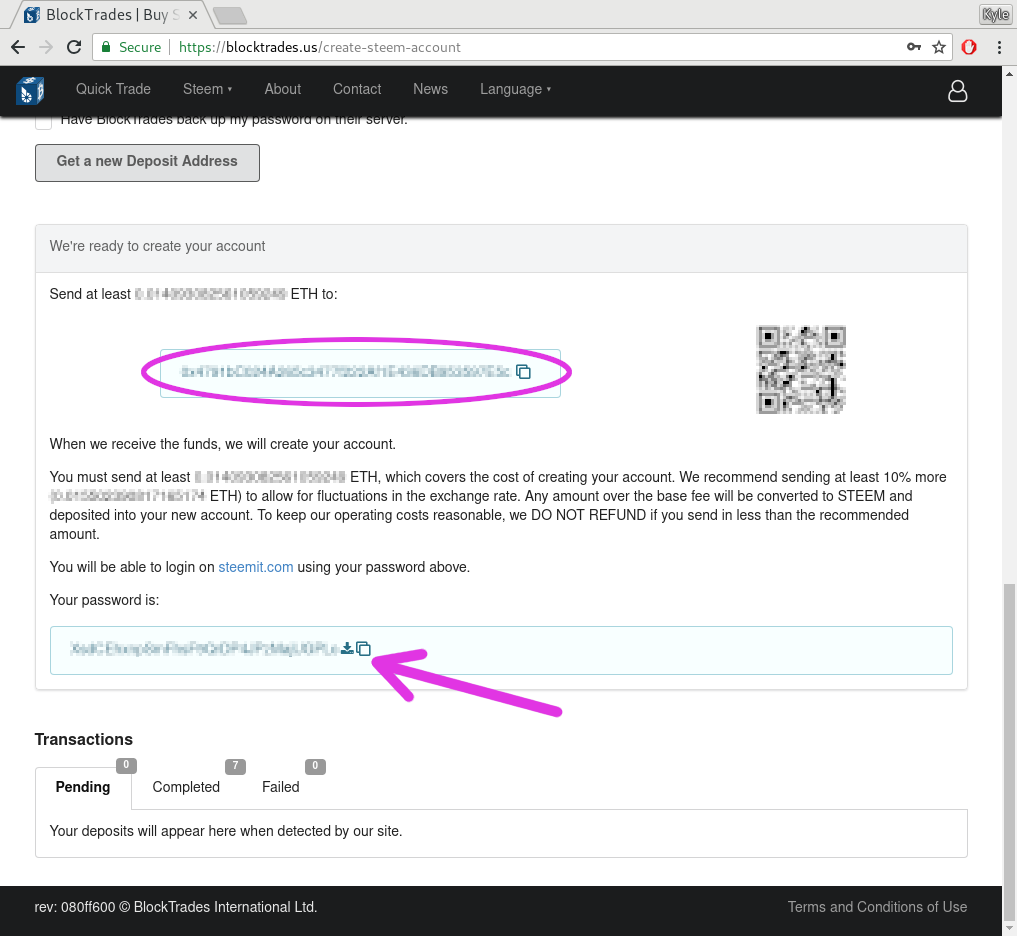 Once your transaction has confirmed on the blockchain you will immediately be able to log in to your new Steem account at http://steemit.com/@youraccountname. You will not receive a confirmation email when your Steem account has been created, but if you are signed in to your blocktrades.us account you will be able to track your transaction to see when it has successfully completed. You can also track your input transaction on one of the many available block explorers.
Check us out next Friday where we'll be going over the basics of how to use our service to trade cryptocurrencies, especially buying and selling your Steem/SBD, plus some tips for trading more efficiently!
Best regards.
The blur effects and doodles on these screenshots were created with GIMP, the GNU Image Manipulation Program, a free software under the GNU GPLv3+ license, available freely for private or commercial use.