"Blockchain activity" could be superior to market cap rankings in measuring the true value of cryptocurrencies
So far, market cap rankings are the most widely used benchmark to estimate the true value of a cryptocurrency. Market cap is also the top valuation tool for stocks. Market cap seems to be the one and only, holy-like valuation tool for decades. And now, given the fact that more and more money goes into ETFs, which invest according to market cap weight of stocks, it becomes even more important.
But with cryptocurrencies this may be no longer the case. Cryptocurrencies' inherent value is the ability to transact and protocol data in a decentralised way. This is their main function. Without this function, they're worthless.
Stocks on the other hand are documented rights you have within a company. It's a legal document. Stocks don't serve a specific function. They're not used for something. Stocks of different companies are still the same investment vehicle. You may be entitled to hold a share of this or that company but in the end both stocks are the exact same sort of investment vehicle.
Cryptocurrencies are not like stocks. Every cryptocurrency differs from another in its function, its code, its usability, its purpose and, of course, its value.
When we know the price of something and we also know how many units of something are available, we can determine its market cap, so we know for example how much all XYZ-units that exist on this world are worth, combined. This is especially important in stocks because companies need to know how much they have to pay to buy other companies.
In Cryptocurrencies a new way of measuring the overall value of a certain coin is to look at its blockchain activity which means looking at "how many transactions (on-chain) is a certain crypto able to conduct".
Look at this: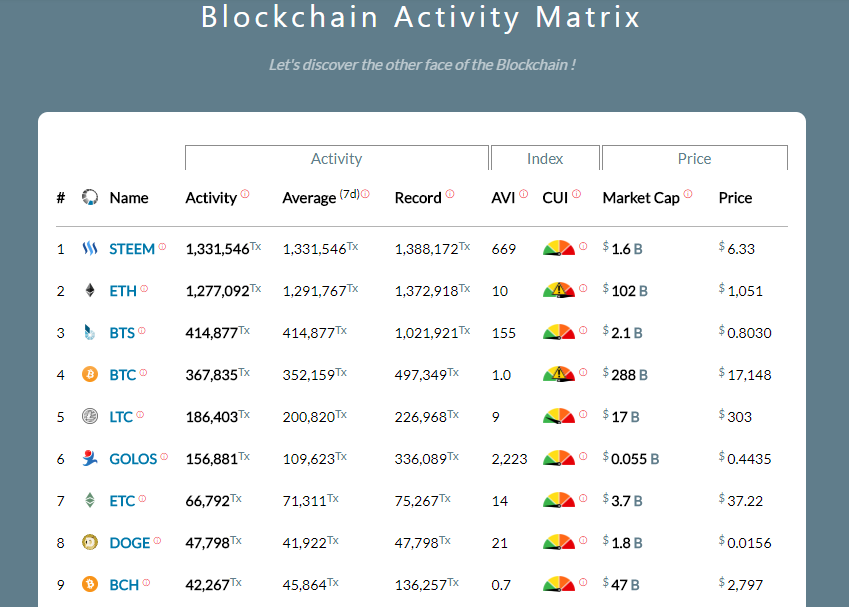 This is a screenshot taken from blocktivity.info which shows you how many transactions specific cryptos are able to handle. Steem is rank #1 in terms of blockchain activity!
Apart from coinmarketcap.com which I use on a daily basis you should also have a look at blocktivity.info regularly in order to know which coins could be under-/overvalued. There are some cryptos like Dogecoin for instance which are rank #28 in terms of market cap at the time of writing this but on rank #8 in terms of blockchain activity. This could be a sign of an undervaluation maybe.
Blocktivity.info states on their website that "observing the activity on the blockchain is closer to the real value" of a cryptocurrency … Do you agree?