What is Blockchain.io?
Blockchain.io which is aiming to be the leading European exchange, is in essence a Crypto-Exchange but with many innovative features, and is set to be your future Gateway to the Internet of Value. In the near future decentralized blockchain operated value networks will become mainstream user friendly interfaces and will be used by hundreds of millions or even billions of internet users to exchange value in a secure manner.
As in the foreseeable future it is expected that large numbers of crypto-currencies will be created, the necessity of exchanging these coins to the crypto-currency you need for a certain transaction is apparent. This area of opportunity is where Blockchain.io will be offering its services, allowing users to exchange their coins in a fast and transparent and economical manner.
What are the advantages of Blockchain.io?
It is completely decentralized

Access to the exact coin or coins you need for your transactions

It is completely secure

It will be completely regulatory compliant

Complete transparency and ease of use

It has a completely reliable infrastructure - no outages
Blockchain.io will offer a Cryto-currency exchange, decentralized settlements, listing services for tokens and coins, completely transparent auctions, peer to peer lending, proprietary lending, margin trading and all of these with complete knowledge that every transaction is completely secured and based on the blockchain, the future of online transactions.
Here is part of the Blockchain.io team, comprised only of experts in their respective fields :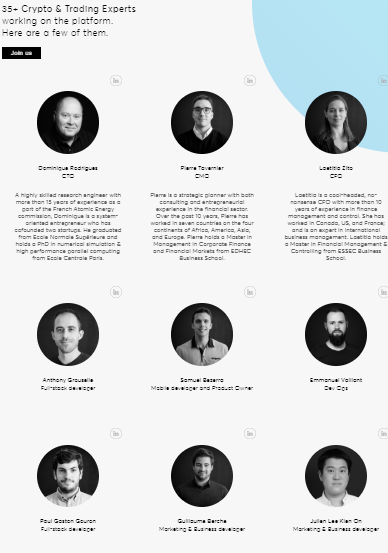 Token Sale
The Token Sale commenced on September 27 and continues non-stop until October 25, 2018 (as a side note ths opening date September 27 is a great day, it is my birthday). The timing is perfect and today is a great day to look at this opportunity. It is good to know that if readers of this article contribute more than 100 Euros in the crowdsale using the referral code emwinVWrVCzugXiWVP3z they will earn a 5% bonus.
Blockchain.io is being launched by Paymium a well established and very well known actor in the Bitcoin market. Its 170,000 current customers will have immediate access to the exchange, so the starting base for the platform is already established.
These are some links that might interest you if you want even more information about Blockchain.io:
Blockchain.io Website
Blockchain.io Token Sale
Blockchain.io White Paper
Blockchain.io YouTube
Blockchain.io Medium
Blockchain.io Telegram
Blockchain.io is set to be a benchmark for future interaction with the blockchain and is something everyone in the Crypto world has been expecting, I envision a brilliant future for this enterprise. Blockchain.io is offering everyone the opportunity to have an option of investing at the start, an opportunity I am sure many of you will take advantage of.
This is my entry for the Blockchain.io Crypto writing contest