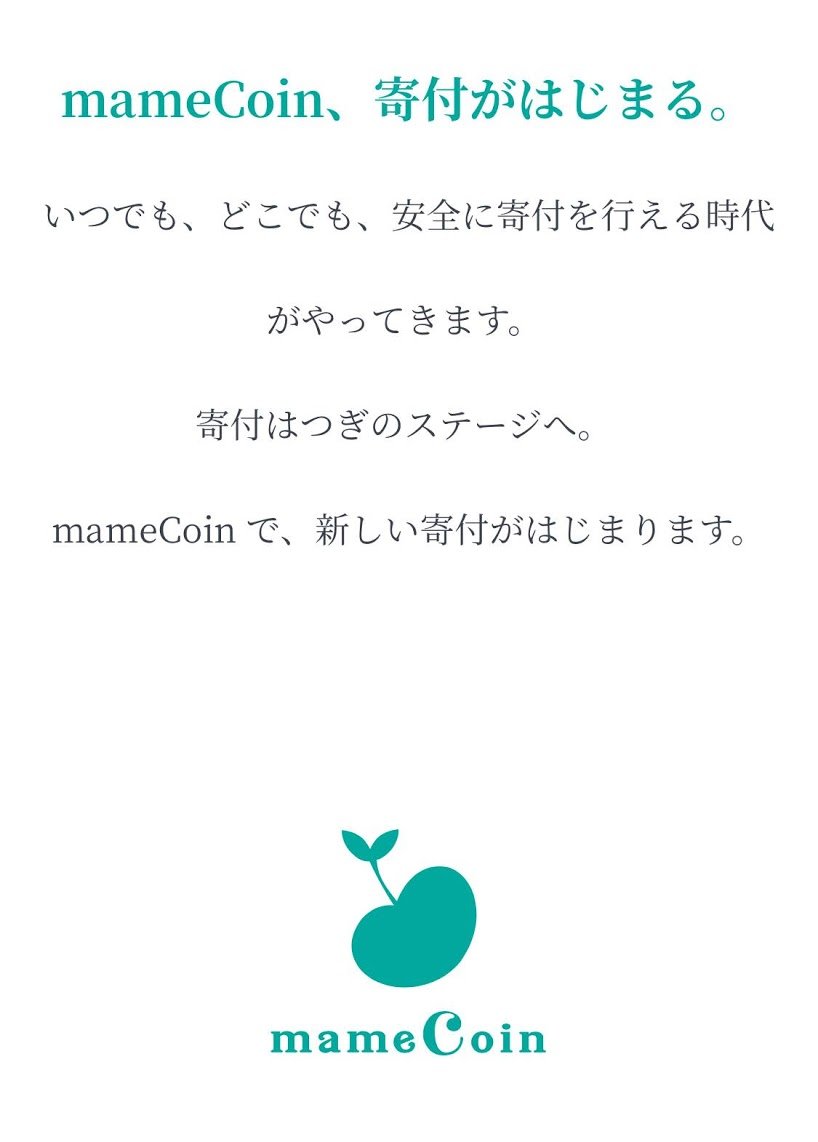 Hello!
Today, I will take over the other day and introduce Japanese cryptocurrency project!
It is "mameCoin" to introduce this time!
mameCoin becomes cryptocurrency focusing on "donation"!
Together with "Ideal currency, make donation closer", we are doing dissemination activities!
Currently, donation has various issues such as cost, proof of identity!
mameCoin aims to solve future problems by utilizing smart contents in blockchain technology !!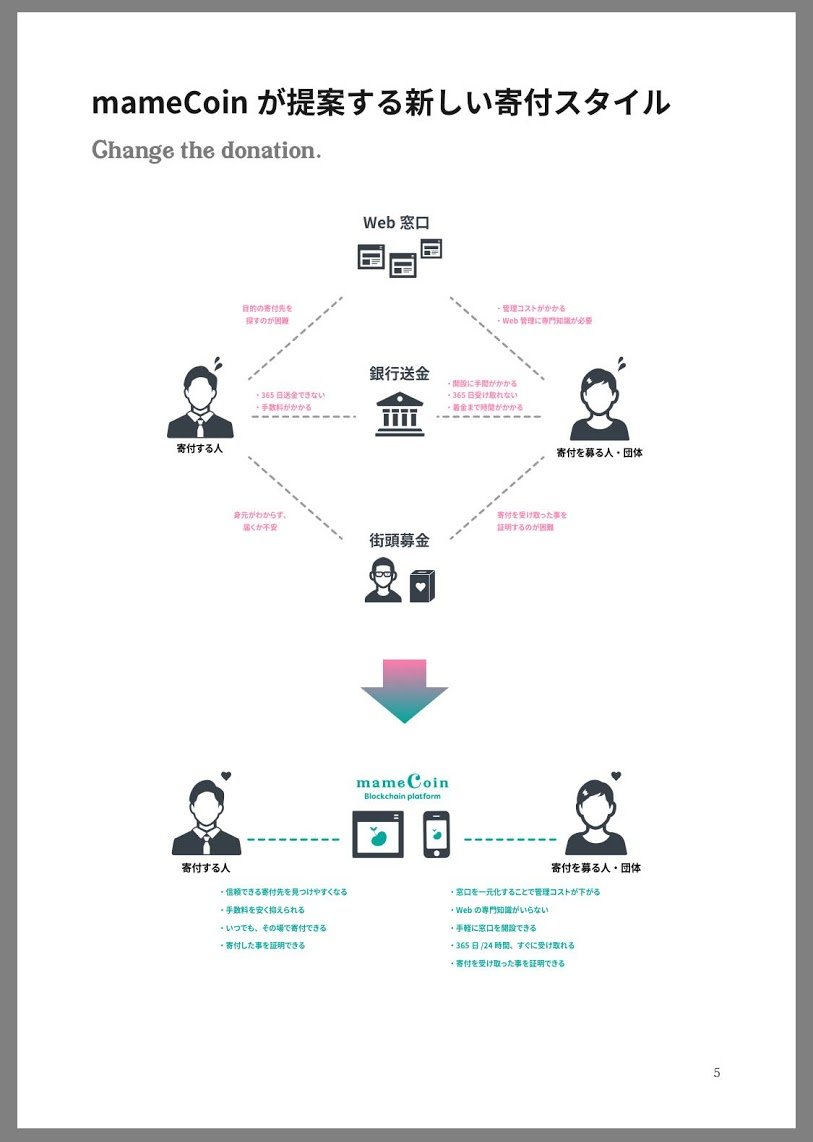 They are also collaborating with NPO organizations to make donation more popular!
They have set up a donation window to NPO organizations and are building a system that allows direct donation!
Currently you can purchase mameCoin with "CoinExchange"!
Looking ahead, They aim to list on other major overseas exchanges !!
Also, mameCoin has been talking about in the japanese blogger community "Bloggers Guild" too!
The other day, Airdrop in the Bloggers Guild was done, and it was greatly excited!
Recently, it became a topic that donation of the western Japan heavy rain was done in cryptocurrency!
As a way to use new money, it is interesting to mameCoin!
mameCoin Official HP
https://mamecoin.jp/
mameCoin Official Blog
https://blog.mamecoin.jp/
mameCoin Twitter
https://twitter.com/mamecoin
mameCoin Telegram
https://t.me/mameCoin
mameCoin Discord
https://discord.gg/BfmTA2
Bloggers Guild Discord
https://discord.gg/T657TV
*The image was quoted from the mameCoin official website and the white paper
---
In this post, we are doing upvote by Bot.
It will be an experiment of posting steemit for a limited time only.
Thank you so much for your understanding.
---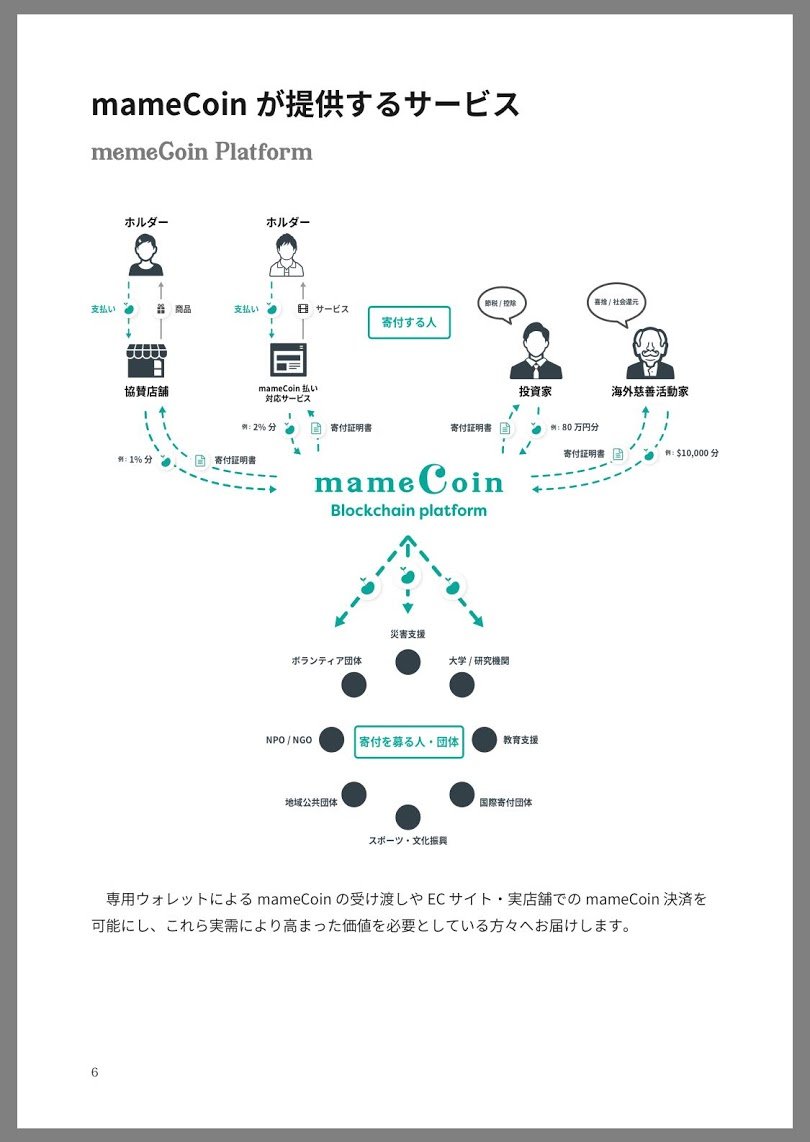 こんにちは!
今日は、先日に引き続き、日本の暗号通貨プロジェクトを紹介します!!
今回、紹介するのは「mameCoin」です!
mameCoinは「寄付」に着目した暗号通貨になります!
「仮想通貨で、寄付をもっと身近に」を合言葉に、普及活動をしています!
現状、寄付には、コスト、身元の証明など、様々な課題があります!
mameCoinは、ブロックチェーン技術の中の、スマートコントラクトを活用して、これらの課題を解決することを目指しています!!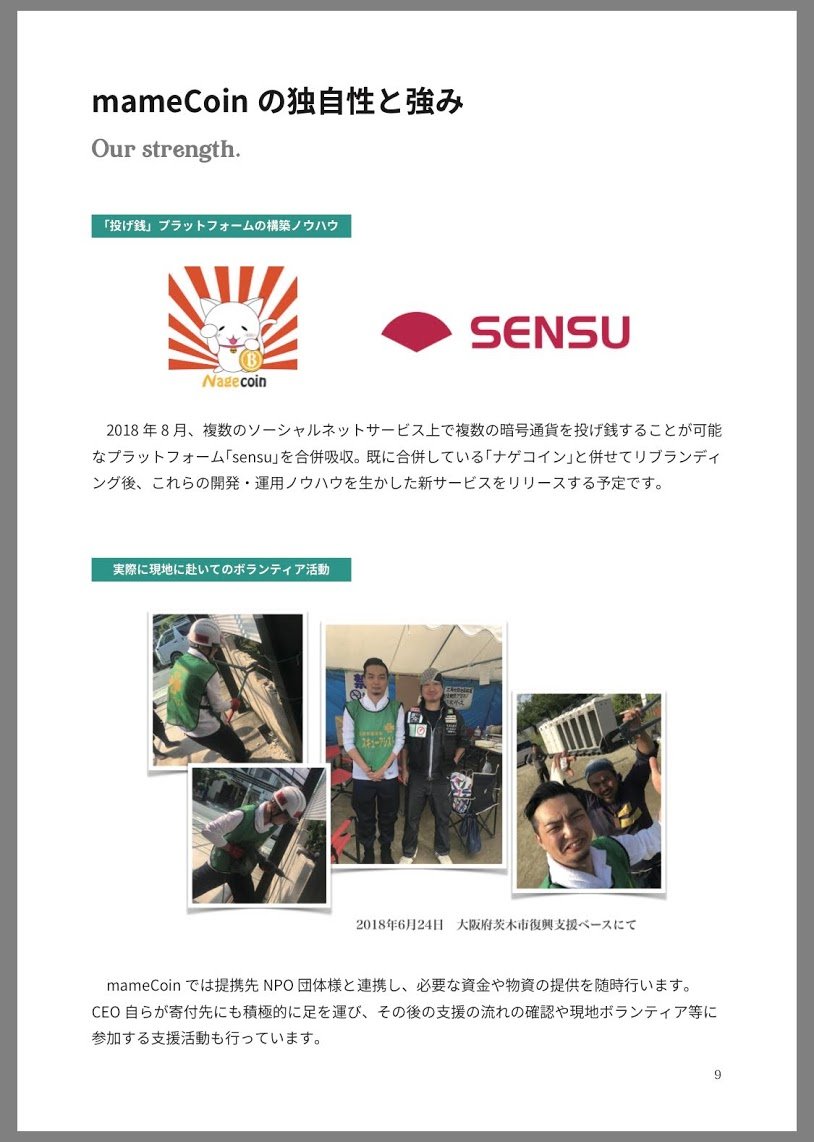 寄付をより普及させるために、NPO団体と提携も行っています!
NPO団体への寄付窓口を設置して、直接寄付ができるようなシステムを構築しています!!
現在は「CoinExchange」で、mameCoinの購入ができます!
今後、他の大手海外取引所での上場を目指しています!!
また、ブロガーのコミュニティである「ブロガーズギルド」でも、mameCoinは良く話題に上がっています!
先日も、ブロガーズギルド内での、エアドロップが行われて、大いに盛り上がりました!!
最近では、西日本豪雨の寄付を、暗号通貨で行ったことが話題になりました!
新しいお金の使い方として、mameCoinに注目ですね!!
mameCoin 公式HP
https://mamecoin.jp/
mameCoin 公式ブログ
https://blog.mamecoin.jp/
mameCoin ツイッター
https://twitter.com/mamecoin
mameCoin テレグラム
https://t.me/mameCoin
mameCoin ディスコード
https://discord.gg/BfmTA2
ブロガーズギルド ディスコード
https://discord.gg/T657TV
*画像は、mameCoin公式HPとホワイトペーパーから引用しました
---
この投稿では、Botによる、upvoteを行っています。
期間限定での、steemitの投稿の実験になります。
ご承知のほど、よろしくお願いいたします。
---