Wall of Coins Boosts ARK Accessibility to the Masses
HUGE
While most crypto exchanges continue to subject their user base to dump their Bitcoin into scam coins, Wall of Coins has a history of assisting its fan base to find and gain easy access to novel blockchain technologies. Therefore, if a coin (or token, or crypto) is listed on Wall of Coins, then you know it is vetted and worthy of your valuable attention.
Next, Wall of Coins brings you ARK. ARK is such a blockchain technology that makes it possible for a business to leverage existing blockchain technology functions—such as smart contracts, instant payments, large settlements, real estate records, etc.—to work in cooperation with their own core business technology. Basically, business logic can be executed by the masses with a level of security, uptime, and resource cost improvement that exceeds your industry peers. ARK amplifies your business, granting you another competitive advantage.
Wall of Coins sees a future where businesses, including Wall of Coins, will deploy code to ARK's ecosystem that harnesses the strength and wisdom of existing popular blockchain technologies and their existing ecosystems.
And we love enabling a thriving ecosystem!
ARK is the first Wall of Coins partner of 2019 to be announced, with only 3 more blockchain partners remaining to be announced this year. Wall of Coins is also limiting partnership to only a handful of token assets that are yet to become their own stand-alone blockchain.
Want More Info?
For more information on how Wall of Coins is bringing novel blockchain technologies to the masses, check out the article: Wall of Coins Integrates Dash As it Surges to Number 3 Cryptocurrency, All-Time Highs!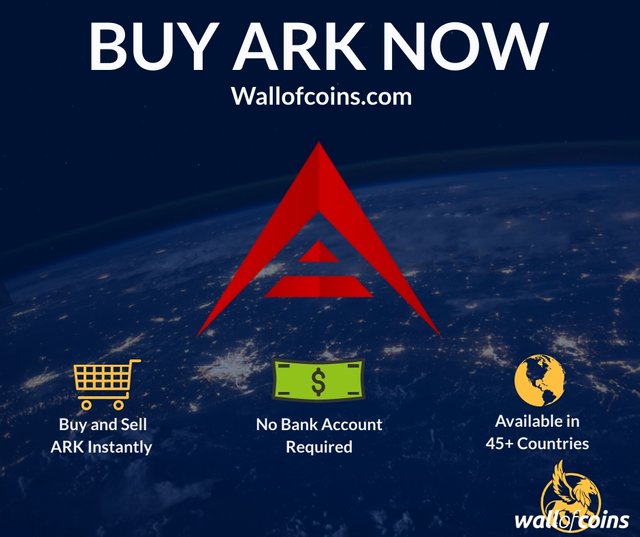 About Wall of Coins
Wall of Coins is on a mission to simplify blockchain technology access and liquidity by eliminating the need for complex accounts and logins. The service offers a streamlined buying process that is simple enough for a grandmother to use. Wall of Coins does not require you to have a bank account to buy or sell cryptocurrency or blockchain assets. Experience a better way to buy crypto!

Do you sell crypto for profit? Check out Wall of Coins today and see why crypto sellers consider it the best liquidation service.

Visit wallofcoins.com and follow us!
Facebook - Twitter - Steemit