If you've been reading some of my posts it's no surprise that I'm a believer in Stratis.
Written many posts about it. I've even called it an Ethereum killer in a more provocative post. See:
https://steemit.com/cryptocurreny/@valderrama/forget-about-ethereum
But make no mistake, Stratis is architecturally and therefore technologically ahead of Ethereum. And we all know a single DAPP brought that platform in its knees.
Anyway, the Stratis team have a pretty exciting roadmap for the rest of this year and their development is very much on track. Official Microsoft support, full node available in Microsoft Azure, mobile dashboard app and a Breeze Wallet have been released. See:
https://steemit.com/blockchain/@valderrama/stratis-released-the-alpha-version-of-breeze-wallet
And it gets even better when it comes to Stratis news. About an hour ago this was tweeted which was retweeted by Stratis themselves: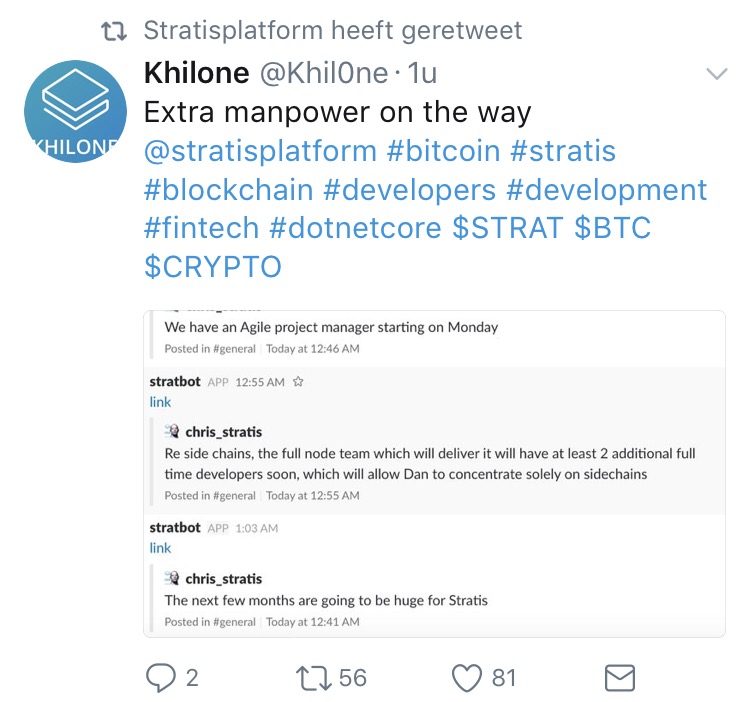 More manpower apparently on its way. More info here:
They have "gone super aggressive" on hiring new developers. Stratis is developing and releasing according to schedule but with new manpower they even plan on developing and releasing additional tech!
Talk about confidence. Talk about a solid team. The tech is there. The tech is released. It's up to the community to test and report back.
Stratis has a big bright future ahead of them and I'll follow closely.