Losing Your Medical Records: A Bad Chain Reaction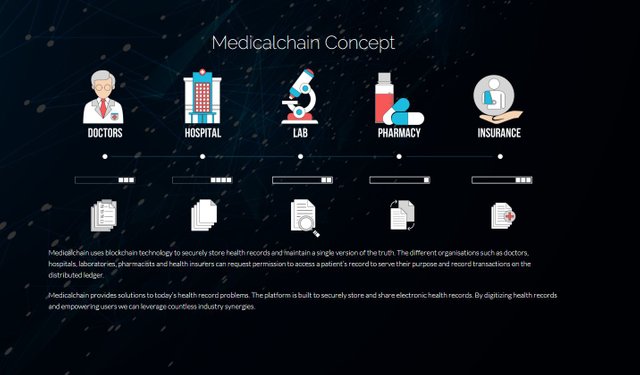 The Problem
Ever lost your credit card? We have! After panicking for a few minutes looking around for it, we calmly called the bank and cancelled our card. The situation is annoying, but the only thing people receive is a plastic card with your name and some numbers.
Now picture someone stealing your medical records. They knew every single time you had a cough, what you were allergic to, what you had operated on and all your other ailments. Now you may think this information might be worthless, right? Wrong, it has been found that medical information can be worth ten times more than credit card information on the deep web. The vast amount of patient data provides fraudsters with the ability to use data to do things such as create fake IDs to buy drugs and file fictional claims with insurers.
Do you see why keeping your medical records secure and private is so important?
The Solution
One project that definitely sees this importance is Medicalchain. Blockchain technology epitomises the ability to keep data secure and private. Thus, Medicalchain is combining this technology to allow patients to not only secure their data, but the ability for fast and transparent exchange of medical data.
Ever gone to a new clinic or hospital and have to fill out a form trying to remember all your medical history? Medicalchain will enable patients to give permission to different healthcare agents such as doctors, hospitals, laboratories, pharmacists and insurers for any period of time.
The Token
The Medicalchain token is knows as a Medtoken. Medtokens will be used by patients to pay for the hosting and storage of their data on the blockchain. Doctors and other healthcare professionals will be rewarded Medtokens when viewing medical information and providing advice. Research companies will reward patients in tokens by having time-limited access to their health record for research.
In a world where ICO's are occurring almost daily, it's a breath of fresh air to see a project with such a real world and relevant use. The future of Medicalchain will truly change the current healthcare system worldwide.
MedTokens are currently being sold at the price of 0.22 USD per token during the 8th round.
Project Details
Check out the website: https://medicalchain.com
Join the Medicalchain Pre- Sale: https://medicalchain.com/en/pre-sale/
Join the Medicalchain telegram here: https://t.me/medicalchain