OVERVIEW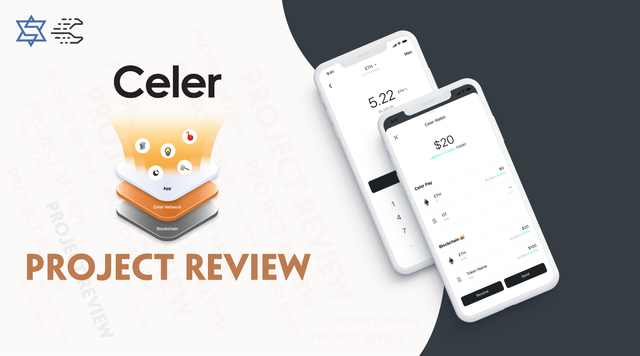 Scalability is a great concern from the cryptocommunity, this idea is currently being implemented by many projects. We have known the concepts of Lightning Network, Sharding, Plasma, etc. all of which are new concepts that we can apply to increase the scalability of the blockchain.Celer Network is one of the blockchain projects basedon that idea, it is the solution to extend the connection of blockchain, allows everyone to quickly build, operate, and use highly scalable decentralized applications through innovations in off-chain scaling techniques and incentive-aligned cryptoeconomics.
WHAT IS CELER?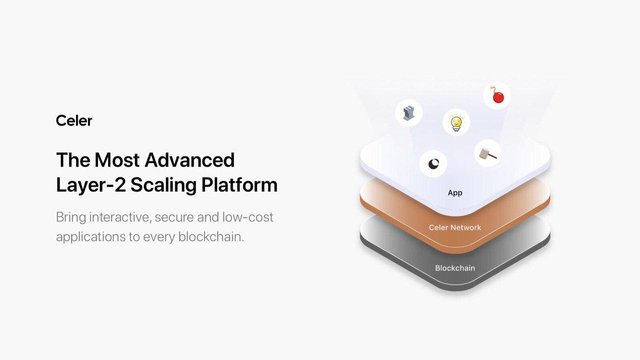 Celer Network is a leading layer 2 scaling platform that enables fast, easy and secure off-chain transactions for not only payment transactions, but also generalized off-chain smart contract. Founded by four PhDs from MIT, Princeton, UC Berkeley and UIUC, the network enables everyone to quickly build, operate, and use highly scalable decentralized applications through innovations in off-chain scaling techniques and incentive-aligned cryptoeconomics mechanism designs. Celer Network is on a mission to fully unleash the power of blockchain and revolutionize how decentralized applications are built and used.
CELER TECHNOLOGY
Celer's engineering architecture consists of two main parts: cStack and cEconomy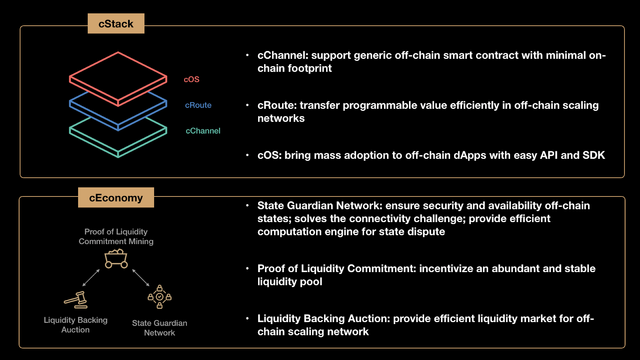 *cStack?
As a comprehensive full-stack platform that can be built upon existing or future blockchains, Celer Network encompasses a cleanly layered architecture that decouples sophisticated off-chain platform into hierarchical modules. Celer Network adopts an off- chain technology stack that can be built on different blockchains, call cStack, icludes:
• cChannel: generalized state channel and sidechain suite.
• cRoute: provably optimal value transfer routing.
• cOS: development framework and runtime for off-chain enabled applications
*cEconomy
cEconomy, whose design is based on the principle that a good cryptoeconomics model (token model) that provides network effect, stable liquidity, and high availability for the ecosystem. Includes proof of liquidity commitment, liquidity backing auction, and state guardian network.
State Guardian Network: ensure security and availability off-chain states, solve the connectivity challenge, provide efficient computation engine for state dispute
Proof of Liquidity Commitment: incentivize an abundant and stable liquidity pool
Liquidity backing Auction: provide efficient liquidity market for off-chain scaling network
CelerX & Celer SDK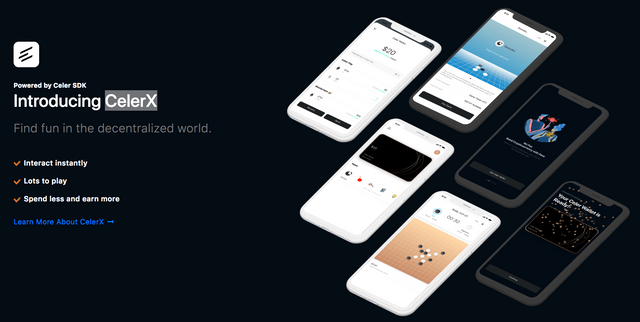 Celer recently launched Sirius Testnet along with a user-facing application CelerX. CelerX is an end-user platform connected to Celer Network. Unlike using other blockchain wallets, CelerXallows users to send instant and fee-free payments and also comes with a fun and highly interactive decentralized board game, Gomoku, built with Celer SDK. The scalability and high interactiveness of these applications are only made possible by Celer Network's advanced and coherent layer-2 scaling architecture.
Celer SDK is a toolkit for users to create dApps that working on Celer's platform. With this open platform, Celer allows users to easily build dappwith fast transaction speed(offer an10,000X faster), low cost(require zero transaction fees), and interactive user experience comparing with slow dApps built directly on blockchain.
ADVANTAGES OF CELER:
With the technology that Celer is deploying, based on the testnet version being tested for users, the current advantages of - Celer are great, including:
Already achieved 10,000X transaction latency reduction
Zero off-chain smart contract transaction fees
Accelerates both payment and smart contracts
100X fee reduction for micro payment
Horizontally scalable as more nodes joining
Provably optimal off-chain payment routing algorithm
The world's first off-chain crypto economics model to ensure safety and high liquidity
Blockchain agnostic (already support Ethereum, DFINITY and all EVM based blockchains)
OPPOTUNITY OF CELER: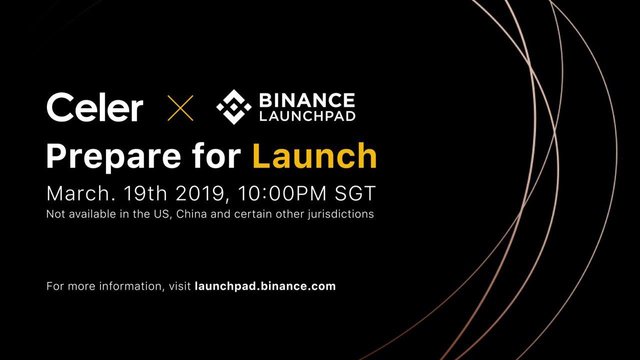 Celer is one of themostpopularblockchain projects today. Why? Because Celer is the third project open token sale on Binance LaunchPad. Since the two previous projects have been very successful in the bear market, Celer is the name mentioned quite a lot. This is one of the great opportunities for Celer.
Before being informed from Binance, Celer had got many reviews that it had been a great potential project.
The idea of scalability in blockchain is currently being considered by many projects, and Celer (Celer in Latin means speed) is also implementing this idea:Multi-blockchain support, Support not only just payments but also off-chain smart contracts
Celer's strategy partners and investors are extremely impressive, including organizations that influence the crypto market: Pantera, Capital, DHVC, FBG, Capital, Fenbushi Capital, Signum, Quarkchain, Qtum iotex, NGC, LinkVC and more.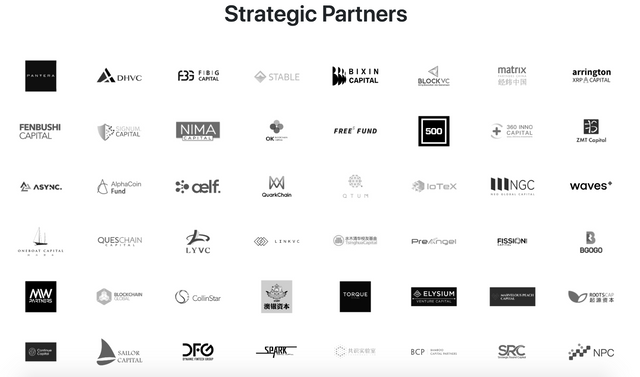 Celer Network has a team of researchers, engineers who are masters from prestigious academies such as MIT, Berkeley, Princeton and UIUC. Extensive experience in building secure, high-performance systems for blockchain technology projects. Team members are leaders in blockchain programming and smart contracts.
Product of Celer - CelerX, the mobile user entry point, now has more than 3,300 users, and more than 28,000 Gomoku games played in total. Users come from 40+ countries all over the world.
CHALLENGE OF CELER:
What a real challenge from Celer's popularity! Celeris getting too much attention with the nature of profit from investors. If this time passes, will Celer still grabattention from the community?
Efforts are important when Celer has many competitors. Getting a place in the bear market is a big challenge. Currently, there is only 1 tested dapp on Celer. The first priority is to find more app developers for CelerX's scalability.
It is difficult to invest in Celer on Biance due to the large number of scrambling users. Investors really need time to wait for a reasonable price for their long-term investment.
CONCLUSION
Celer is a potential project. With a talented team and great strategic partners (especially Binance), Celer is able to have a position in the future. The blockchain industry is growing day by day, solving scalability issues, connect blockchains, and supporting dApps to grow on Celer's platform make the value of Celer confirmed. That is also the concern of many investors today, and Celer is doing that.
---
About Celer Network:
Website: https://www.celer.network
Telegram: https://t.me/celernetwork
Twitter: https://twitter.com/CelerNetwork
About Syndicator Org:
• Website: https://syndicator.in
• Telegram: https://t.me/Syndicator_Official
• Twitter: http://twitter.com/syndicator_org