shEOS takes San Francisco: Events to Build Community & Developer Talent
As the global EOS community touches down in San Francisco for the final EOS Hackathon before the Cape Town finale, the team at shEOS is working feverishly on a series of events we are sponsoring in the San Francisco Bay Area November 9th-13th. With many of our team located in Los Angeles, the San Francisco Hackathon was a beautiful opportunity to suit up, and dive in to fully supporting local developers, dApps, fellow block producers and EOS token holders.
We are especially grateful to the Kapor Center, for helping us fulfill our mission to nurture female and minority developer talent, and to the Cyber Code Twins, Angel Jose, Ben Sigman and Kedar Iyer for their tremendous work in executing the EOS21 developer workshop.
After months of "head down" work developing the EOS21 Protocol, and building out the shEOS Foundation and Scholarship Program, the timing is perfect to close our computers, and join the rest of our EOS family in a weekend of technical education, innovation, collaboration and celebration.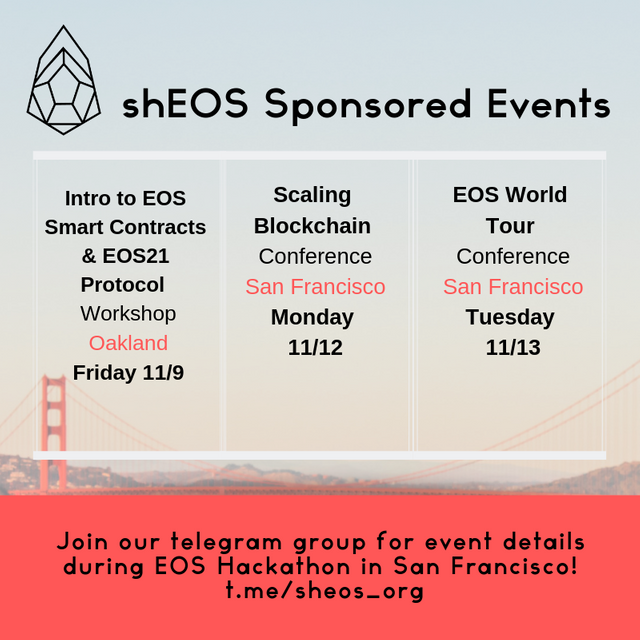 shEOS IS HONORED TO SPONSOR THE FOLLOWING EVENTS:
Intro to EOS Smart Contracts & EOS21 Protocol - A Developer Workshop
Friday November 9th, 5-9pm
Kapor Center, Oakland, CA
Learn how to setup your dev environment, build smart contracts on the #EOSIO blockchain, and get an overview of the #EOS21 "teleport" protocol. This is an "intro level" EOS developer workshop led by blockchain leaders The CyberCode Twins, Ben Sigman (shEOS), Angel Jose (Sense) & Kedar Iyer (Everipedia.) We are grateful to the Kapor Center for hosting and helping us support female & minority tech talent in the Bay. Shout-out to EOS Dublin for their help!
Link to Intro to EOS Smart Contracts & EOS 21 Protocol workshop livestream:

EOS21 Protocol Demo Video by Angel Jose:

EOS21 Protocol Overview Video by Crystal Rose & Ben Sigman:
Scaling Blockchain Conference
Monday, November 12th
San Francisco, CA
Scaling Blockchain is an event for developers, entrepreneurs and investors to learn about the next generation of decentralized applications (dApps) that scale to real-world applications. Come and interact with the EOS community that is building a future where everyone can experience the power of blockchain in everyday life.
shEOS has sponsored a booth and several shEOS members are speaking, including co-founder Crystal Rose. Swing by and say hello. Ladies can use code 'sheos' for discounted tickets.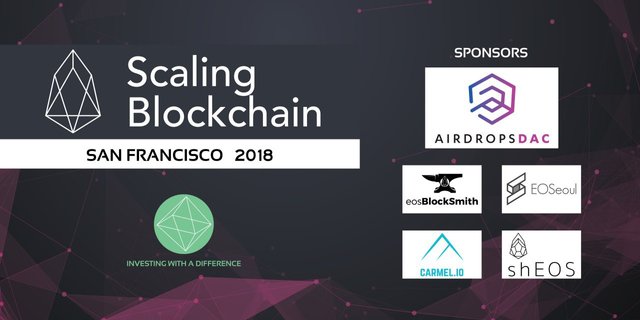 EOS World Tour
Tuesday, November 13th
San Francisco, CA
EOS World Tour aims to nurture the EOS ecosystem by promoting dApps around the world. Since announcement in August, EOS World Tour has held 6 meet up events in Korea and China, and video interviewed more than 20 dApps and block producers. Connect with this thriving community. Registration is FREE.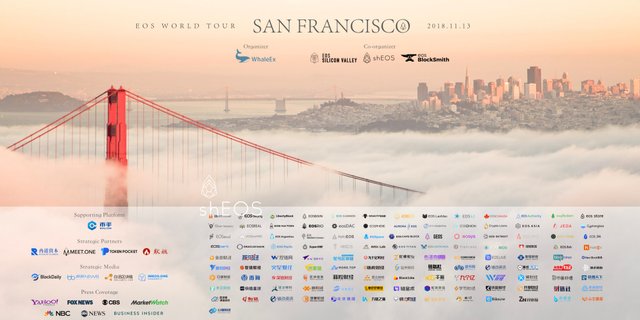 The potential of EOS is just unfolding, and the work of shEOS and our fellow block producers is just beginning. Please support YOUR EOS ecosystem by exercising your right to vote.
Vote 'sheos21sheos'.
Safe travels to all!