shEOS Announces Partnership w/ Kingsland University to Provide Scholarships for Girls
We are shEOS - the first female founded Block Producer on the EOS blockchain network. We are self-funded, and independently led by a team of international entrepreneurs, technologists, and engineers, each distinguished and recognizable members of our field.
To qualify as a Block Producer candidate on the EOS blockchain, the EOS Constitution requires us to meet eight criteria. Seven of those are related to maintaining high standards of technical efficiency, functional integrity and operational transparency in creating the blocks, the decentralized and intentionally impersonal commodity that is the foundation of our blockchain.
Led by the diligent efforts of our talented team, the shEOS block producer node has operated flawlessly and in complete compliance since the launch of the EOS mainnet. Our website details the technical contributions we have made to the EOS community, the specifications of our technology and the background of our team: www.sheos.org
But it's the eighth requirement, the mandate to deliver a Community Benefit, that excites us the most: it's the human and heartfelt aspect of our work as your block producers. And in it, we see an opportunity to change the world and bring true diversity to the nascent blockchain industry in a critical moment, by sponsoring groundbreaking educational programs that will encourage gender parity in tech literacy and employment.
We're proud to announce our first Community Benefit project, the shEOS Scholarship Program: bit.ly/wearesheos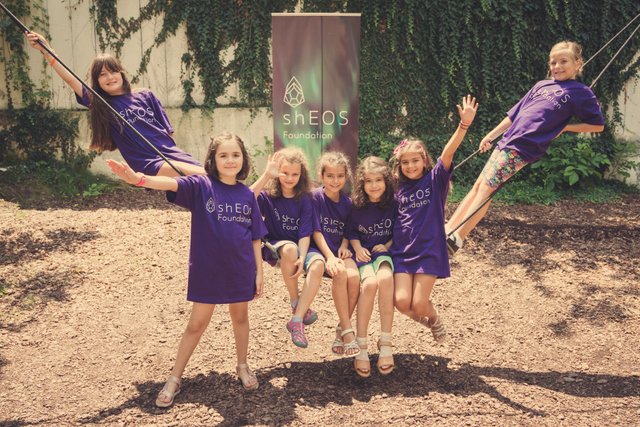 Through the shEOS Foundation, the shEOS Scholarship Program will sponsor technology scholarships for girls in grades 3-5, who live in marginalized 2nd and 3rd world countries. We have committed a percentage of our revenue to date to funding a cohort of young scholars for the 2018-2019 school year, and we are forming an official non-profit entity so that members of the blockchain community can make direct contributions to widen the scope of our impact.
We are working with leaders in blockchain developer education at Kingsland University, and together with Kingsland, we are shaping a unique program to promote tech literacy that will also include a mindfulness component for a balanced and healthy education.
Founder and CEO of blockchain programming school Kingsland University, John Souza, has long advocated for supporting economic opportunities for women and girls through tech education. "Bringing more women into STEM fields is essential as we continue towards a tech-centered future and it starts with giving opportunities to girls early in their education journey," said Souza. "Studies clearly show that increasing women's and girl's education leads to higher rates of economic growth, an increase in gender-pay equity, and decreased infant mortality rates globally. We're excited to be working with shEOS to bring about opportunities for girls to build the future of technology."
Built into this scholarship program is a feedback mechanism, whereby the scholars' progress will be tracked and the parents surveyed at programs' end to determine efficacy and provide opportunities to iterate in the upcoming year. Just as we are carefully creating this new world of technology based on blockchain, so do we want to carefully craft this impact program with fresh eyes and thoughtful approaches.
The shEOS Foundation will be led by shEOS co-founders Sandy Hill and Naomi Dabby, with marketing and program support from shEOS Marketing Director Autumn Penaloza. All team members are committed advocates of STEM education for children, and have experience leading foundations, fundraising and implementing programs.
Lastly, we are working with a prominent blockchain developer on a platform that will enable completely transparent giving on the blockchain. We believe that the distributed aspect of the EOS blockchain will eventually enable our Foundation (and others!) to be more efficient. While there is a vibrant conversation within the charitable sector about the meaning of overhead and whether organizations should be measured by the percentage they spend on fundraising, one thing we know for sure is that donors prefer to fund projects directly. Donors want to see where the money is going and how it is being used at any given time. It is our goal to build such a "window" into our foundation on the blockchain. Please stay tuned for details on this current development - what a feat for global giving it will be.
Educated girls grow into strong, capable women that empower whole communities. shEOS is committed to helping them get there.
Catch up with shEOS on our social channels:
Steemit: https://steemit.com/@sheos
Medium: https://medium.com/@sheos.org
Twitter: https://twitter.com/sheos_org
Facebook: https://www.facebook.com/sheos.org/
Instagram: https://www.instagram.com/sheos_org/
YouTube: bit.ly/shEOSYT
Reddit: https://www.reddit.com/user/sheos_org