A new era of Steem DeFi: Nutbox is supporting STEEM-TRX, STEEM-PNUT, STEEM-USDT exchanges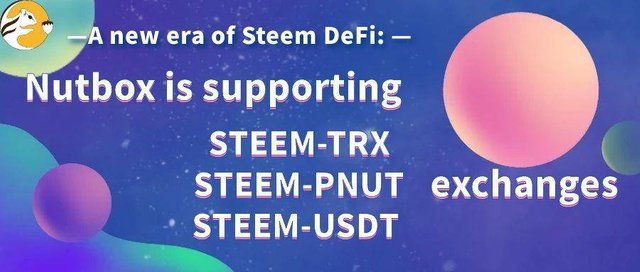 After the explosion of DeFi, Steem Blockchain is always away from it, just like the Bitcoin Blockchain. However, Kyber, Ren, and BitGo launches Wrapped Bitcoin, providing an opportunity for those BTC holders to enjoy the financial banquet.
At the start of Nutbox, we have designed TSTEEM, a STEEM projection token on Tron, according to the mechanism of WBTC. Not only Nutbox.io can generate PEANUT, a type of assets backed token, but also support the exchange functions of STEEM-TSTEEM and SBD-TSBD with the exchange rate 1:1.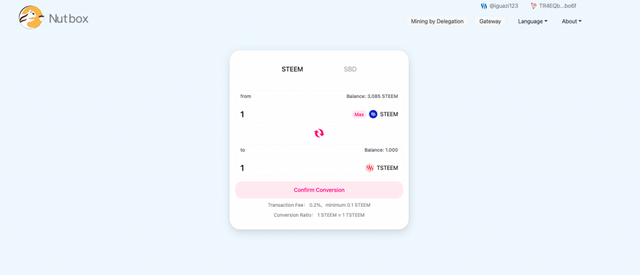 STEEM - TRX Exchange
The bilateral exchange functions of STEEM-TSTEEM and SBD-TSBD on Nutbox create the tunnels which help assets on Steem can be trade on JustSwap. Along with these tunnels, the outlook of DeFi applications will be expanded.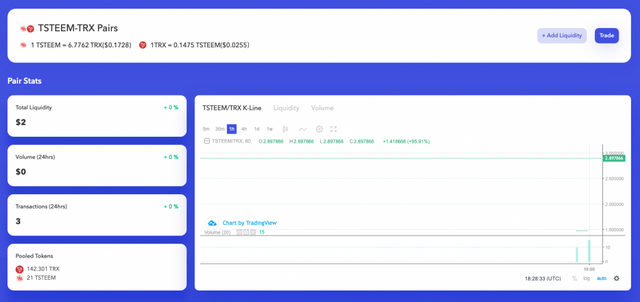 From nutbox.io, the STEEM can be exchanged to TSTEEM, then TSTEEM can be exchanged to TRX at JustSwap. In this way, STEEM can be exchange to TRX. Inversely, TRX can also be exchange to STEEM. On the other hand, you can trade TSTEEM for other tokens at JustSwap, such as USDT.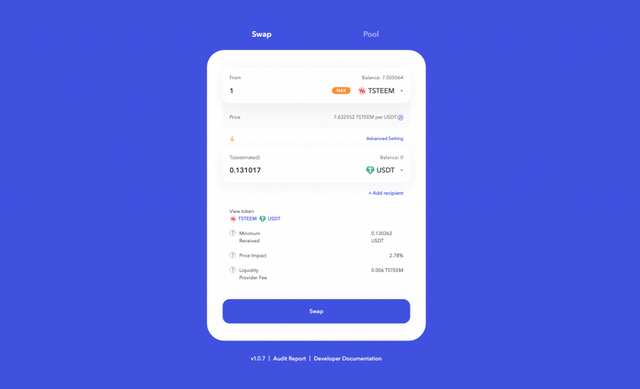 Besides, you can add liquidities at the TSTEEM-TRX trade pair, enjoying the TSTEEM-TRX trade fees in return. As long as there is a TSTEEM-TRX exchange, you will be rewarded.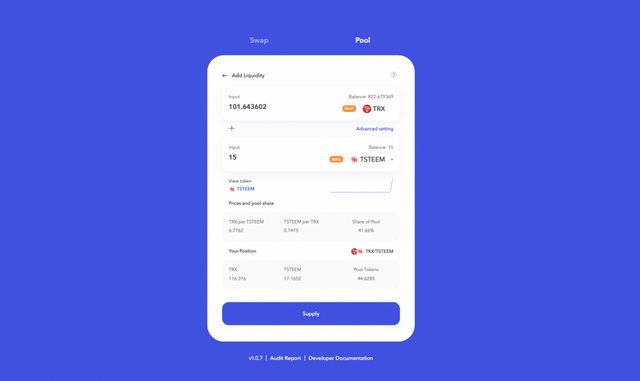 STEEM - PNUT Exchange
The STEEM to TRX exchange function has been realized through nutbox.io and JustSwap. While, the trade pair of PNUT-TRX has already been created. It means that the exchange function of PNUT-STEEM has been realized. As long as choosing the PNUT and TSTEEM on JustSwap, we can directly exchange our tokens from one to another.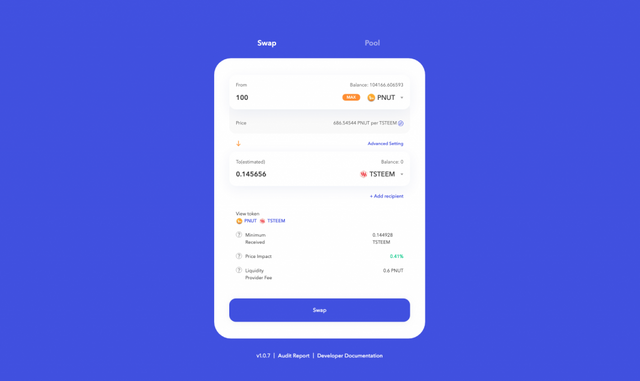 In a word, because of nutbox.io and JustSwap, the connection between Steem asstes and Tron assets has been built. It creates a new world for Steem community, dozens of DeFi models and thousands of smart contracts at Tron will activate vigor of Steem again.
Exchange:
STEEM - TSTEEM exchange:https://nutbox.io/bridge
TSTEEM - TRX exchange:https://justswap.org/?lang=en-US#/scan/detail/trx/TBUZYrDh7gzjd1PLnkMHWoAo55ctRzZzGN
TRX - PNUT exchange:https://justswap.org/#/scan/detail/trx/TPZddNpQJHu8UtKPY1PYDBv2J5p5QpJ6XW
Nutbox introduction
CN | https://steem.buzz/cn/@nutboxs/nutbox--y-combinator-of-steem-blockchain-20201016t055718157z
EN |  https://steemit.com/cn/@wherein/nutbox--y-combinator-of-steem--will-coming-soon-20201017t190449041z
KR | https://steemit.com/hive-196917/@ayogom/steem-nutbox-y-combinator
DOCS | https://docs.nutbox.io
Webside | https://nutbox.io/
Contact US
Steem:https://steemit.com/@nutbox
Discord:https://discord.gg/zPkMuGY
Telegram:https://t.me/joinchat/PrBejBh_Grp6lFZEGArDpA
Vote For US
Please vote for our witness smt-wherein:
https://steemconnect.wherein.mobi/sign/account-witness-vote?witness=smt-wherein&approve=1
https://steemitwallet.com/~witnesses
CN | 中文
DeFi爆发以来,Steem Blockchain一直与其无缘,这方面和Bitcoin Blockchain有点类似。不过,Kyber、Ren和BitGo共同发起了Wrapped Bitcoin(WBTC),让Bitcoin社区得以参与DeFi这场盛宴。
Nutbox在上线伊始,我们就参照WBTC设计了TSTEEM(基于Tron的STEEM等值资产)。故nutbox.io 有两个功能:1、代理挖矿,在nutbox.io代理SP,可以挖到PEANUT(简称PNUT);2、兑换,支持STEEM - TSTEEM、SBD - TSBD的双向1:1兑换。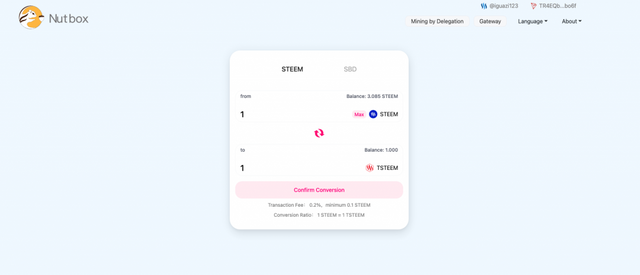 STEEM - TRX 交易
Nutbox的 STEEM - TSTEEM、SBD - TSBD双向1:1兑换,让Steem的资产 STEEM/SBD 得以通过 TSTEEM/TSBD 在Justswap上交易,将STEEM/SBD与TRX双向打通。透过nutbox的兑换功能,Steem与Tron一道扩展DeFi应用场景。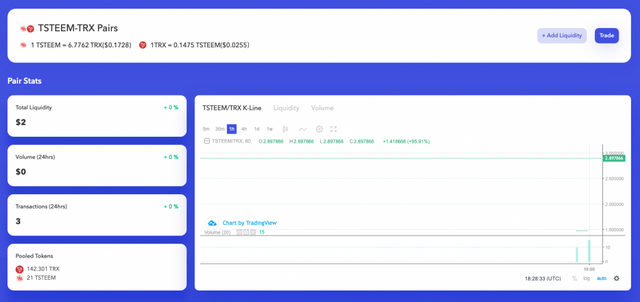 在nutbox.io,将STEEM 1:1兑换为TSTEEM,然后在Justswap上将TSTEEM兑换为TRX,自此,即可将STEEM兑换为TRX。反过来,可将TRX换成STEEM。您还可以,在Justswap交易页面选择 USDT和TSTEEM,可直接开展 TSTEEM-USDT 交易,实现STEEM-USDT的去中心化交易。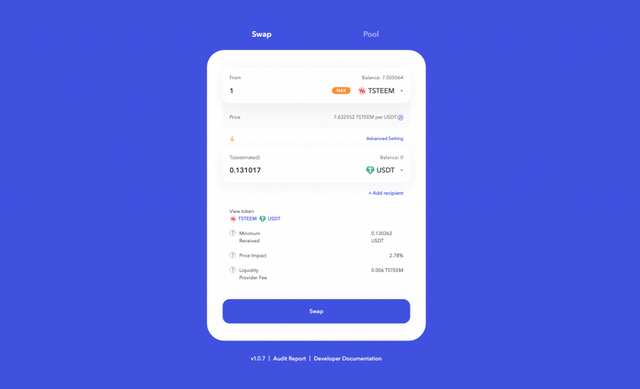 除此之外,您还可以为TSTEEM-TRX交易对提供流动性,分享 TSTEEM-TRX 交易手续费,每发生一笔 TSTEEM-TRX 兑换,您都将获得一笔收益。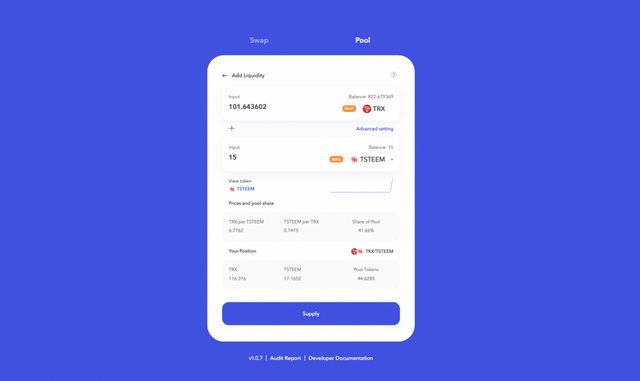 STEEM - PNUT 交易
通过nutbox.io兑换和JustSwap,实现了STEEM与TRX的兑换。而我们早就通过 PNUT - TRX交易对,实现了 PNUT 与 TRX 的兑换,这样就实现了 PNUT - STEEM 的兑换。只需在Justswap交易页面选择 PNUT和TSTEEM,可直接展开交易。
nutbox.io和Justwap实现了,Steem资产与任意Tron资产的贯通,这为Steem社区打开了一个新的世界,各种DeFi玩法、Tron的智能合约将再次激活Steem。
---
本文使用 Nutbox 发布;原文来自 : http://wherein.mobi/2020/11/09/a-new-era-of-steem-defi-nutbox-is-supporting-steem-trx-steem-pnut-steem-usdt-exchanges/
---