SKYFCHAIN IS THE FIRST B2R (BUSINESS-TO-ROBOTS) BLOCKCHAIN BASED OPERATING PLATFORM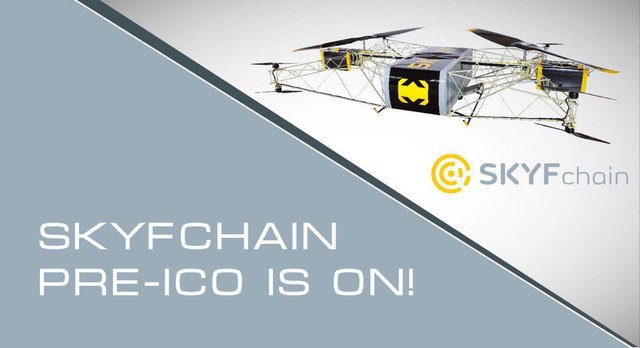 hello friends .., best wishes to all of you who have visited and seen my composition, this time I will discuss about SKYFCHAIN,
SKYFchain is a project to operate cargo carrier aircraft carrier. We have distribution partnerships with customers in the fields of logistics, oil and gas, and agriculture.
What I noticed was that SKYFT said it was in accordance with the US Securities and Exchange Commission (SEC) and that it was available in the US If  
so, this would be a more reliable source of investment, That's because I have the confidence to pass. One of the ICOs I invested recently was suddenly pushed back because it was difficult to pass ICO in the US and finally decided to return to another country.
Rating
The ICO bench score is 5.0 at the current level, of course the score tends to decline because we have not scored 11, but it seems that many people evaluate it positively.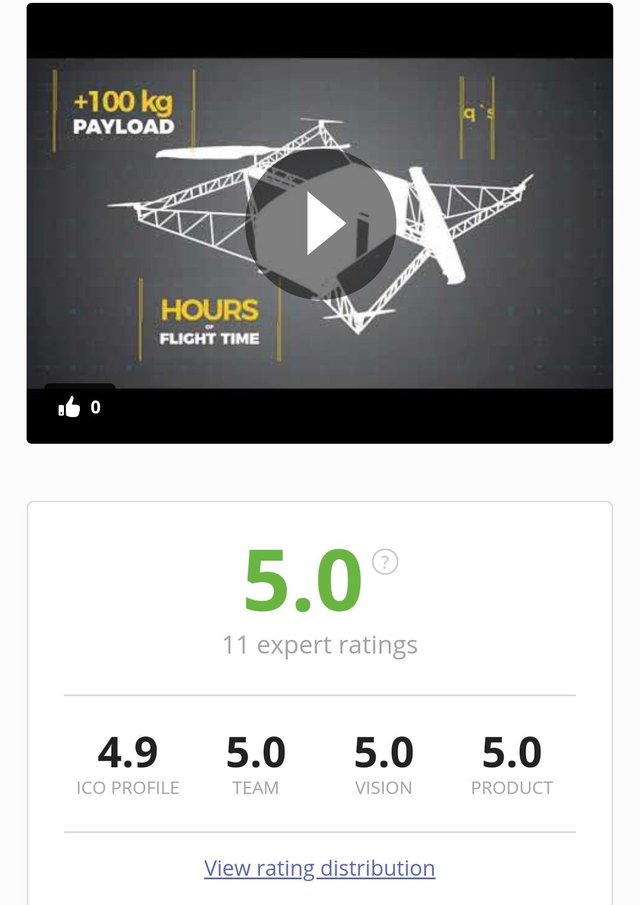 Concept
By 2020, logistics costs are expected to be reduced by up to 50 percent through unattended operations. 
In this market, SKTFchain seems to be trying to keep the market busy by building a logistics platform through the block chain for the first time.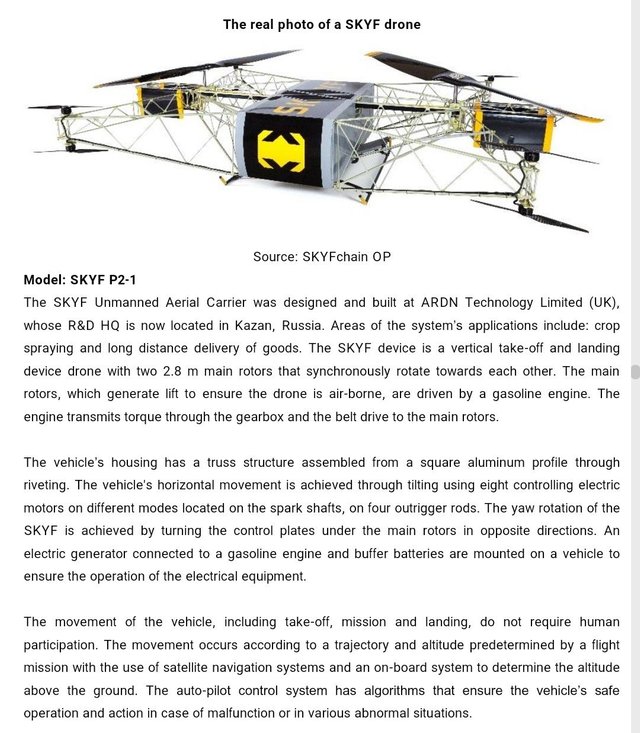 This operating platform allows each company to obtain information such as specifications and transmission history, pilot specifications and operator licenses, routes, and check flight routes prior to shipment to ensure logistical security.
Currently, KYF is capable of carrying a maximum load of 250 kg (550 lb) up to 3 hours, and can load up to 50 kg at a distance of 350 km (220 miles) to 8 hours, claiming to be superior in performance. It  uses a gasoline engine, which is more efficient than a lithium ion battery (I do not know if it is true due to lack of technical knowledge).
Pony Express, Russia Post and Slavneft Oil & Gas have embarked on a pilot program. "  
This team appears to have been based in Russia, and it is said that they have attracted customers mainly in Russia  , and this aims to expand into Southeast Asian, European and African markets, and the United States is said to be less interested in the market due to flight rules.
In 2017, we raised $ 5 million to complement the design and manufacture of SKYF cargo ships, and successful autonomous flights. Starting this year, we plan to expand partnerships and produce and sell UAVs, starting with countries where flight regulations are easing. In the future, we want to integrate unmanned systems into land and maritime logistics.
Token
SKYFT tokens are used for all transactions that occur in SKYFchain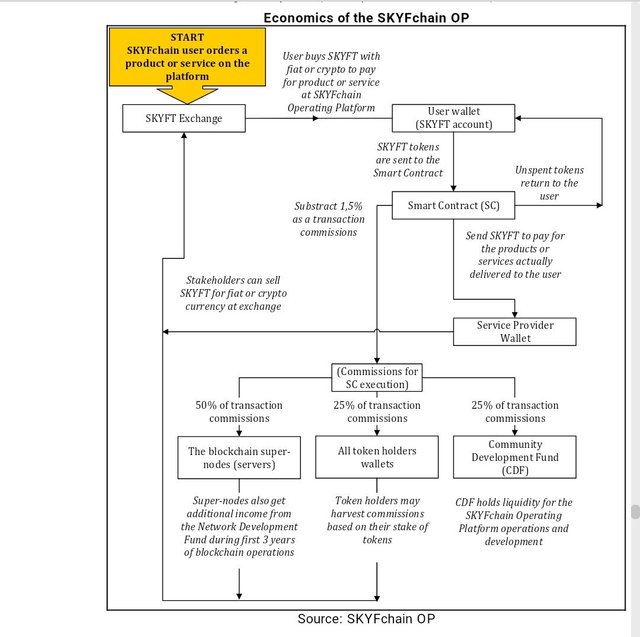 SKYFT said it would buy back SKTFT tokens sold for $ 50 million in drones sold within five years. 
If this plan is implemented, token prices will rise while protecting investors.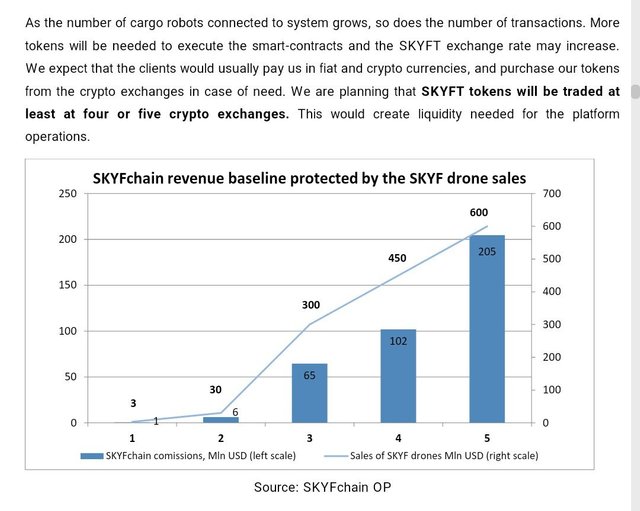 At least 4-5 bursa will be listed for token liquidity.
Investors are allocated a commission of 25% in proportion to the number of tokens in revenue on trading platforms.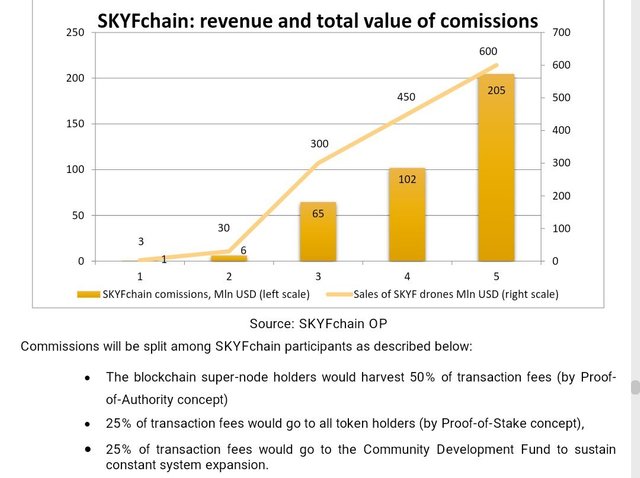 How to buy
Join SKYFchain
This is token-based eterium. 
After the purchase, when the pre-sale expires, the individual notifies the person to enter the gross address. After the token sale expires, it is distributed as a personal item on individual demand.
Starting March 1st, you will receive a 40% bonus before the sale.
Minimum purchase is 3000SKYFT. Our money is about 200,000 won. 
Bitcoin and etherium are available.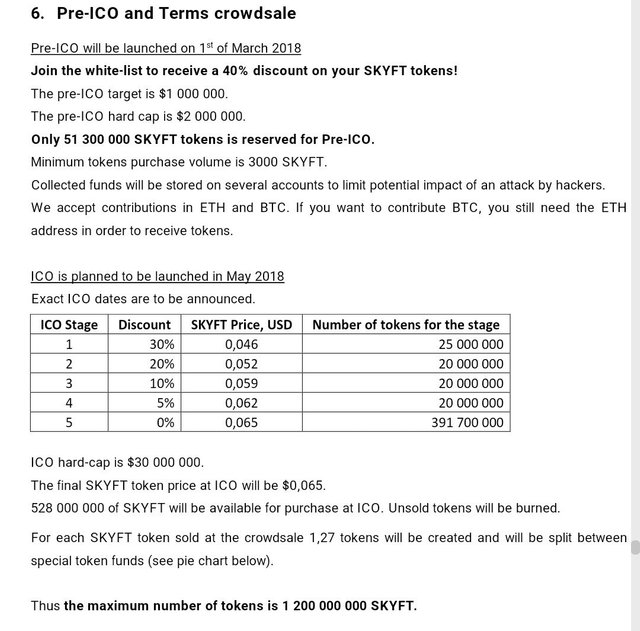 Token SKYFT 
Price 1 SKYFT = 0.065 USD  
Bonus Available  
Bounty Available  
Platform Etalitas  
Receive ETH, BTC  
Minimum investment 3000 SKYFT 
Soft cap 5000000 USD  Hardcap  
30000000 USD  Whitelist Code / KYC  Code
SKYFchain TEAM



SKYFchain Advisors

Please note that  
personally I believe that in the end many people will operate future unmanned transportation systems, as well as other ICO project teams, which can be considered a full start up, No one knows if it will work. 
I think it would be better to have an opinion on how to forge a partnership with a large company introduced in the middle market. If you invest, I want you to do more personal research!

for more info on this project, please visit the link below:
Website:  http://www.skyfchain.io/
Whitepaper:  https://fpivc.box.com/v/SKYFchainWhitePaper
Telegram:  https://t.me/SKYFchain
Facebook:  https://www.facebook.com/SKYFchain-2030350540582744/
Twitter:  https://twitter.com/SKYFchain
Medium:  https://medium.com/@SKYFchain
author: Cintia plug
my Bitcointalk link profile: https://bitcointalk.org/index.php?action=profile;u=1565176