After all this years with all disagreement and negative thinking about blockchain technology, finally those bankers realize that they can get a lot of benefits from this technology as I read from CNN Indonesia news today : https://www.cnnindonesia.com/teknologi/20181113072818-185-346039/bank-pakai-blockchain-atasi-masalah-pembayaran-lintas-batas. Well, it is understandable, because most people tend too late to realize something new. It is always part of the history, not all are born to be a leader, most people choose to become the followers only. Just read how blockchain technology can revolutionize banking : https://www.accenture.com/us-en/insight-blockchain-technology-how-banks-building-real-time and https://medium.com/universablockchain/blockchain-is-reshaping-the-banking-sector-fd84f2f9c475.
Setelah bertahun-tahun dengan segala pertentangan dan persepsi negative tentang teknologi blockchain, akhirnya para banker itu menyadari juga bahwa mereka bisa mendapatkan banyak sekali manfaat dari keberadaan teknologi blockchain ini seperti yang saya baca dari berita di CNN Indonesia hari ini : https://www.cnnindonesia.com/teknologi/20181113072818-185-346039/bank-pakai-blockchain-atasi-masalah-pembayaran-lintas-batas. Bisa dimengerti, karena memang kebanyakan orang terlalu terlambat untuk menyadari sesuatu yang baru. Sudah menjadi bagian dari sejarah, tidak semua terlahir menjadi pemimpin, kebanyakan orang memang sepertinya memilih hanya menjadi pengikut saja. Coba baca bagaimana masa depan dunia perbankan dengan kehadiran teknologi blockchain ini : https://www.accenture.com/us-en/insight-blockchain-technology-how-banks-building-real-time dan https://medium.com/universablockchain/blockchain-is-reshaping-the-banking-sector-fd84f2f9c475.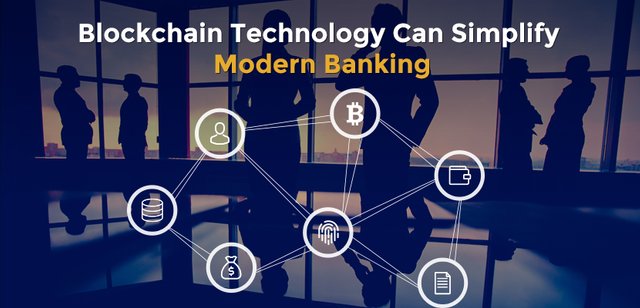 Source: https://kryptomoney.com/how-blockchain-technology-can-disrupt-banking/
["Blockchain is truly great technology, but I'm not sure that the initial hypothesis that everyone has about reducing large amounts of costs is the point where you will see many new products being developed," said Umar Farooq (Head of Blockchain at JP Morgan). "This will be far more about doing things that cannot be done without blockchain technology, creating new products. If you see it purely as a cost saving mechanism, he limits the potential of technology," he continued.] (https://www.cnnindonesia.com/teknologi/20181113072818-185-346039/bank-pakai-blockchain-atasi-masalah-pembayaran-lintas-batas)
["Blockchain benar-benar teknologi yang hebat, namun saya tidak yakin bahwa hipotesis awal yang semua orang miliki tentang mengurangi sejumlah besar biaya merupakan titik di mana Anda akan melihat banyak produk baru dikembangkan," kata Umar Farooq (Kepala Blochchain di JP Morgan)."Ini akan jauh lebih banyak tentang melakukan hal-hal yang tidak dapat dilakukan tanpa teknologi blockchain, menciptakan produk baru. Jika Anda melihatnya murni sebagai mekanisme penghematan biaya maka dia membatasi potensi teknologi," lanjutnya.(https://www.cnnindonesia.com/teknologi/20181113072818-185-346039/bank-pakai-blockchain-atasi-masalah-pembayaran-lintas-batas)
It is not easy to understand about blockchain technology, especially since its development is faster than our ability to accept and to think about it clearly. It is proven that most people are only talking about Bitcoin, trading, and cryptocurrencies when we start to talk about blockchain technology. Not all people dare to get out of that area, instant money through mining, airdrops, bounty programs, and upvote on Steem are much more attractive, I guess. It is so difficult to find someone who realize that we can do a lot with blockchain technology, and even with Steem blockchain, we can do more than just trying to get instant money. We need to understand about it, being ignorance and greedy will not help blockchain technology and all of us to develop in the future.
Tidak mudah untuk mengerti tentang teknologi blockchain, apalagi karena perkembangannya lebih cepat dari kemampuan kita untuk menerima dan berpikir dengan lebih jelas. Sudah terbukti kalau kebanyakan orang bicara hanya tentang Bitcoin, trading, dan uang kripto saja kalau kita mulai bicara tentang teknologi blockchain ini. Tidak semua orang berani keluar dari area itu, uang instand lewat program mining, airdrops, bounty, dan mendapatkan upvote di Steem sepertinya lebih menarik. Sungguh sangat tidak mudah menemukan orang yang menyadari bahwa kita dapat melakukan banyak hal dengan teknologi blockchain, dan bahkan dengan steem blockchain, kita bisa dapat melakukan lebih banyak daripada hanya sekedar mendapatkan uang secara instant. Kita hendakya mengerti tentang hal ini, tidak peduli dan rakus tidak akan membantu teknologi blockchain ini dan bahkan diri kita sendiri untuk dapat berkembang di masa depan.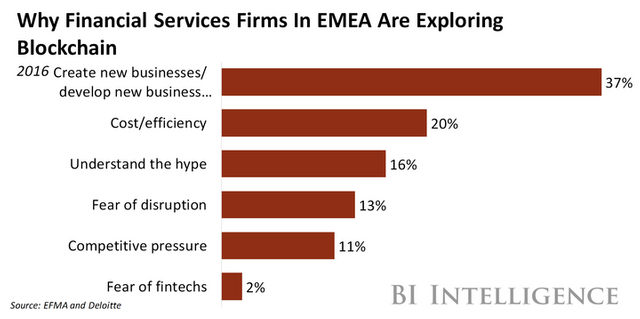 Source: https://www.businessinsider.com/blockchain-in-banking-2018-5/?IR=T
Either we realize it or not, we all are facing a new history of human being that technology plays important role in our civilization. In the previous era, time and working experience were like indicators of someone's ability to lead, and higher education was also considered as a guarantee of one's intellectual ability, but in the future it will no longer be the case. In this future era, the challenge is about the work, potential, ideas and innovations that can be implemented and have a systemic impact. It is useless for all titles and experiences if they are unable to provide tangible results that can be useful and beneficial to many people. In the future, we have to compete, not only with other human being, but also with technology. Even the most prominent bank in the world can not avoid this technology, and they have to learn to be able to survive in the future.
Mau kita sadari atau tidak, saat ini kita sedang menuju ke era sejarah baru dalam kehidupan manusia di mana teknologi memegang perangan penting dalam peradaban. Jika di masa sebelumnya, waktu dan pengalaman kerja menjadi seperti indikator kemampuan memimpin seseorang, dan pendidikan tinggi juga dianggap sebagai jaminan kemampuan intelektual seseorang, maka ke depan tidak lagi demikian.Di era ke depan ini, yang menjadi tantangan justru adalah hasil kerja, potensi, ide dan inovasi dalam karya yang mampu memberikan dampak yang luas. Percuma saja semua gelar dan pengalaman jika tidak mampu memberikan hasil nyata yang bisa berguna dan bermanfaat bagi banyak orang. Bahkan bank yang paling besar di dunia pun tidak bisa menghindari teknologi ini, dan mereka harus belajar jika ingin bertahan di masa depan.
If we continue to deny about all of this, then we will still have to deal with problems that we have to face today, such as corruption, manipulation, hoax, plagiarist, spammers, and all others that we continue to scream and criticize all this time. We know exactly we have to stop it, and we have an opportunity with the existence of blockchain technology. Hence, it is so silly if we act like we don't need to learn more about blockchain technology, not even to try to learn about steem technology but complaining about its price which continue to weaken. At least, we do something, not just sit down, complains, and continue do all the things that make the situation worst.
Jika kita terus menyangkal semua ini, maka kita harus terus berhadapan dengan semua masalah yang kita hadapi saat ini, seperti korupsi, manipulasi, hoax, para plagiat dan spammers, serta semua yang selama ini kita terus teriakkan dan kritik. Kita tahu persis kalau kita harus hentikan ini semua, dan kita memiliki kesempatan dengan adanya teknologi blockchain ini. Jadi, sangat menggelikan bila kita bertingkah seolah kita tidak butuh belajar tentang teknologi blockchain, sama sekali tidak perlu belajar teknologi steem blockchain tetapi cukup mengeluh saja karena harganya yang nggak terus melemah. Paling tidak, lakukan sesuatulah, jangan hanya duduk, mengeluh, dan melakukan semua hal yang membuat situasi malah bertambah parah.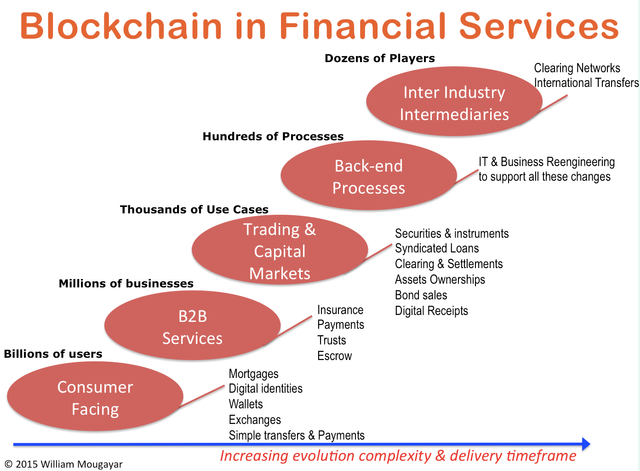 Source: https://www.coindesk.com/why-and-how-banks-should-embrace-blockchain-tech
@oracle-d and @aspekti are here to provide education about blockchain technology, especially in Indonesia and hopefully to all over the world. We do understand that it takes time to understand about this, even those banks need 10 years to understand the benefits of blockchain technology. Of course, blockchain technology is not the solutions for all problems, and we still have to learn more and more, but still, we have to start to learn about it now. There is no time to waste for just being lazy and ignorance, time goes by and we should not regret everything later on. This is our chance to have the future, we better take it or just bare with current situations and do not make any complains at all!
@oracle-d dan @aspekti hadir di sini untuk memberikan pendidikan tentang teknologi blockchain, terutama di Indonesia dan besar harapan juga bisa dilakukan di seluruh dunia. Kami sadar penuh bahwa butuk waktu untuk mengerti akan hal ini, para banker itu saja butuh waktu 10 tahun untuk sadar apa manfaat dari kehadiran teknologi blockchain. Tentunya teknologi blockchain bukan solusi dari semua masalah, dan kita masih harus terus dan terus belajar, namun hendaknya kita mulai belajar dari sekarang. Tidak ada waktu lagi untuk malas dan tidak peduli, waktu berjaan begitu cepat dan sebaiknya kita tidak menyesal di kemudian hari. Ini adalah kesempatan bagi kita untuk memiliki masa depan, sebaiknya kita ambil atau hadapi masalah saat ini dan jangan pernah mengeluh sedikit pun!
Bandung, November 14th 2018
Warm Regards – Salam hangat selalu,
Mariska Lubis