THE NEXT PINTEREST (which actually Benefits Creators)! | Review of MAKERSPLACE Part I
Hey friends!!
This post will be an in-depth review of @makersplace, solely out of my own initiative after exploring and using the site.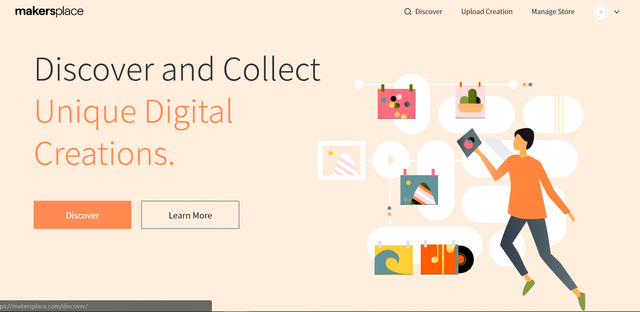 MakersPlace's Purpose in a Nutshell
Just a blurb: "We live in an increasingly digital world and we're spending more time than ever online. Yet, the very people who create the digital creations that we consume and enjoy still struggle to make money from their work. Creators struggle to protect the use of their work online, and the digital works they do create have a low perceived value. So where does this leave the future for digital creativity? At MakersPlace we're solving this by empowering the world's digital creators with the necessary tools to better protect and ultimately capture the full value of their digital work."
You can read more on their Medium page but I'll just summarize.
They are built upon the Ethereum blockchain, utilizing its smart contract technology.
The MakersPlace founder was previously occupying a key role in Pinterest, a social media giant!
MakersPlace aim to be the easiest way to create and sell unique digital creations.
They have just been covered by some tech news sites: Pinterest employee #1 launches blockchain art market - MakersPlace.
And...they just received $2million in seed funding!
But now, onto my personal experience of the site.

Introduction & First Impressions
I first came across MakersPlace when I was visiting a PHC friend's post. @allyinspirit mentioned something about her MakersPlace gallery and being the ever-curious creative that I am, I went to google what it is.
I was greeted by the front page which had a very beautiful and minimalist design and introduced MakersPlace's main purpose right off the bat.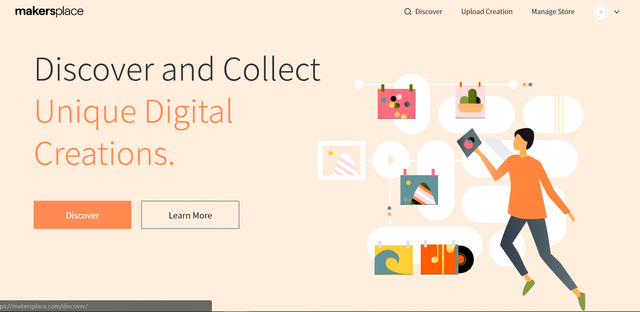 The UI (user interface) was also stellar, the site being very easy to navigate.
That struck me favourably. I was quite impressed at how a project in its alpha stage still devoted alot of time and effort into making both the design aesthetics and the UI excellent.
I also realised they interviewed @reinhard-schmid, another friend from our lovely PHC family. Okay, I thought, yet another affirmation to just try!!

Getting On-Board MakersPlace
Naturally, since I had a good impression of the site, I did not hesitate to sign up.
When I was registering, I came across the need for an invite code.
It was then when I got abit confused about how to receive an invite code. I tried searching for information on how to retrieve the invite code; however, I couldn't find any signpost.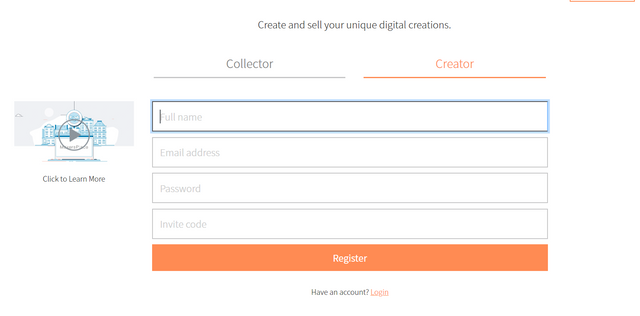 I think this might be one of the only (slight) drawbacks about joining MakersPlace as a creator.
I believe that since it is a budding project, MakersPlace should make the on-boarding process as smooth and easy as possible, and minimize the reasons why a potential creator should give up along the way. (@makersplace - just a tip, maybe you guys might want to include a link to your Discord chat at the same of the text box?).
TIP FOR CREATORS WHO WANT TO GET THE INVITE CODE: Email MakersPlace Support Team! (They are super duper helpful and friendly!!)
In your email, include some links of your recent artworks published online - this is part of their verification process. I sent them some of my Steemit and Instagram posts - those were accepted.

Tomorrow, I'll be continuing on my honest review about my on-site experience!
Til then, I just want to say that I'm really really excited for the potential of all these blockchain initiatives (even if it is not based on Steem). I truly believe in an era of cooperation. Gone is the time of competition. Who says Steem and Ethereum cannot both thrive at the same time?
Similarly, there will be many other sites like MakersPlace emerging (that is my gut feel) but that does not mean there can be only one survivor left standing in the end. It might happen, but it's not a zero-sum game. And that truly is what I'm so stoked for blockchain technologies.
Semi-philosophical rant over...
Check out MAKERSPLACE today!!