MiracleTele Massive Airdrop and Bounty 3.0 - EARN WITHOUT INVESTMENT OPPORTUNITY [TELECOME] [MVNO]
Before I start my post, Let me clear you all that I am not an investment advisor nor approaching you to invest in any program. I am here to share my personal experiences only. I am sharing what I have done. Kindly do your own research before investing. I will not be responsible for your losses. Everything is subject to market risks
---
#miracletele #teletoken #eth #telecom #mvno #ico #bounty #cryptocurrency
Hello, my dear steemit community. This is my 3rd post related to MiracleTele Telecom project. Really I have become a big fan of this blockchain project. If you want to know more about this project, I have made detailed posts earlier. please have a look from these links :
My Bitcointalk profile name is cryptomanasia, Telegram username @iTechGuj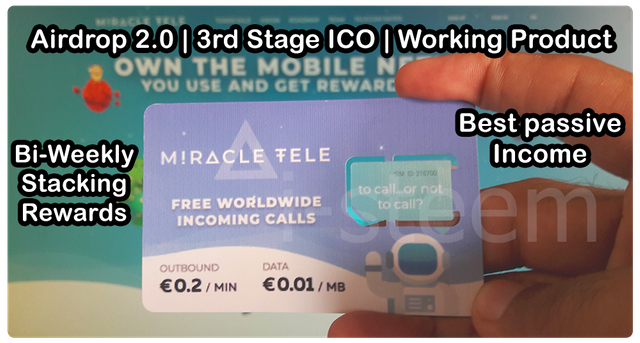 In this post I am going to cover step by step process of joining Airdrop. Moreover some instructions on how to buy Tokens from Stacking reward EARNINGS and put them in stacking. On 27th April there was my Payday from Miracletele on my set of 633 tokens, so I tried to make the whole process one by one steps in pics. Have a look at those pics later in this post. First, let's start with Airdrop.
MIRACLE TELE AIRDROP
🎁 Free 90 Tele Tokens = €18 EUR 🎁 | 💰 Price 1 Tele tokens = €0.20 EUR 💰


Step-by-Step Guide:
Visit the Miracle Tele website from below link. Yes it is my referral link, I will be grateful if you use it :) >> https://miracletele.com/?friend=4ec06f17ff1f41

Sign up and verify your email address.

Go to your dashboard and click on "Take part in our airdrop campaign". If you couldn't find this link simply go to this link >> https://miracletele.com/airdrop and log in again if required.

Now visit the Telegram airdrop page.

Chat with the Telegram bot and join their Telegram group and link your Telegram username to the airdrop page. (+25 TELE) Your MiracleTele account will be linked to Telegram after this step. Don't worry if your reward 25 Tokens did not credit at that time. The system is overloaded right now so it will take time. In some cases, you have to wait upto 72 hours to credit the reward tokens.

Now visit the Facebook airdrop page.

Like their Facebook page, repost the pinned post and submit your details to the airdrop page. (+20 TELE). Remember use the correct format of link to submit in airdrop page. If you use a mobile, remove (m.) from the link. The link must start with https://www.facebook, not https://m.facebook keep in mind. Repost means new post not direct share.

Now visit the Twitter airdrop page.

Follow them on Twitter, retweet the pinned tweet and submit your details to the airdrop page. (+20 TELE)

Stack your tokens for the first time. (+25 TELE)You will get 90 TELE tokens. After putting tokens in stack, if any token in the token balance, make the second stack set for those. You can create an unlimited set of tokens in stacking.

Also get 10 TELE tokens for every referral. Keep in mind that if your friend complete all the tasks accurately then and only then you will receive 10 tokens and also after the 7 days. Until the tokens will be on Hold. You can check if you have any token on hold or not from this Go to > Dashboard > Click on Tokens > Click on Purchase. There you will see your Hold tokens in Recent Transactions.

Participate in their bounty to earn more tokens. You can also earn more rewards biweekly by staking your tokens. I have made a post about bounty also. The link is given at start of this post. Check from there. I am also a Bounty participant.
---
Now let's move to another portion of this post. As I told you earlier in the post, how I re-invested Earnings to buy new tokens and put them in stacking process. Let's have a look at the following pics to understand. On 27th April I got my stacking reward 8.23 EURO from my 633 tokens. So decided to buy some new tokens from that balance. That whole process I captured in pics so everyone can understand how it works. If you are unable to read in pics, simply right-click on pics and open image in new tab and zoom.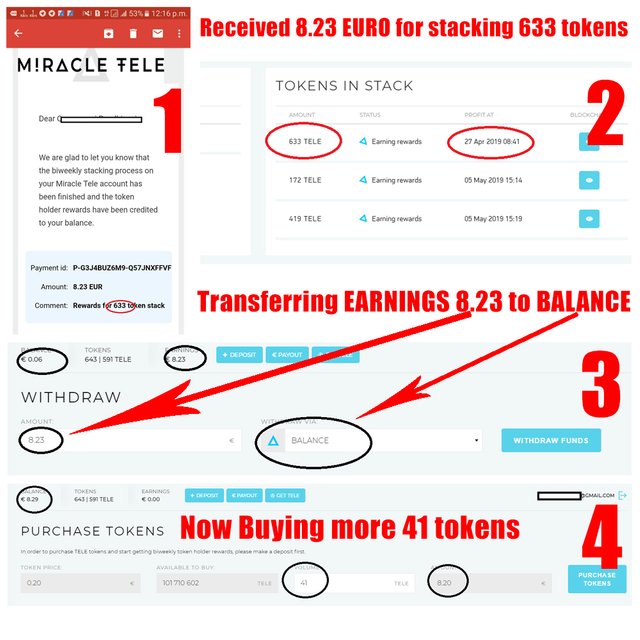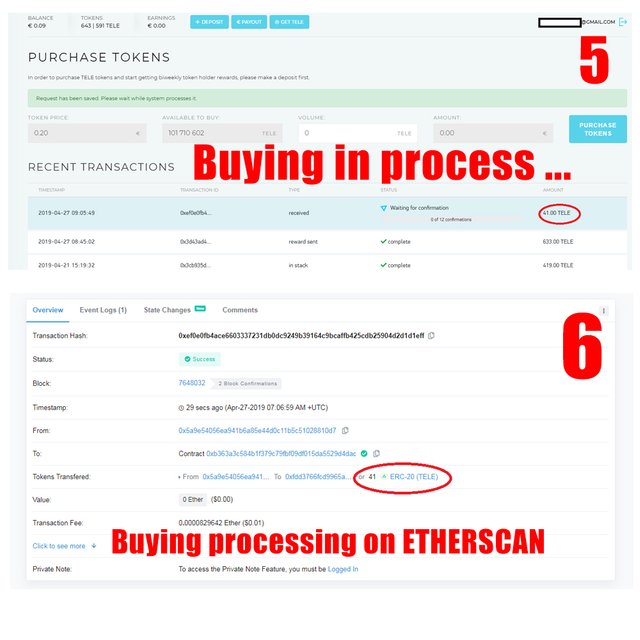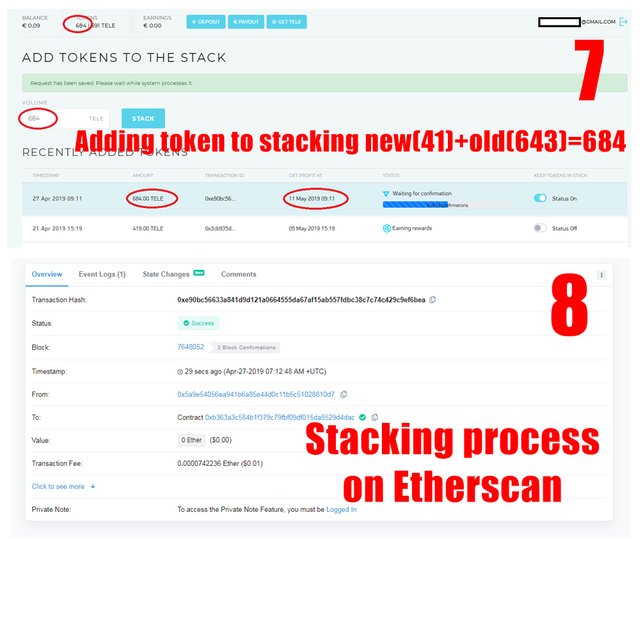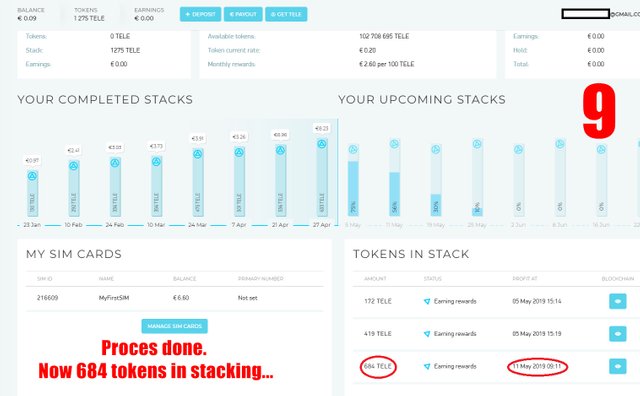 ---

| Main site | Official Telegram Chat | Official Twitter | Official App on Google Play store | Official App on App store |
---
Thank you all for reading post and giving me your precious time and effort. If you like this post, please upvote and resteem. Don't forget to comment. I always need your suggestions for better blogging. Do check out my other posts also @i-steem


| My Blog | My Twitter | My Telegram Channel |

---