Disrupting the Conventional TELCOs, A Blockchain based Virtual Telecom Operator - MiracleTele | ICO | Airdrop Round 2.0 | Content Bounty 2 | Bi-weekly Stacking Rewards for Token Holders
Before I start my post, Let me clear you all that I am not an investment advisor nor approaching you to invest in any program. I am here to share my personal experiences only. I am sharing what I have done. Kindly do your own research before investing. I will not be responsible for your losses. Everything is subject to market risks
---
Hi Steemians, How are you all? I hope you all are doing good. My today's post is about a blockchain project that has created waves in the Telecom industry as well in blockchain world also. It is none other than MiracleTele. This project has completed nearly 1 year and still growing day by day. This post is especially for Content bounty. My Bitcointalk profile name is cryptomanasia, Telegram username @iTechGuj #cryptocurrency #token #miracletele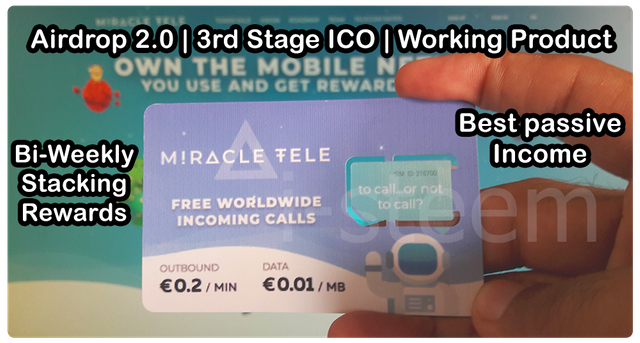 What is MiracleTele
The Company is providing its telecom services to 163+ countries right now. They are called MVNO Mobile Virtual Telecom Operator. It is based in the Czech Republic. MiracleTele office is located in downtown Prague, Czech Republic, and is open from 10:00 AM to 5:00, Monday to Friday. This MVNO is licensed by CTU I am observing this project since last year and found legitimate and progressive as per their promises. Project is currently on its 3rd ICO stage while they have a working product (MT Tele services). Right now 1 Tele Token is priced at 0.20 EURO. The token is not listed on exchanges as ICO is ongoing. MiracleTele has plans to list the token after ICO, in 2020. They have so much more plans like the integration of their own Sharding based Blockchain, MT Prepaid debit card that supports Cryptocurrencies, integration into IoT ecosystems and much more according to Roadmap. We can read WHITEPAPER for better understanding of the project.

Working Telecom Product
MT is providing Telecom Services in 163 Countries via their partnerships with physical Telecom operators worldwide. MT is offering cheap calls and data(not cheap for some countries like India) across the globe through an anonymous sim card (No paperwork, NO KYC needed). The cost of a Sim card is 10 EURO. The sim card is already filled with 10 EURO airtime balance. So in this way the Simcard is free. They ship sim cards worldwide no extra shipping cost. They provide call rates EURO 0.2/MIN and EURO 0.01/MB Data. If you order a sim card, it will reach you within a week at your doorstep by National Postal service. The setup is super smooth. Just insert your sim card and wait till network comes and voila, the sim is ready to use. We can use this sim on any mobile. Just one thing to keep in mind that mobile numbers you dial, must be saved with +countrycode. The interesting part is that you can use this sim without any number assigned to it. Because when you order sim, it has no numbers attached. After receiving and activating the sim card, you can buy virtual numbers from the list of supported countries through your MT dashboard. If your sim has no numbers assigned, you can not receive incoming calls but you can outgoing. In case you have not purchased a virtual mobile number and you call someone, there will be new number shown on his/her mobile every time you call and receiver can not call back to those numbers. Right now I am using sim without any number attached to it. So if you want to receive incoming calls and also a permanent number you have to buy it. The price of each number is different. If you run out of balance, you can recharge your sim balance from your TELE tokens or from the earning you make from stacking the tokens. Isn't it something extraordinary!! For sure it is.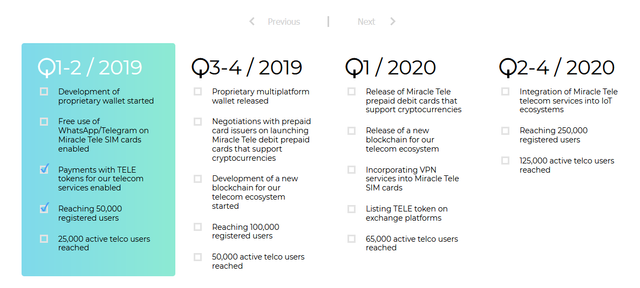 Bi-weekly Stacking Rewards
Also, the company is giving us the earning opportunity by holding tokens in the stacking process. You can buy a minimum of 10 EURO worth of tokens and put them in the stack. The company is sharing 40% of its total profit to their token holders as stacking rewards bi-weekly. While writing this post, the approx reward is 3 EURO per 100 Tokens. Because we are on 3rd ICO stage, the token price is 0.20 EURO. Roughly we can earn 10% to 15% ROI every month. Plus the tokens in stacking are our own. We can sell it after the exchange listing too. Currently, we can only transfer these tokens to other ERC20 address. Remember, to receive bi-weekly stacking earning, we must hold tokens in MT dashboard Ethereum address. But not to worry, MT is giving the private keys of that ERC20 address too. Now tell me which Telco is giving this type of earning opportunity to us?? No one!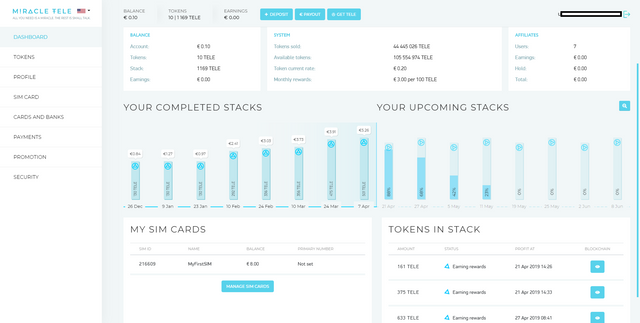 Airdrop Round 2 - Earn without Investment
Now let's talk about the ongoing airdrop program of MiracleTele. Yes, this is the 2nd round of their airdrop promotion. And here they are giving the earning opportunity to everyone without investment. If you take part in airdrop and complete all tasks, you will be awarded 90 TELE tokens plus you can earn unlimited tokens by referring to the airdrop event. You will get per user 10 Tokens. After receiving your free tokens, you can put them in stacking and start receiving your bi-weekly profits in EURO. Yes, you can withdraw this earning without any investment when you reach a minimum amount of 10 EURO.

Conclusion :
If you ask me whether MiracleTele is legit, genuine, for sure I will recommend this to you and say yes it is a real and genuine project. I am a proud investor and Sim Card user of MT. Right now I have 1169+ tokens in my stacking process. The payments are auto and instant if you use ETHEREUM as your mode. Moreover, if you live in European countries, you can deposit and withdraw using your Bank account or Credit card too. The Bank must support SEPA standard. Otherwise, you can use Crypto as your payment/receiving method and it works great. After all, we are all in the Blockchain world, so We must use Crypto as our choice.

| Main site | Official Telegram Chat | Official Twitter | Official App on Google Play store | Official App on App store |
---
Thank you all for reading post and giving me your precious time and effort. If you like this post, please upvote and resteem. Don't forget to comment. I always need your suggestions for better blogging. Do check out my other posts also @i-steem


| My Blog | My Twitter | My Telegram Channel |

---