Gravity Protocol initial distribution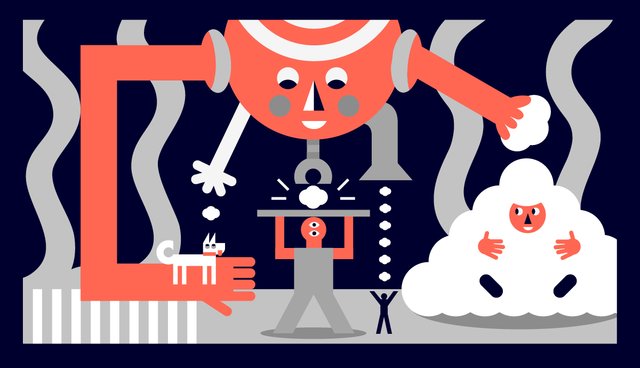 This past Monday, we posted the Gravity Protocol Development commitment (aka Roadmap). According to this roadmap, we will be moving to the Mainnet launch in July.
The Gravity coin (ZGV) will be emitted as soon as the Main net is launched and emission will be spread right after Genesis block is generated (accordingly to the pools we have defined in the table below).
However, first we'd like to address the principles of our emission:
We consider the Gravity network to be a network of activity. The Index of Importance, that we have implemented into the protocol, incentivizes network participants to use Gravity Protocol for business and transaction activity, instead of just holding a token and selling afterward. That's why we will not conduct an ICO or introduce public token sales. This is to help avoid having holders who buy new coins purely for speculative value.

We believe that, according to Metcalfe's law, the value of any network (including a blockchain network) is proportional to the number of network users. Therefore, we aim to spread our initial distribution evenly among a maximum number of interested users.
That is why we will reward involvement in protocol development as well as conduct an active faucet and airdrop distribution.
Here is the table of Gravity Protocol initial distribution: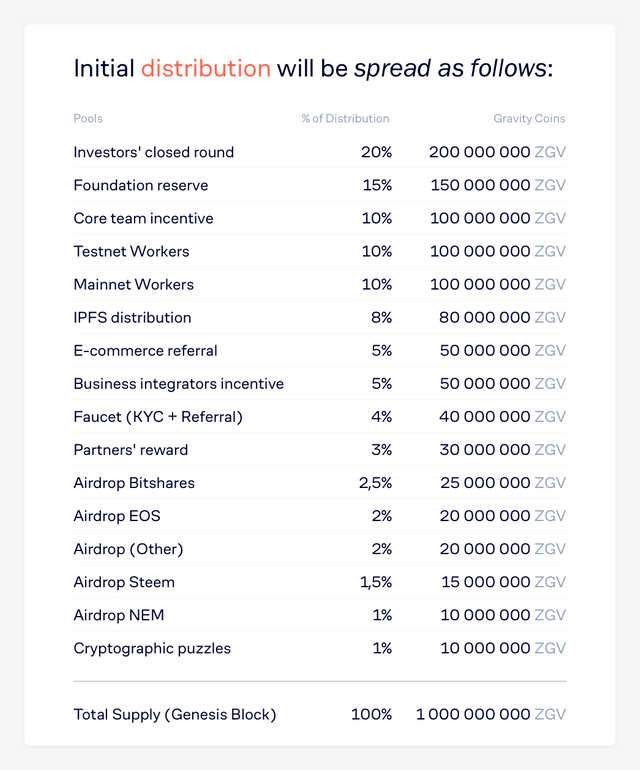 Some pools will be released as soon as we launch the mainnet and some will be kept for a while until certain elements of the system are integrated. As an example, IPFS distribution pool will be kept until IPFS is integrated into Gravity Protocol.
Gravity Foundation pool will be frozen for a while and reserved as a basis for future research and protocol development, carried out by Gravity Foundation, an independent and non-profit entity.
Here are the pools that will be included in the initial distribution:
1) Airdrops.
We will conduct airdrops for the following blockchains' token-holders:
Bitshares - 2.5%
We use Graphene code as a core, and so in keeping with our attitude of deep respect for Dan Larimer's invention, we want to reward the community members involved in Bitshares.
EOS - 2%
Steem - 1.5%
Steem and EOS are both Graphene-based networks which are a part of Graphene ecosystem, and so naturally, we want to attract people, who support Dan Larimer's ideas and philosophy, just as we do.
NEM - 1%
Because our development of the idea of Proof of Importance has been introduced by NEM, we will also reward top XEM holders.
2) Testnet workers - 10%
We will launch the public testnet at the end of May. We invite all developers and Graphene enthusiasts to run nodes and submit pull requests on our Github page.
We will reward active testnet participants with 10% emission pool.
In the case that we do not spend it completely during the testnet stage, the leftovers will be redistributed to the "Mainnet Workers" pool.
3) Investors closed round - 20%
We do not conduct any open token sales, however, since we have a lot of requests from crypto investors, a limited amount of Gravity coins will be sold. This pool will be partly frozen.
4) Core team incentive - 10%
Core team pool will be very limited since we do not want a single person to be able to influence the network. This pool will be vested for 1 year, with 25% being made available, or unfrozen, each quarter.
5) Cryptographic puzzles - 1%
We are fond of cryptography and solving math puzzles and so, we want to invite cypherpunks and anyone who is passionate about cryptography to join our network.
6) Faucet withdrawal - 4%
We will distribute this amount of Gravity tokens among everyone willing to download the wallet and provide KYC identity. We will need to identify individuals in order to avoid multi-accounting.
Next week we will publish an action plan and instructions for Public testnet participants along with the system of rewards your activity.
Stay tuned.
---
---
---
We'd like to do a community pre-announce for Gravity Protocol project at the BitShares Hangout #69 | 2018-4-28 | Sat @100PM UTC.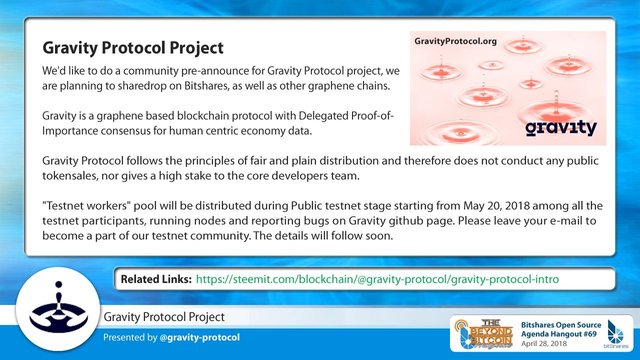 ---
---
---
See the previous articles
Gravity Protocol Intro
Gravity Protocol Roadmap
A Deeper Look Into Dan Larimer's radio
Follow Us
Website: http://gravityprotocol.org
Telegram channel: https://t.me/gravityprotocol
Telegram dev chat: https://t.me/gravity_protocol
Blog: https://steemit.com/@gravity-protocol
Blog: https://medium.com/@gravityprotocol
Twitter: https://twitter.com/protocolgravity
Discord: https://discord.gg/bcavmUg
Linkedin: https://www.linkedin.com/company/gravity-foundation/