Elrond: A Technological Breakthrough That Would Revolutionise The Digital Economy
Over and over the years, the internet has improved in terms of its speed, communication bandwidth. With this improvements, you can get instant access to world's knowledge. This has increased the innovation rate and hence, it grows the global economy output.
However, with more power comes more authority. Few technology giants have been dominating the internet age, which causes worries. Hence, a new level of internet where no body has a concentrated level of authority (decentralization), and all benefits of the internet technology is preserved. There's a new layer here already. A layer which is at the forefront of major revolution in the internet infrastructure.
They will empower a much needed higher level of social scalability through unlimited digital ownership, data privacy, unstoppable censorship resistant protocols, new digital economies and governance models.
This new project is ELROND!!
---
What Is Elrond?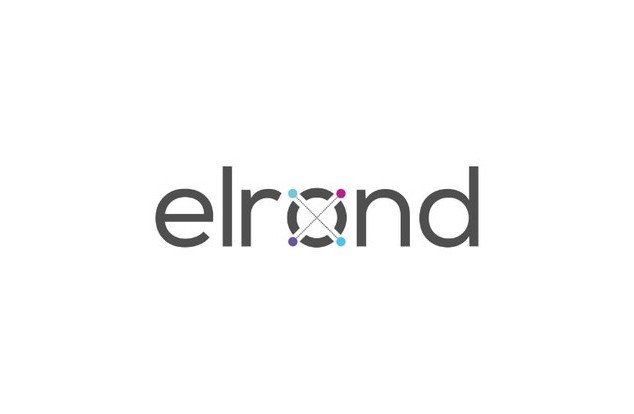 Elrond is an absolute package. It's a full reevaluation of the public blockchain architecture. It's uniquely crafted to be safe, efficient, scalable, and interoperable.
In order to solve the scalability and interoperability issues faced by existing blockchain networks, they developed their technology on two totally new assets; an original State Sharding approach, which will effectively divide the chain state into multiple shards, which are handled by the various validation participants in parallel. A Secure Proof of Stake consensus algorithm that ensures long term security and distributes fairness throughout the network while also eliminating the need for high energy output Proof of Work algorithms.
Elrond aims to revolutionise the blockchain system with it's novel technical solutions and provide a fast, efficient, safe, scalable, interoperable high throughput network while also maintaining the essential part of the blockchain technology; DECENTRALIZATION!!
---
Uniqueness Of Elrond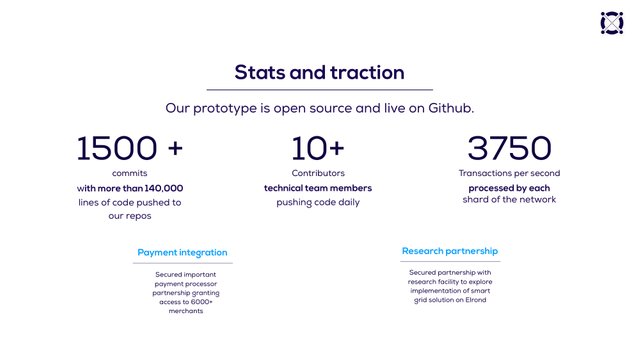 Elrond blockchain is a blockchain built to handle the internet of things. When its performance was tested on live testnet blockchain, it can currently handle more than 3750 TPS per shard. This is a unique property of Elrond. This is because as the network demands increase, it integrates more shards. This occurs as a result of the Adaptive State Sharding.
This unique feature makes Elrond the first blockchain that has the technological architecture to adjust network throughput in real-time.
---
Discovering Elrond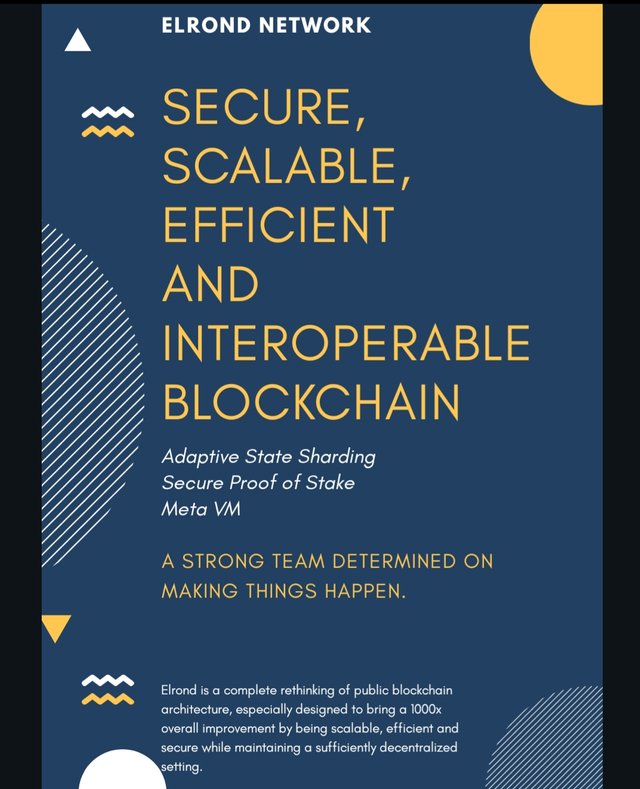 As a blockchain enthusiast whose main goal is to help blockchain gain mainstream adoption, I'm always looking for where adoption is really feasible, unfortunately, it was always one limitation or the other on existing networks. These challenges have hindered the development or deployment of an innovative public blockchain that scales.
These challenges range from full decentralization, sound security, high scalability, efficiency, bootstrap and storage enhancement to cross chain interoperability.
The recent Elrond IEO conducted on binance exposed me to the Elrond realm and reading the 16 page whitepaper which focuses on the technical component of the project enhanced my interest and gave a comprehensive summary of the important aspects of the technology.
---
Key Components Of The Elrond Network
There are various components on the Elrond blockchain that makes it unique, however, three (3) major components stand out. It is these components that the Elrond solutions is based on.
Adaptive State Sharding: The sharding concept is not new, in fact it is a technique inspired by conventional concepts of database optimisation. In a blockchain network, dividing the network into shards would mean more transactions are processed, verified and validated concurrently.
Currently, 3 sharding levels are identified; Network Sharding, Transaction Sharding and State Sharding which is the most sophisticated.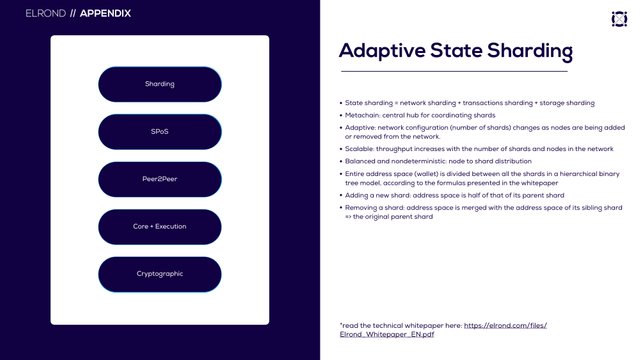 In order to improve existing blockchain networks and match their scalability needs, Elrond creates a novel State Sharding mechanism called Adaptive State Sharding which is a dynamic model that allows the Elrond network to adjust population and demand changes without affecting or limiting its secure, scalable, efficient, and decentralized nature.
Secure Proof of Stake: For their consensus algorithm, Elrond improves the existing Proof of Stake concept where a node's probability to validate block transactions is proportional to its token stakes. The consensus algorithm Elrond used is the Secure Proof of Stake (SPoS) which reduces latency thereby allowing each node in the shard to determine the participants of the consensus group when the round begins. The time necessary for random consensus group selection in the Elrond network is less than 100ms. A node's stake and rating also influences the probability of being selected in a consensus group.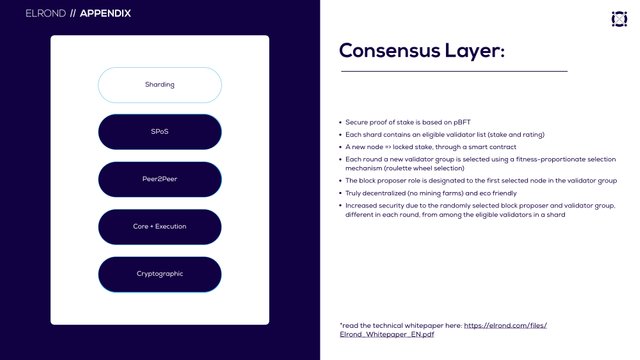 This consensus algorithm improves energy efficiency and also prevents the network from Sybil attacks.
Meta VM: This key component of the Elrond network is able to verify smart contracts formally and supports Solidity, IELE and WASM. This virtual machine developed by the Elrond team is able to offer a ready made solution to the scalability issues faced by many projects in the blockchain space.
In a certain Elrond demonstration, with 5 shards (metachain included) and 126 nodes, they accomplished 10,000 TPS with a 5 secs latency.
---
How Does Elrond Compares Along Other Projects
Since the introduction of the blockchain technology through bitcoin and ethereum which eliminates the need for third party during ownership transfer. Both networks have not come close to the level of performance needed for blockchain to be deployed into real life settings. Afterwards, various projects have surfaced in order to eliminate these problems but have enjoyed little or minimal success.
These projects include Algorand, Ziliqa, Eos, and others. However with Elrond technology and roadmap, they are on route to becoming the biggest network building a base layer protocols which will make them be one of the most valuable blockchain in the market.
Elrond studied the flaws in these networks and created an impressive and advance design.
Elrond eliminates the energy and computational waste noticed on PoW algorithms through the implementation of a Secure Proof of Stake (SPoS) consensus algorithm and uses parallel transaction processing via sharding.
Elrond increases transaction throughput by using sharding. This improves Algorand concept of random selection where selection time of a consensus group is maximum 12 seconds, but Elrond went better by making it less than a single second. (100ms)
Ziliqa and Elrond are both building their native smart contract engine but Elrond tops the game by aiming for a EVM compliance in order to achieve interoperability between blockchains.
Conclusively, compared to other networks, Elrond shows a much higher resistance to sudden changes in node population and vicious shard seizure through the introduction of Shard Redundancy; a new component of blockchains.
---
Partnerships
In their aim to be a network that serves as utility to both internet of things and humans, Elrond has form strategic partnerships with various projects. These projects include; Distributed System Research Laboratory (DSRL) which will help their research and development in core areas and help analyse practical application of Elrond blockchain technology in the energy sector and possible use cases. Nash which is a decentralized platform where ERD can be traded and to further help in developing and researching interoperability as one of the major connecting pathways for the Elrond ecosystem. Holo with whom they will pitch their technology and a more flexible and efficient environment to developers looking to deploy dApps. Xangle which will help to tackle information distortion and ensure that investors receive the necessary information to make rational decisions. NETOPIA Payments with which they will explore the possibility of integrating ERD tokens/coins into their payment system.
All the established partnerships and incoming ones will help Elrond provide a user friendly blockchain platform where developers can deploy unstoppable applications.
---
Elrond Team Overview
The Elrond core team consists of 18 people, with great skills and experience in the blockchain space.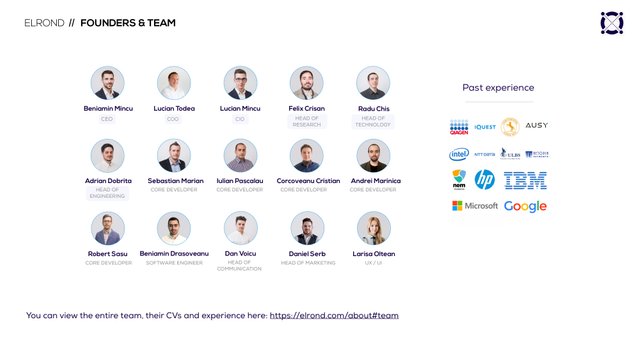 This team is led by Benjamin Mincu with over 4 years blockchain startups and investment experience. He once worked as a senior member at NEM. Lucian Todea the COO has 15 years of experience in the technology industry.
The remaining team members have extensive technology experience as they are mostly researchers and developers.
They also have 7 people as advisors that supports the team with relevant experience. They do this by bringing technical, legal, business economics expertise to the project.
---
Conclusion
Conclusively, while blockchain use cases may seem exciting to explore and research, the gap between potential and implementation tangibility is very wide. With Elrond team and technology, this gap can be bridged.
Elrond has a technical capability of issuing practical solutions to enterprises and startups applications looking to build real use cases and get the most out of the blockchain technology.
---
Elrond is a project I gladly recommend. You can read more of my reviews with the following links
https://steemit.com/blockchain/@donaldpete/introducing-you-to-the-elrond-blockchain
https://steemit.com/blockchain/@donaldpete/the-elrond-blockchain-uncommon-features-and-advantages
https://steemit.com/blockchain/@donaldpete/elrond-strategic-partnerships-and-the-potentials
https://steemit.com/blockchain/@donaldpete/elrond-s-improvement-on-existing-blockchain-models
---
To read more on your own, visit the following links.
https://t.me/ElrondNetwork