BILLCRYPT - CREATE YOUR UNIQUE BLOCKCHAIN REPRESENTATIVE EASILY.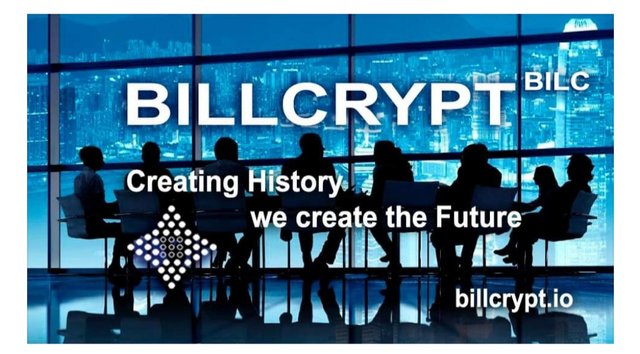 Credit
INTRODUCTION
Now that there is gradual transition from the analogue world and way of doing so many things to the digitalized approach, many community are forced to reposition themselves on the blockchain of which in some ways have not been so easy to come by because of the complexities involved. Meanwhile, it would become more beneficial if they have digital representation for products and also services they are able to to provide alongside the experts in all part of the world but it is as though many companies still find that hard. Now Billcrypt is a platform with the motive of enabling the integration of all entities on the cryptocommunity. This is where they can have a comfortable interface to create their special identities through the dApp available.
BILLCRYPT ECOSYSTEM
This is a platform where every single user have the environment to make all their basic information available and to be seen by investors that are ready to take the step in investing in them. The BR (Blockchain Representative) that is created by the users have a way of showing them off to the right investors. Through the enabling medium, many enterprises will grow effortlessly while have the best way to interract with the clients that are involved with them. One of the problems Billcrypt has emerged to solve is the difficulty in trusting online services and products offered for sale due to the lack of transparency and the frequently reoccurring issue of theft and manipulations. With no doubt, that has scared so many investors and potential clients away from ever getting involved in businesses over the web but Billcrypt is changing the narrative with the level of competency of its team members and experts who clearly understand how to tackle the problems.
Making use of the blockchain is a part of the plan and the new BR concept will allow full transparency in the ecosystem. Companies involved will have to display their services and products for investors to be sure about anything they would engage in inorder to avoid errors. Also, information about whatever is displayed will be provided before any direct investments is done.
THE ADVANTAGES OF BILLCRYPT TO USERS
First we must understand that the users of this platform can be companies, individuals, private or pybky institutions or a group. While they exist in this ecosystem, they will be able to create their digital representative for themselves, the products they have and also for the services they can provide.
They will be able to monetize their reputation and tokenize their businesses.
Easy creation of new digital currencies for their activities and will have a medium to conduct advertising for their brands.
Rapid and continuous income generation.
Members will easily meet new clients, investors and will also have great consensus with them.
The investors in Billcrypt will make the right decisions on this transparent network.
CONCLUSION
Everyone involved with this platform will understand it and as an innovative community will serve the members to meet all their expectations as they offer their products and services to grow and attain higher level.
USEFUL LINKS
Website: https://www.billcrypt.io/
Whitepaper: https://docs.wixstatic.com/ugd/2a8396_434624d0fe8246969f305fe7b0911ba3.pdf
Telegram: https://t.me/BILLCRYPTnews
Twitter: https://twitter.com/BILLCRYPT1
Facebook: https://www.facebook.com/groups/BILLCRYPT/
AUTHOR'S DETAILS
Bitcointalk Username: Dannev
Bitcointalk Profile Link: https://bitcointalk.org/index.php?action=profile;u=2317961