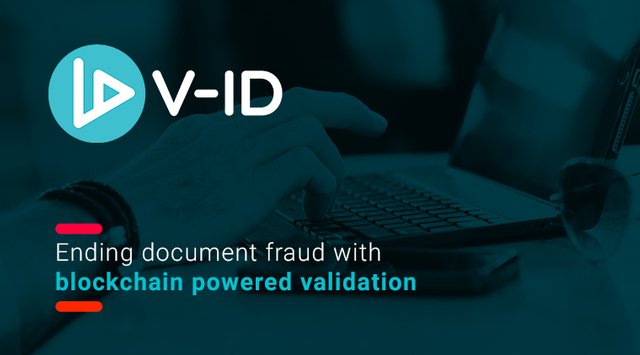 Fraud relating to documents is an aspect that is the subject of much attention worldwide. Yet it happens that fraud is committed in this area, which of course is not desirable. V-ID want to offer a solution on the blockchain to prevent problems related to various types of fraud. With such a solution, it will be possible to use this solution in various industries, which will help prevent fraud committed by documents. In this article you can read more about V-ID, the blockchain solution for blockchain-driven validation. 
What is the project?
The project team behind this idea already has a lot of experience in this area and with this experience they hope to lead this project in the right direction. They characterize V-ID itself as a possible alternative to file certifications and digital signatures. Since a lot of online is happening today, it is important that this can be done in a safe and responsible manner. V-ID can be useful in various industries, such as health, technology and education. Another important advantage of the project is that they have already served certain customers in these sectors. 
Problem & Solution
Users are very easily fooled in the crypto world or with digital files which are one weakness that must be corrected.The V-ID platform provides solutions in the form of services using blockchain technology to make fraud with digital files impossible. V-users can be divided into two groups: maker and recipient. After the register file is created on V-ID, the recipient can verify the authenticity of this file.
Verification V-ID
The V-ID platform allows the recipient of the file to verify the authenticity and contents of the file by entering it in the verification terminal at https://www.v-id.org. After checking the file, V-ID creates a scan report. OIC (certificate of information about the origin) is offered in PDF format. The certificate has all the information about the issuing party, the file itself and all block-chain data, such as time stamps and proof of existence. The verification process can be done in two ways: verification by a certified employee of V-ID and self-assessment. For each check, transactions are made with V-ID tokens. Because the data related to this transaction is in the blockchain, the party that validates and the file being examined is completely transparent.
This is an example of a Report Incident verification process from the Maritime Cyber Alliance platform: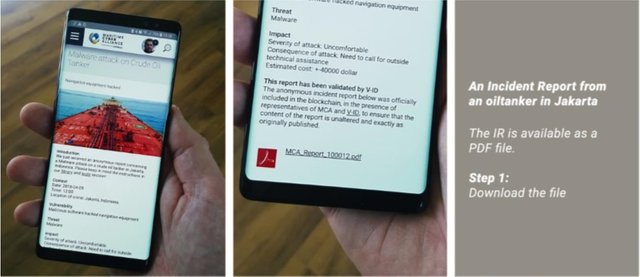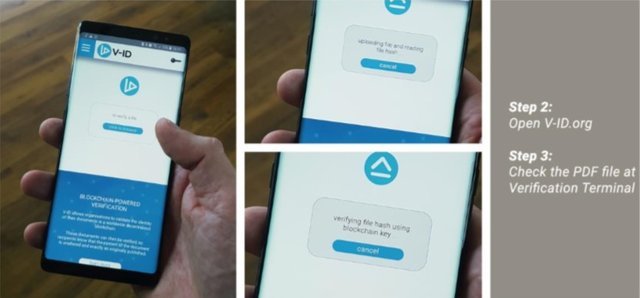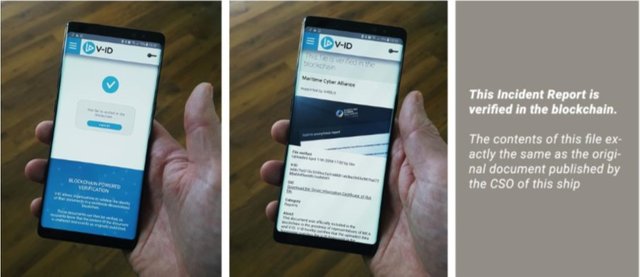 SWOT Analysis
Strengths
Unique product
A simple and scalable concept
Widely applicable
Proven Usage Option
Active initial user base
Sufficient liquidity
Strong team
Proven software platform
Fund (10 years + in development, approx 100 000 users)
Weaknesses
Power
Obsolete projects (existing contracts)
Limited marketing budget
Prospects
The Giant Market
Different Sectors
Commonly applicable
Block is still a new and noisy term
Threats
The first signs of competition
The probability of bad news about the blockade as a whole
Perception of complexity
The speed of acceptance is unpredictable
V-ID Technology.
 ( Video Source: YouTube - V-ID verification live demo )
V-ID technology uses blockchain technology to validate documents to prevent frauds in business operations. The company has already partnered with existing companies such as Airbus Space & Defense with more from various industries such as education, research, medical among others. 
 V-ID is scalable and organizations can use the platform in a decentralized environment towards performing audit trails, security footage validation, education certificates authentication among others.
V-ID Validation Process explained.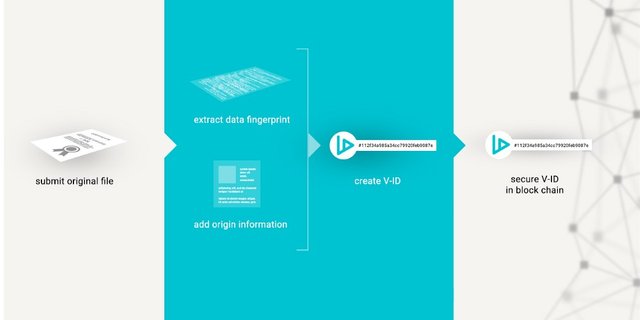 V-ID Validation process is simple, the publisher publishes the original document on V-ID network where its fingerprints are locked, the file then moves across the supply chain which is prone to integrity issues and finally reaches the recipient who receives the file and verifies the authenticity of the file by comparing it to the original document stored on the immutable distributed ledger. 

V-ID Token Sale
The public Token Sale Event planned to commence of Sep 15th, 2018, is characterized by the following:Pre Sale start date: 15 Sep 2018
Public start date: 15 Oct 2018
Token Sale end date 15 Dec 2018
Max VIDT tokens 100M
VIDT token price $ 0.20
Soft cap: $ 1M
Hard cap: $ 8M
V-ID Token Distribution
100 million (100,000,000) V-ID Tokens will be distributed according to the schedule below.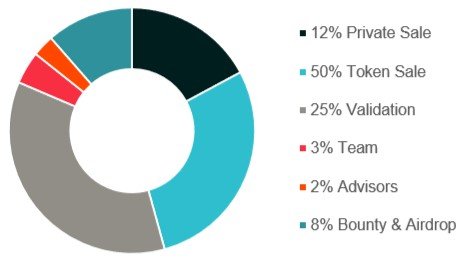 Team V-ID Platform

Conclusion V-ID
V-ID will have the biggest influence on the market with the potential that this platform has. With the help of Digitizing the V-ID Platform Ensuring that fraudulent paper files are increasingly moving to digital file fraud to be more efficient and safe.The service provided by V-ID is still new but has a unique concept. The most simple and scalable V-ID solution on progress verification.V-ID is not a specific market or application but has enormous potential when developed will become a de facto standard. 
Following more information;   
Website V-ID Verification: https://www.v-id.org/
Website Token Sale: https://token.v-id.org/?2
ANN: https://bitcointalk.org/index.php?topic=4918204.msg44277489#msg44277489
Whitepaper: https://token.v-id.org/page/v-id-business-white-paper.php
Facebook: https://www.facebook.com/V-ID-277311629500577/
Twitter: https://twitter.com/v_id_blockchain
Reddit: https://www.reddit.com/r/VIDT/
LinkedIn: https://www.linkedin.com/company/v-id/
Medium: https://medium.com/@pim_vee
Instagram: https://www.instagram.com/v_id_org/
Telegram: https://t.me/vidtoken
Github: https://github.com/V-ID/V-ID-Token 
Keep Tabs On Me Daily articles on cryptocurrency and blockchain based projects.