[ENG] Morpheus Labs - How-to create an own blockchain

Images shared after authorization
About
Morpheus Labs
I have already written in the
last article here in this blog (Italian Version)
where I reviewed the project already working and listed on CoinMarketCap.
Today I would write a mini how-to guide on the own blockchain creation at service of own DApps that you can commission for own company needings. Indeed, the project is also defined BPaaS, that means Blockchain-Platform-as-a-Service.
Well, it's time to start! :)
First of all sign up here by the following link and fulfil the data required:

https://bps.morpheuslabs.io/login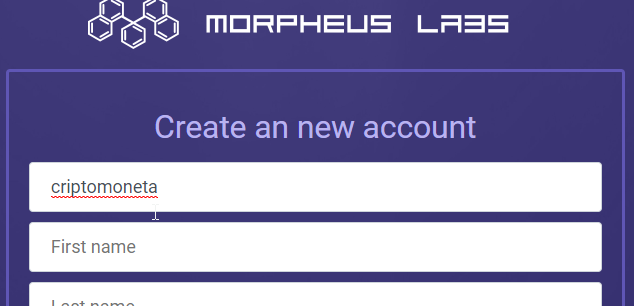 Accepted conditions and checked email pushing on the verify link in the email received, it appears the following window, where the user can choose the subscription plan based on own company or own project needings.
Of course, if you are a developer you can choos a base plan while a company that has to move complex DApps should select a powerful plan.
In this case study I select the trial plan, Trial: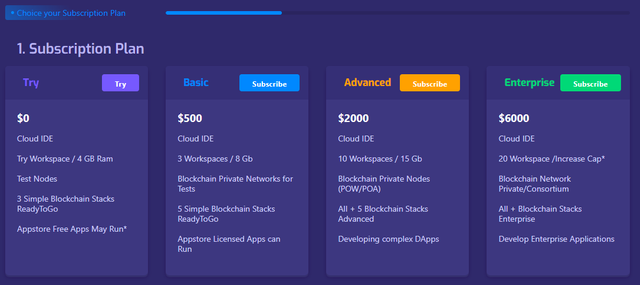 Subscription plans
Fulfil the required project data (here in the picture there are fantasy data :)):

Information about ownership
Following we define our Eth address from which we are going to pay, validate it pushing on Validation, so push on Checkout and finally Confirm in the popup window.
If we select a pay plan, we are going to view the following window, in which we are inviting to pay the subscription plan in token MITx equivalent: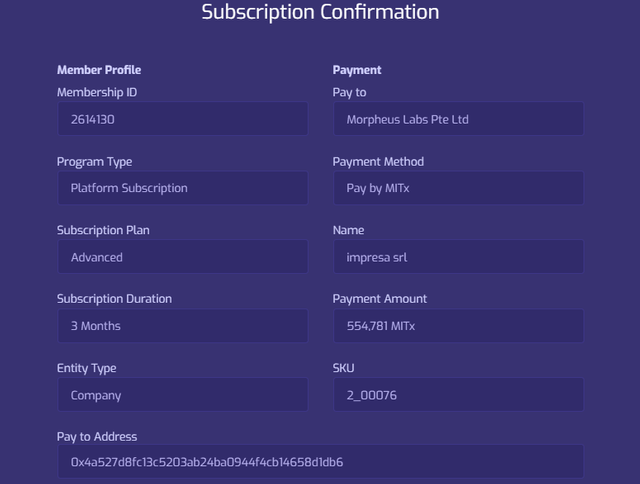 Checkout
Finally we are in the Platform.
The window shows a serie of case study that can match with our exigencies and that, once selected, let's move on the final step because of the platform automatically selects all best settings.
But we are her to create a Service Blockchain and therefore push on Blockchain to the top right and again on the New Blockchain button.
From the following window we can select one of the four blockchain supported by the project, among Ethereum, NEM, VeChain and Multichain. If we have no idea of which one can suit for our use, we can switch on above filters and let the system select the best blockchain for us. In this study case we select ICO Optimized blockchain: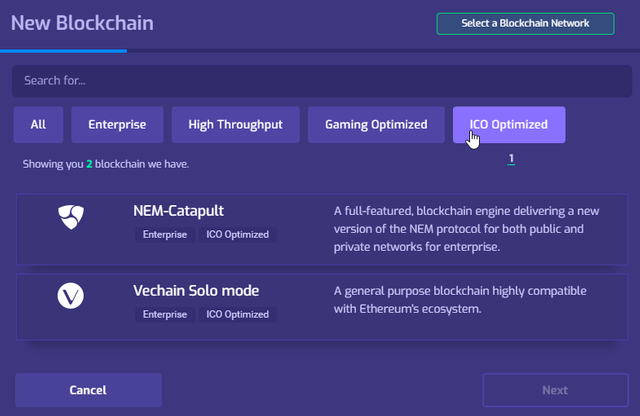 Blockchain selection
So I selected NEM, and accept standard setting conditions, accepting configuration Ready to Go, I give a name to my blockchain and I switch on it!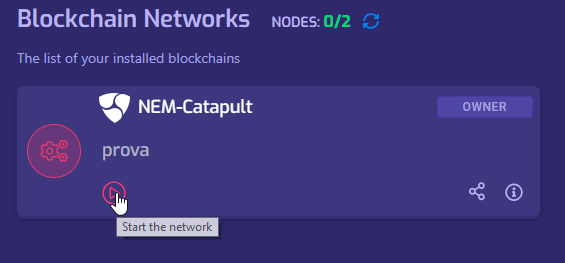 Blockchain power on
Now we push on i to recover all my blockchain data on which I can create my DApps: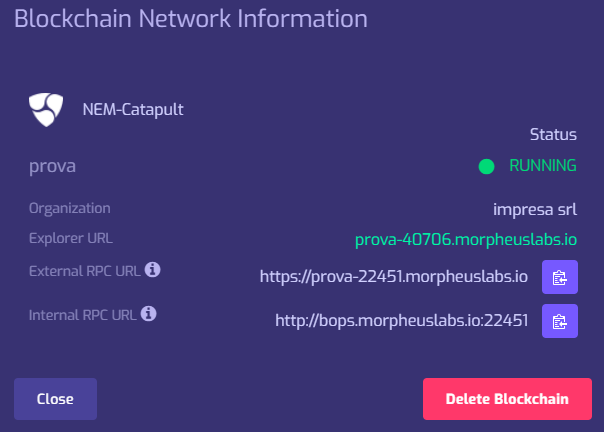 Technical data of our blockchain
Our blockchain is ready to be used.
Congratulations! :)
As you can have noted, the blockchain creation speed is very high.
At the same time, with a developer knowledge, is possible to build an application taking advantage of all libraries availables in the platform, once is selected the programming language to assemble the architecture.
Revolutionary project!
For further information visit:
Official web site: https://morpheuslabs.io/#
Telegram: https://t.me/morpheuslabs
Facebook: https://www.facebook.com/morpheusblockchain
Twitter: https://twitter.com/morpheus_labs_
Limit responsabilities declaration: this personal article includes personal opinions and therefore cannot be considered a financial advice.