Centaure Update #2 (BOUNTIES, DISTRIBUTION, EXCHANGE….)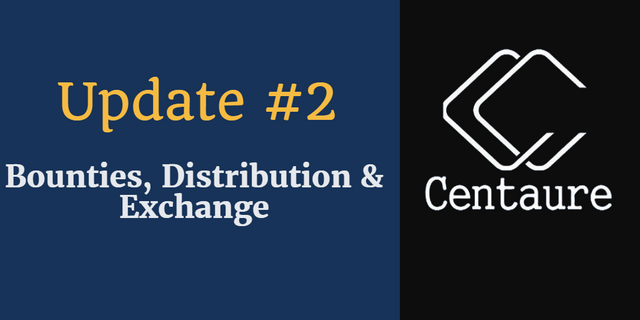 A BRIEF REMINDER
Hello, for everyone who may not have read our previous update or you're just getting to know about us and you're wondering what this is all about, here's a quick one:
Centaure is a blockchain-powered platform that makes it possible for advisory and consultancy services to be live-streamed; in other words, booking an appointment and having a session with professionals, such as medical and legal consultants, can be done from anywhere in the world, with just few clicks via your mobile/desktop devices on our platform.
For this purpose we created a total of 50 million centaure tokens, however only 34 million tokens are in circulation at this point.
BOUNTIES AND AIRDROPS
We adopted the bounty and airdrop idea since the initially intended ICO no longer held, based on the funding we received from Venture Capital; we are gradually giving out freely, the tokens originally planned to be sold.
TWITTER AIRDROP
We had a twitter airdrop that required our audience to follow us, like, retweet and comment their ETH addresses in order to receive CEN tokens.
TELEGRAM AIRDROP
Members were also required to invite their friends to our official telegram group in order to qualify to additional tokens for the telegram airdrop.
ON-SITE AIRDROP
Also there was an airdrop that required our audience to drop their ETH addresses on the site to receive 500 CEN, which has since been over.
However, there's an on-going airdrop on our website; members are required to like our facebook page, follow our twitter handle, subscribe to our youtube channel to receive 60 CEN.
DISTRIBUTION
Currently, we've distributed our tokens to over 10k members who participated in the bounties; for sure, we'll keep coming up with bounties every now and then so as to get more people involved to benefit from our vision.
EXCHANGE LISTING & PARTNERSHIP
It's good to let you know we've already started applying for listing on reputable exchanges so you can purchase our tokens securely and trade effortlessly.
Also, please be informed that we're considering possible partnerships with different projects; this is deemed necessary for the consolidated advancement of mutual interests and the delightful amplification of our respective endeavors; Now at this time, this is the much we can reveal, as talks are still on.
Please do well to visit https://www.centaure.io for more information/enquiries