📢 MUSE gateway with 0% fees for decentralized trading platform Bitshares RuDEX launched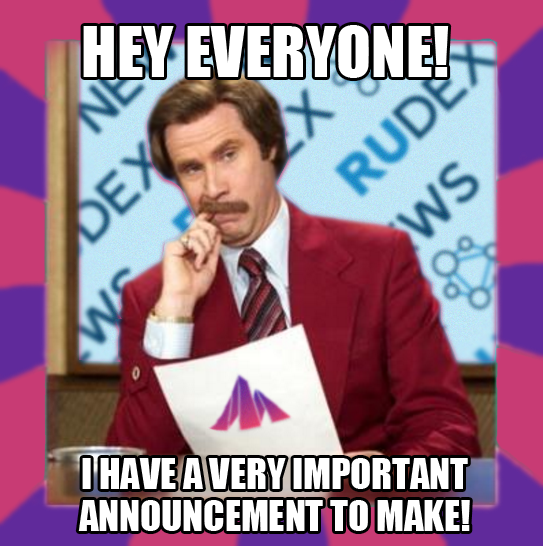 Good news everyone!
If you paid attention to our previous announcement of the RuDEX gateway for PPY tokens then you noticed that we said that we plan to launch gateways for other Graphene based chains. After PPY we launched a GOLOS/GBG gateway.
The results of operating our PPY gateway confirmed our theory about demand for alternate gateways to the DEX with architecture and features differing from those already present. Besides, PPY proved that assets can and should have high liquidity on Bitshares DEX. For example, right now ~99% of all PPY daily volume occurs on Bitshares DEX. The experience we've had with PPY gateway helped us move closer to our goal.
Today we would like to present you with our next gateway for MUSE.
MUSE is a token of the eponymous blockchain, that works as a global database for intellectual rights for music, payment for music-related transactions (including royalty) as well as an instrument for music licensing.
Trading MUSE on RuDEX has several advantages over trading them on centralized exchanges. Here are the main ones:
An ability to trade against completely decentralized assets (bitBTC, bitUSD, BTS, etc)
0% trading fee for MUSE
Active development and support for the gateway and rudex.org entry point by the members and witnesses of MUSE
Only you control and can access your account and funds
The Bitshares based exchange can't close be blocked (with desktop applications for all popular OSes allowing you to connect even if the site is blocked)
During the design of the gateway we were aiming to ensure the following parameters:
Security
Independency
Transparency and ease of audit
Strict correlation between amount of tokens in the wallet and on the DEX
Minimization of the fees
Ease of use
Stability
As always one of the goals during the gateway creation was an ability to publicly audit it.
As you probably noticed that recently we registered RUDEX.MUSE assets on the Bitshares blockchain.
According to our last point, the amount of MUSE on DEX will be the same as the amount of MUSE that the gateway has on Muse blockchain. The gateway is set up so that the amount on the DEX can be smaller than on our wallet, but it can't be higher. So you can always be sure that money never appears on the DEX out of nowhere.
Here is how it is implemented on the Bitshares side:
when you deposit your tokens to the Bitshares network, the required amount is issued
when you withdraw the tokens, the required amount is burned
That way the amount of UIA tokens (RUDEX.MUSE) is de-facto equal to the amount on our wallets. For Muse it is rudex wallet.
AUDIT:
In the future our gateways would have a stand-alone section for auditing them on rudex.org. But for now you can use the following services:
Our goal was not only to create a convenient instrument for people to use (we're working on making it completely open source), but also move towards more decentralization, since more gateways the DEX has, the less centralization around any one of them.
One of the features of our gateway that makes it different from the existing ones, is that as a Graphene ambassador, we're setting 0% market fees for chains based on this technology. We can afford that from the witness payments that we receive. If you like what we're doing please vote for us!
To give you an ability to move your tokens even when other gateways are experiencing technical difficulties we plan to launch special cross gateway service. Even then it would be impossible to withdraw more funds that we have on our public account on Muse blockchain.
A small guide to working with our gateway
To deposit MUSE to DEX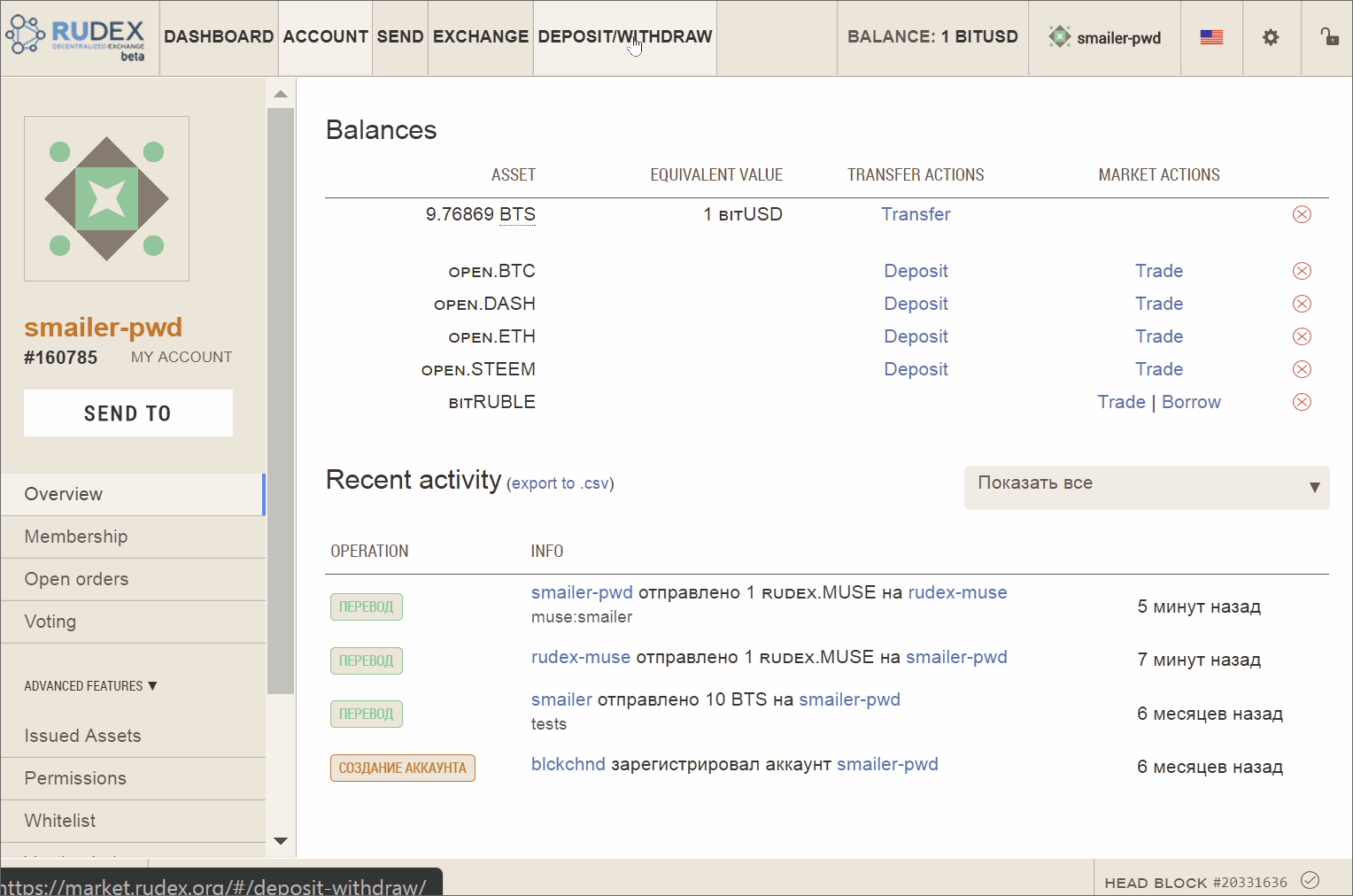 To withdraw MUSE from DEX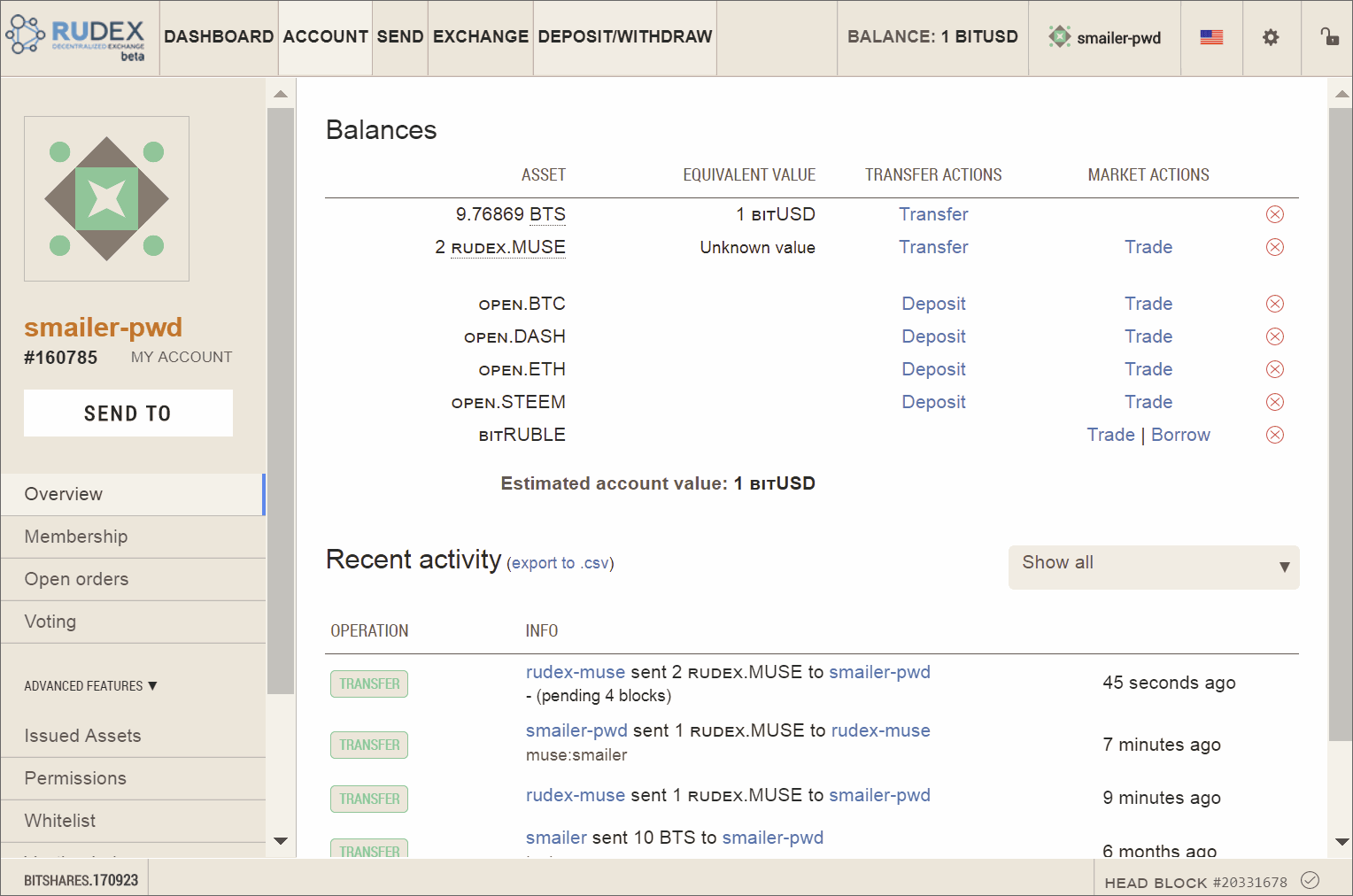 In the near future similar gateways would be launched for other Graphene based chains. When the gateways are ready we'll send a pull request upstream to make our gateway available in all other wallets and web interfaces of Bitshares.
In time we'll also create gateways for the coins that we consider the market is going to be interested in, but for non-graphene chains, those markets will have some minimal market fees.
---
Support our BLCKCHND witness on Muse blockchain your votes support our work.
We mentioned our hardware? Here are the specifications:
1. witness-node (64GB RAM, SSD) - blckchnd
2. seed - seed.muse.blckchnd.com:33333 (16GB RAM, SSD)
3. api-node - wss://api.muse.blckchnd.com (64GB RAM, SSD)

---
Market.rudex.org web and desktop wallets 23.09.2017 update:
New trading pair are added to the DEX with RUDEX.MUSE.
Dashboard markets added: RUDEX.MUSE
Trollbox moved to Market only and is loaded in sandboxed iframe
Fixes from Upstream added
P.S We were frequently asked why our new gateways are yet to be added into Bitshares reference wallet. The reason is that we need to finish live testing and see that the gateways work correctly, and any encountered errors are fixed since we can easily fix any problems on our side, but once we've sent the relevant code to Upstream, it becomes difficult to fix it in a timely manner.
If you would like to help us with testing the gateways, you can use them in our market.rudex.org wallet.
Soon after we've ironed any kinks that might be encountered during the operation, we'll send pull request into the main Bitshares branch, and after all wallets are synced with it, you can use them from any interface.
If you are worried about your funds, our experience with current gateways tells us that we are usually able to fix any problems within 24 hours and no funds were lost to date. Most of such errors are related to incorrectly sent funds on Bitshares side.
---

---
---
---