Hello everyone and welcome to the Axie Breeding Session #2: "How to breed a Wetdog axie !
Today we will try to breed a wetdog axie. There is actually 7 shapes that have been discovered by the players and that your axies can have:
-Normal
-Fuzzy
-Spiky
-Curly
-Sumo
-Wetdog
-Bigyak
Here is one wetdog of mine and it looks super cool :)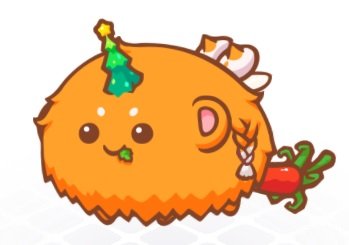 Did you notice the christmas tree on his head, while wetdog axie floor is around (0.2 eth) this one is much more valuable because of this part! It was breed during the xmas event and there is only 40 that exists and there will never be more! The floor for the spruce spear part is actually at 1.5ETH!!!
Axie Infinty was the first crypto game to introduce animated
#nft
(Non-Fungible Tokens) and the xmas skins got their special animation -> Click on the axie above to discover it!
To breed a wetdog axie, you will need a Fuzzy and a Curly axie and the probability to get it is 33%(I think) like for secret classes:


Here are the axies I choose to breed together to get the wetdog: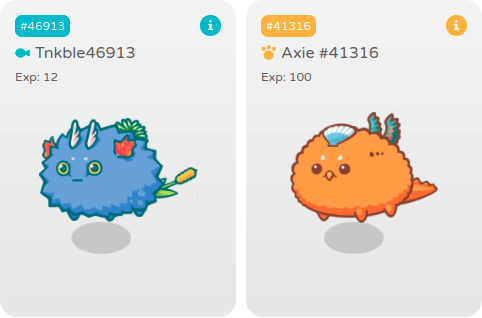 I pick these two because there is also a chance to get 2 out of the 3 owl parts! Combining the 3 owl parts would make a very good fighter for battles and tournaments. That is because for each owl part, you have your owl moves gain +2 attack. As you can see below using freak tool my probability to get each owl part is 37,5% so 14,06% chance to get both! (37,5%*37,5%).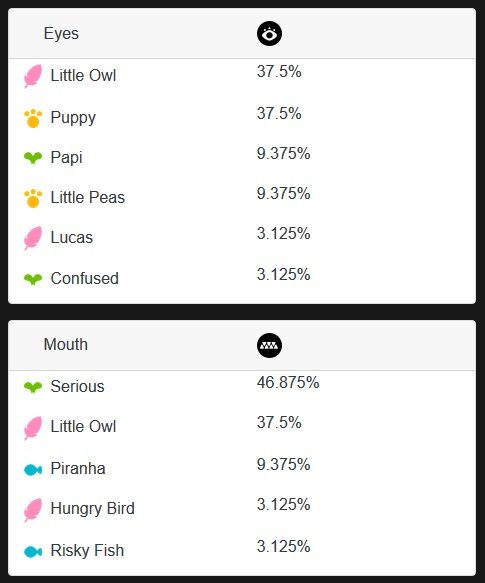 Double owl axies are rare (Only one on the marketplace for 0.9ETH) but triple owl axies are even more rare as there is only 20 that were bred until now and you can't find any in the marketplace!
What do you think? Will I hit the wetdog? Or maybe the double owl? -> What would your estimation of the wetdog double owl price?
Give me your thoughts in comment to get upvoted!!
Rendez-vous in 3 days do discover the result :)
---
---
How to support me and Axie Infinity:
Follow my twitter page: https://twitter.com/AxieFrance
and the official one: https://twitter.com/AxieInfinity
Buy one of my axie: My shop
I'm also willing to sell them for steem to power up!
There is also a landsale going on here.
You can learn more about the landsale on my previous article: Start your kingdom in Axie Infinity today!
Join us sur Axie Infinity: https://axieinfinity.com/#
and on our Discord: https://discordapp.com/invite/68DeTqc
Also, I decided to write this serie in English so it's available for more people but if you're french and need advice/ tutorials to get started with Axie Infinity don't hesitate to contact me!