This contest was organized by Catered Content

what is the art of writing
Writing is a medium that represents language and emotion with signs and symbols. As human societies emerged, the need to exchange of information became very important. The key point to note here is the exchange of information.
Authors of articles, blogs, best seller novels, and so on use their writings to convey information of any sort to their specific audience.
The blockchain is without doubt a complex concept to grasp even in the first half of year. So over the last decade there has been a plethora of authors who have tried to dissect the blockchain and offer users the true understanding of the crypto world.
The crypto world has grown in the last decade and it is teeming with new firms and organizations that have their own crypto currencies and policies for operation. These firms cannot get to general public so easily thus the need for a platform to enable them propagate the firm's values and what they offer to the general public. To effectively do this proper dissemination of information on crypto firms, skilled writers would be needed to carry out this task. They may be hard to pool but there is a better way.
'''catered content'''
catered content and writing
Catered content has now found a way to bring skilled writers into a single pool and create a contest for these writers to simply write an article on any of the crypto firm (new or old) and give them prizes according to how much quality the content carry.
Cateredcontent.com is a website that rewards its users in crypto for them writing articles or content in a manner of speaking. The contest topic can vary.

JOIN IN
The steps for getting in on this cool platform is very easy.
Visit CateredContent
[1] Register an account
[2] Update profile information with an ETH address to receive prizes after contest winners have been decided.
[3] For writing events contest in progress the user navigates to the '''ACTIVE EVENTS''''
These events can range from simple bounty campaigns to a profound analysis on a topic.
[4] For events that have had their winners decided, the contest will be on '''PAST EVENTS'''
[5] Upon writing the article through any of the medium such as MEDIUM, REDDIT, STEEMIT, INSTAGRAM, TWITTER and YOUTUBE. Click on '''SUBMISSION''' and paste the link. This must be done within the stipulated time for the contest.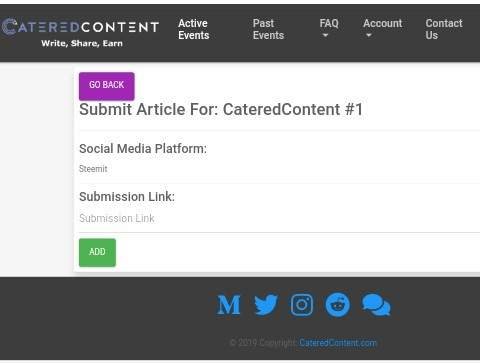 [6] Prizes are sent to the address provided upon profile update if the writer emerges a winner.
[7] if there are any questions, the user can click on the "'CONTACT US''' page and fill out the form.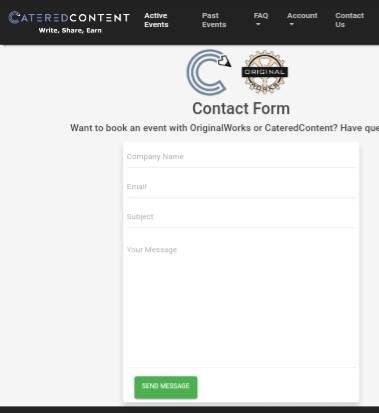 Posted using Partiko Android