1 BTT = ¢0.38 USD -- Is It Bouncing Back Up Now?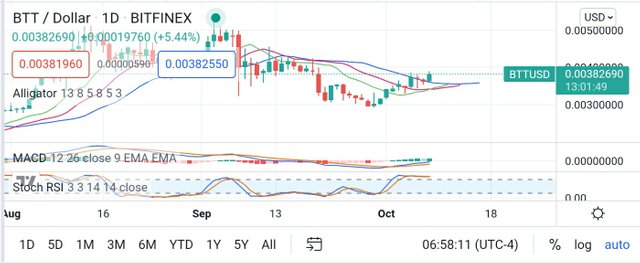 (Charts by TradingView)
From early August to early September, the BitTorrent alligator rose rapidly from less than ¢0.25 to over ¢0.45. However, it suddenly corrected and dropped to below ¢0.35, but today started to rise again.
Meanwhile, the MACD (Moving Average Convergence Divergence) oscillator seems to be in a bullish position and is getting stronger. This means that the price of this asset is rising and accelerating.
On the other hand, the Stochastic RSI (Relative Strength Index) oscillator seems to have been in overbought territory for a long time. This indicates that the market price is above the intrinsic price. Therefore, there is a concern that investors will sell to take profits.
And, in the graph below, we can see that the price of bitcoin, which was initially rising, suddenly corrected significantly, but is now rising again. And usually, the ups and downs of the bitcoin price pull the price of other altcoins.
At this time, the alligator's mouth, which was originally wide open in a downward direction, seems to be showing signs of beginning to close and even turn upward. Does it really close and then bounce right back up?
Let's continue following this BitTorrent alligator adventure.
See also: