BitShares Wallet - Exchange - "buy BTS" easy way
---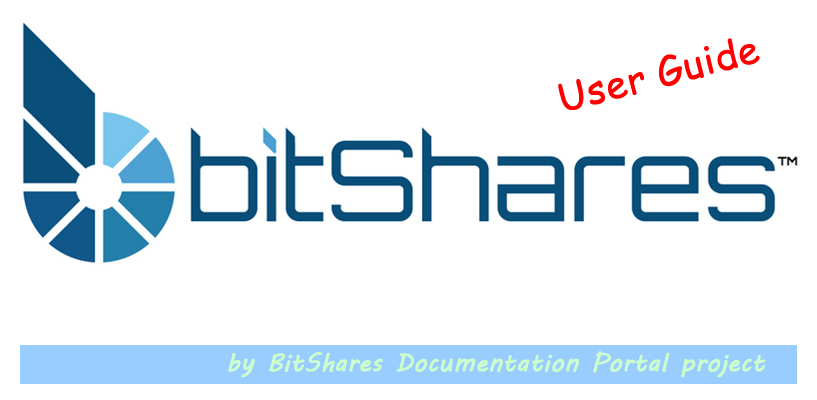 ---
In Bitshares GUI Release v2.0.171121, New Buy Model was mentioned by @billbutler.
This is, in essence, an in-wallet API to the blocktrades.us functionality. It's a particularly easy way to purchase BTS. It removes the complications associated with explaining how to use the exchange.
So, I tried it myself.
---
BitShares Exchange - Direct Exchange Service
BlockTrades is a direct exchange service for several currencies. You can simply send in the desired amount of the cryptocurrency you would like to spend, and BlockTrades transfer to your wallet an equivalent amount of the cryptocurrency you are buying. So, you do not need to manage your balance on their website.
BlockTrades market engine will search across many different cryptocurrency exchanges to find the best price for purchasing one cryptocurrency with another one.
---
Let's start
buy BTS
This functionality makes us easy way to purchase BTS. When you are in BitShares Wallet Exchange, click buy BTS. It will open a form to simulate SEND and RECEIVE prices. And also it will give you address and/or Memo information.
If you could not find a correct pair...
(e.g.) How to find a pair: open.STEEM x BTS
Click FIND MARKET
Select BTS from QUOTE CURRENCY list
Click open.STEEM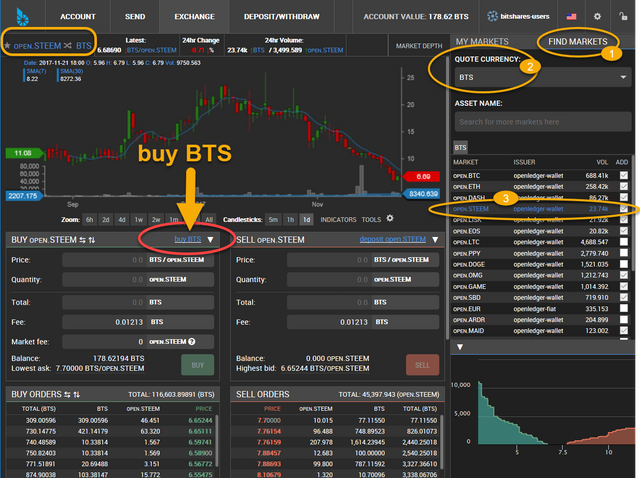 Step by step
You will learn how easy way to purchase BTS by using BlockTrades Direct Exchange Service. No additional balance sheet. You have less steps to purchase BTS.
--- Scenario ---
"I created BitShares wallet. I want to buy some BTS. I have STEEM in my steemit wallet. Can I use the STEEM to buy BTS and send it to my BitShares wallet directly? "
"Yes, you can do!"
Go to your BitShares wallet and open Exchange page
Click "buy BTS" to Open the Buy form
Select your SEND currency
Type an amount you want to spend and check how much you would receive BTS
Copy the address (e.g. blocktrades) and save it (text, email etc) for later to use
Copy Memo (e.g. 8b5286a3-301f-40f7-b3e7-e4a1d60d9f7b) and save it (text, email etc) for later to use
Click CLOSE
Go to your steemit Wallet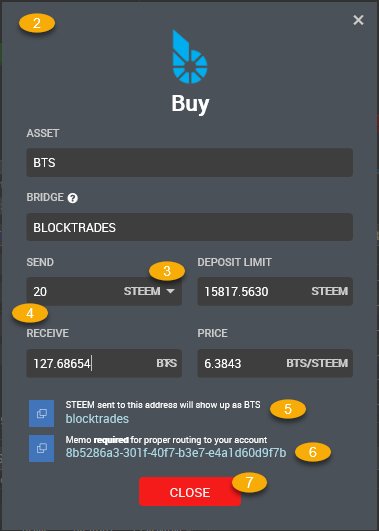 9.Select Transfer from STEEM dropdown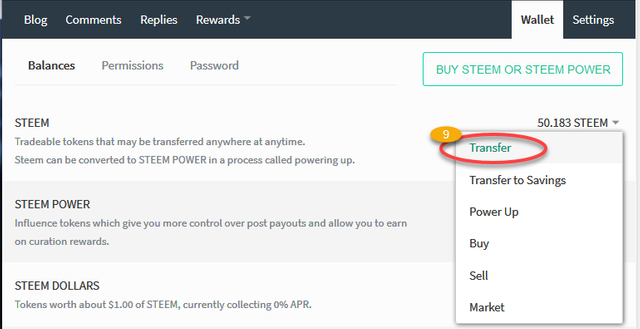 10.Paste the address into To textbox
11.Type in Amount you want to spend
12.Paste Memo into Memo textbox
13.Click Submit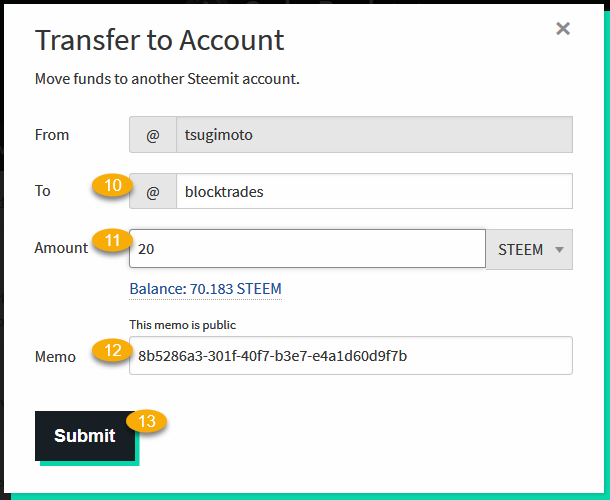 14.Login to Comment - Sign In (You might be asked to login.)
That's it! Done!!
15.Let's check BitShares wallet Activity tab


16.Let's check My Portfolio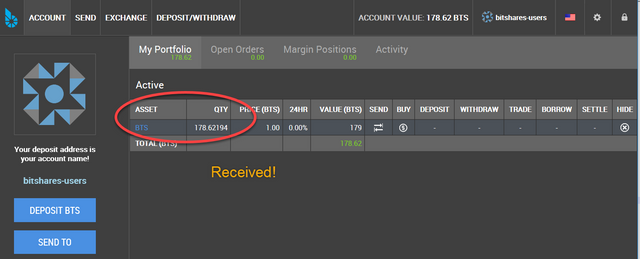 17.Let's check steemit Wallet History

How do you like it? I like it! If you are new to BitShares wallet and want to fund BTS in your BitShares wallet directly, try this out!!
---
---
This User Guide would be a part of my BitShares Documentation project. I have been adding more new images and information to improve the contents.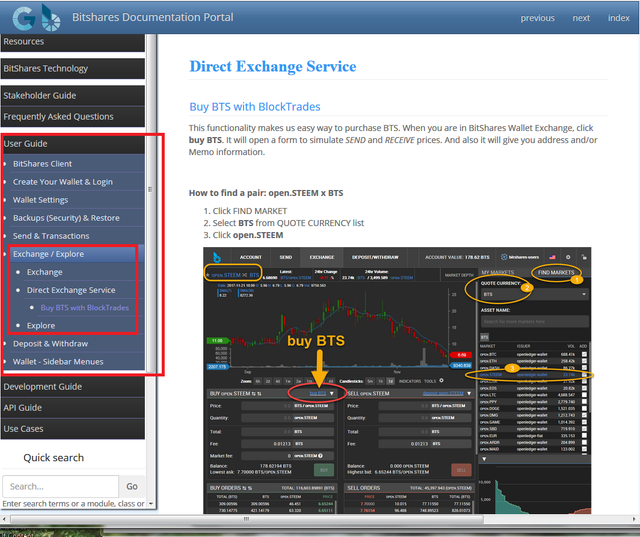 I am creating and adding more information contents to support users. And also I am planing to re-design the page layout. So, the look might be changed later.
My previous post
https://steemit.com/bitshares/@tsugimoto/update-bitshares-documentation-portal-website-demo
Thank you.