Bitshares GUI release 2.0.160504
New features: trollbox, revamped deposit/withdrawal, transaction filtering ++
Another week, another new release! This release is full of new features, and I'm very happy to finally be rolling out a trollbox. The main new features are:
Trollbox!
Revamped deposit/withdrawal for Openledger/Blocktrades
Transaction filtering in recent history lists
More featured markets
Trollbox
Starting with the trollbox, it is implemented using Peerjs, an open-source library which provides an easy to use API for the WebRTC protocol. It uses a central server hosted by Openledger to allow peer discovery, but once connected all messages are peer to peer: they do not pass through the central server.
This is the first iteration of the trollbox so I expect there might be issues, especially with spam and scaling, but it will improve as time goes on. We also cannot guarantee unique usernames, so while the GUI only lets you pick account names you control for your username, do not trust this 100%.
One nice thing the trollbox lets us do is add /commands in the input field. The only useful command included now is /tip, it lets you initiate a transfer to a user through the chatbox. The syntax is shown in the screenshot below, it is:
/tip user 1 BTS Some memo bla bla bla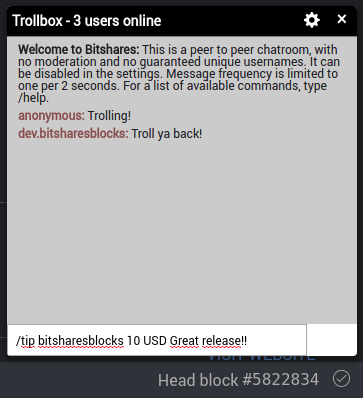 New deposit/withdraw
We've had a lot of new users lately coming from DGX and MKR, and a lot of them have found it difficult to navigate the deposit/withdrawal. Revamping that page has been a goal for a long time, and hopefully this new layout will make it much easier to use.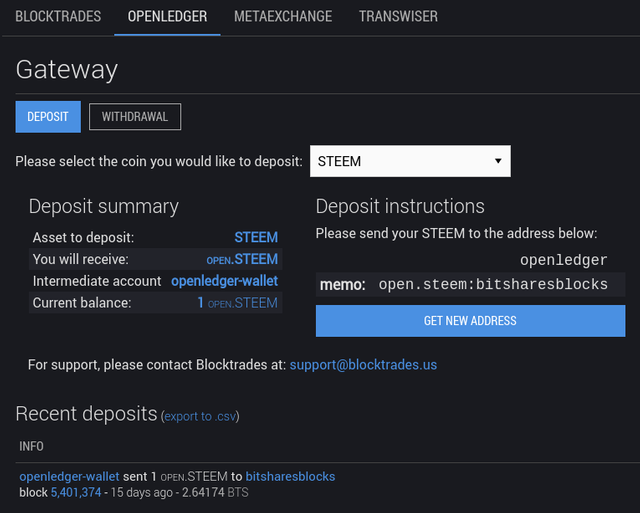 You now select the coin you would like to deposit or withdraw, and a simple summary as well as instructions are displayed. At the bottom you'll see a list of the recent transactions you made for that coin.
Transaction filtering
Here's something else that a lot of people have asked for: a way to filter transactions by type. This lets you show only your filled orders for example, making it far easier to read transaction history.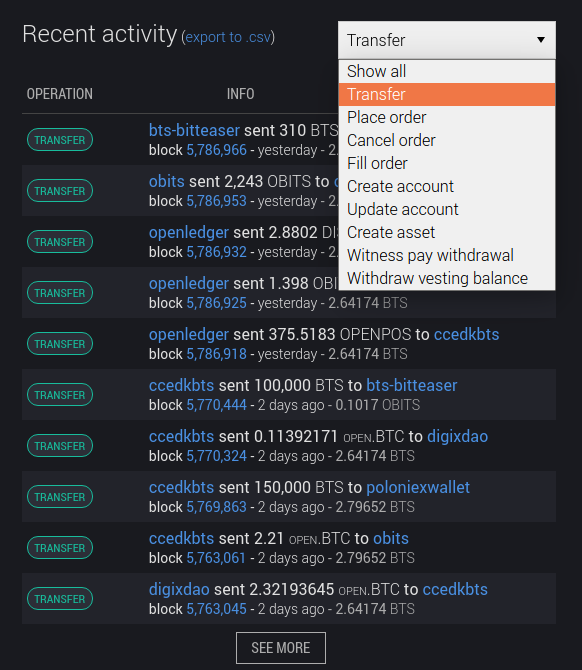 The full release notes can be found below, and the you can find the binaries here
New features
--------
- Trollbox has been added (with tipping!)
- Revamped deposit/withdraw for Blocktrades/Openledger
- Add and show more 'Featured Markets'
- Transaction filtering in recent transactions lists

Bug fixes
--------
- Chinese and Turkish translation updates
- Increase grid-container max-width to 70rem
- Change CCEDK in deposit/withdraw to Openledger
- Format MarketCard volumes, add some spacing
- Improve volume formatting
- Show more decimals for BTC equivalent balance values
- Show market name in AccountOverview asset popover market link
- Fix AccountPermissions width issue