Introduction
The BitShares hangouts are rather technical and thus it's a great time to ask questions. But detailed (n00b) questions are best asked during the afterparty because we don't want to hold up people. In case you missed the hangout you are lucky: I have included good answers by quoting relevant comments from the audience during the hangout. If you have any questions ask here or drop us a line on Discord: https://discord.gg/kbXUQg5
Recording by @ash
01:57 Excerpt from this weeks Bitshares State of the Network report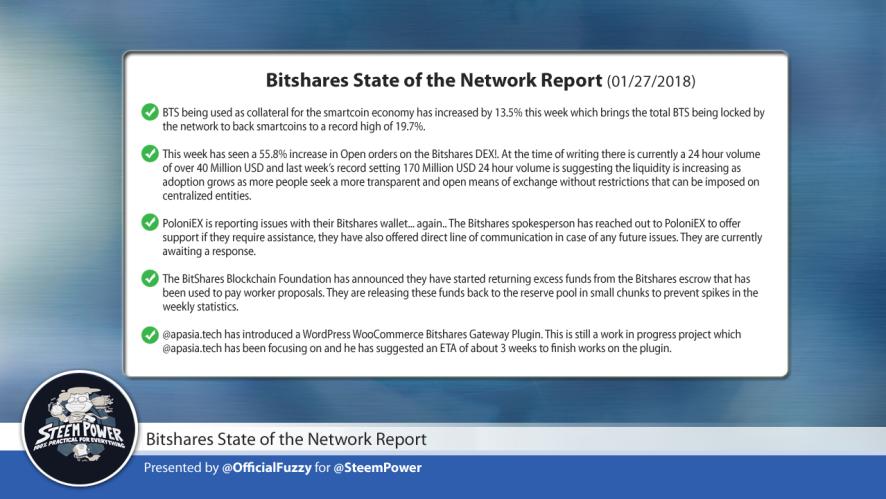 BTS being used as collateral for the smartcoin economy has increased by 13.5% this week which brings the total BTS being locked by the network to back smartcoins to a record high of 19.7%.
This week has seen a 55.8% increase in Open orders on the Bitshares DEX!. At the time of writing there is currently a 24 hour volume of over 40 Million USD and last week's record setting 170 Million USD 24 hour volume is suggesting the liquidity is increasing as adoption grows as more people seek a more transparent and open means of exchange without restrictions that can be imposed on centralized entities.
PoloniEX is reporting issues with their Bitshares wallet... again.. The Bitshares spokesperson has reached out to PoloniEX to offer support if they require assistance, they have also offered direct line of communication in case of any future issues. They are currently awaiting a response.
The BitShares Blockchain Foundation has announced they have started returning excess funds from the Bitshares escrow that has been used to pay worker proposals. They are releasing these funds back to the reserve pool in small chunks to prevent spikes in the weekly statistics.
@apasia.tech has introduced a WordPress WooCommerce Bitshares Gateway Plugin. This is still a work in progress project which @apasia.tech has been focusing on and he has suggested an ETA of about 3 weeks to finish works on the plugin.
05:29 Atomic Swaps between Graphene-based blockchains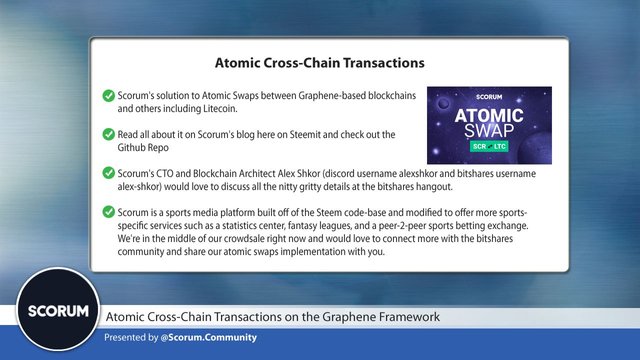 The Scorum team would love to join this week's Beyondbitcoin bitshares hangout to discuss atomic cross-chain transactions on the Graphene Framework!
Scorum's solution to Atomic Swaps between Graphene-based blockchains and others including Litecoin.
Read all about it on Scorum's blog here on Steemit and check out the Github Repo
Scorum's CTO and Blockchain Architect Alex Shkor (discord username alexshkor and bitshares username alex-shkor) would love to discuss all the nitty gritty details at the bitshares hangout.
Scorum is a sports media platform built off of the Steem code-base and modified to offer more sports-specific services such as a statistics center, fantasy leagues, and a peer-2-peer sports betting exchange. We're in the middle of our crowdsale right now and would love to connect more with the bitshares community and share our atomic swaps implementation with you.
Port ACCT from Scorum · Issue #49 · bitshares/bsips
essentially one transfer within one blockchain only occurs if a second transfer occurs within the other blockchain
The following example might be helpful for readers to demonstrate a use case (this example omits the the technicalities and extra steps that are required):

One chain (Chain A) has an asset called Apple. Another chain (Chain B) has an asset called Banana.
Dan has an account on Chain A and B. Nathan also has an account on Chain A and B.
Dan owns 1 Apple on Chain A. Nathan owns 5 Bananas on Chain B. They want to trade.
At the end of the ACCT, Dan will own 5 Bananas on Chain B, and Nathan will own 1 Apple on Chain A.

Items to note:

the traders must have accounts on both blockchains
an asset never leaves its native blockchain
There is a 48 and 24 hour locking of funds so that they can't be double-spent. 48 hours for the initiator and then 24 for the participant.
A key factor is both parties auditing and agreeing to the terms of the contract, so I guess that it could be changed.
The timing is to allow each party to claim their coins before that ACCT fails and returns back to the original addresses.
38:31 QuantChain specification and build-out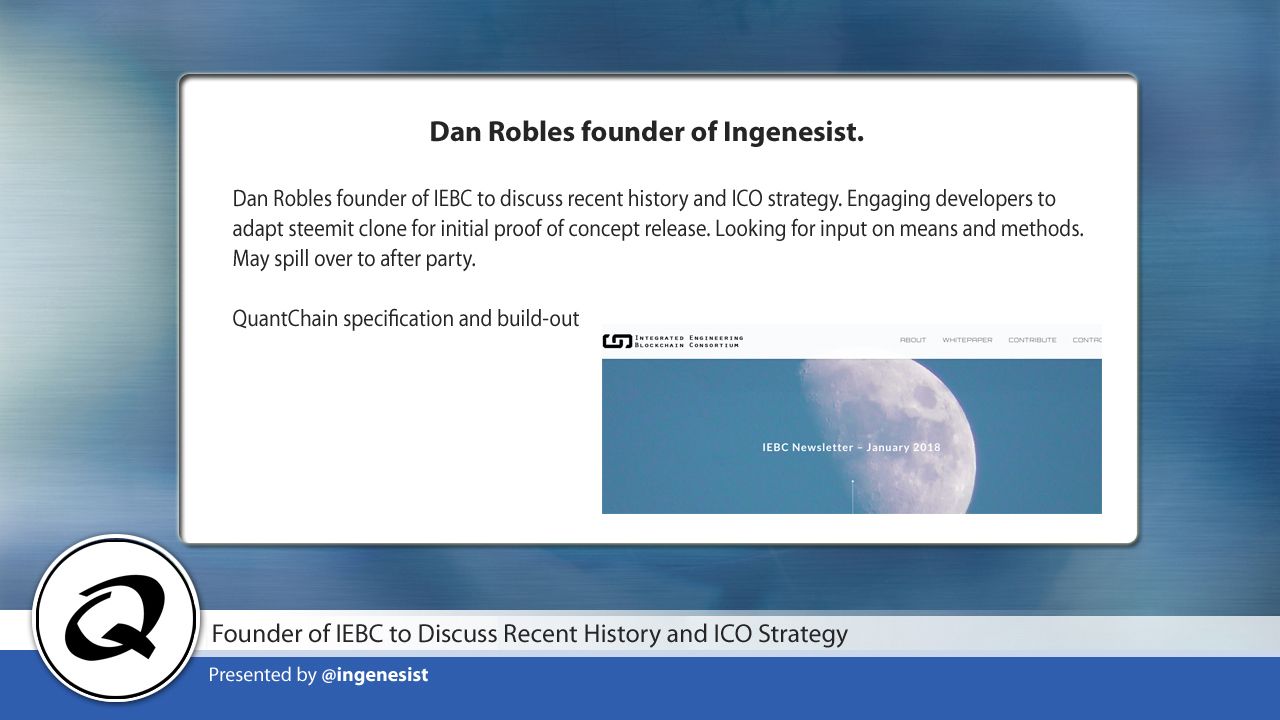 Dan Robles Speaker AKA Ingenesist.
Dan Robles founder of IEBC to discuss recent history and ICO strategy. Engaging developers to adapt steemit clone for initial proof of concept release. Looking for input on means and methods. May spill over to after party.
Bitshares account name = ingenesist-bts
1:03:15 Unified Committee Message regarding Partnerships
https://github.com/BitShares-Committee/Communications/issues/1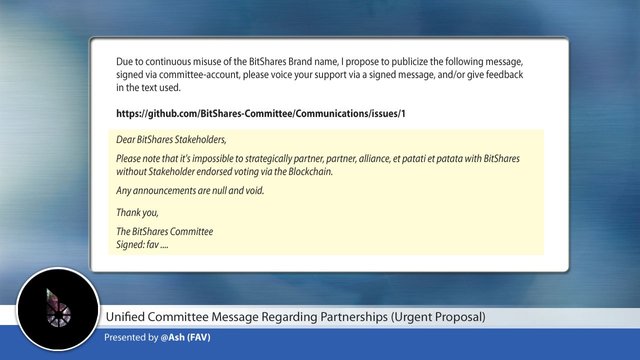 Due to continuous misuse of the BitShares Brand name, I propose to publicize the following message, signed via committee-account, please voice your support via a signed message, and/or give feedback in the text used.
Dear BitShares Stakeholders,
Please note that it's impossible to strategically partner, partner, alliance, et patati et patata with BitShares without Stakeholder endorsed voting via the Blockchain.
Any announcements are null and void.
So far only 3 committee members signed this, please highlight this to the community and ask for opinions. Steem: @ash / Discord: fav#1281 / Twitter: btsfav
1:12:52 Trading Bot Worker Proposal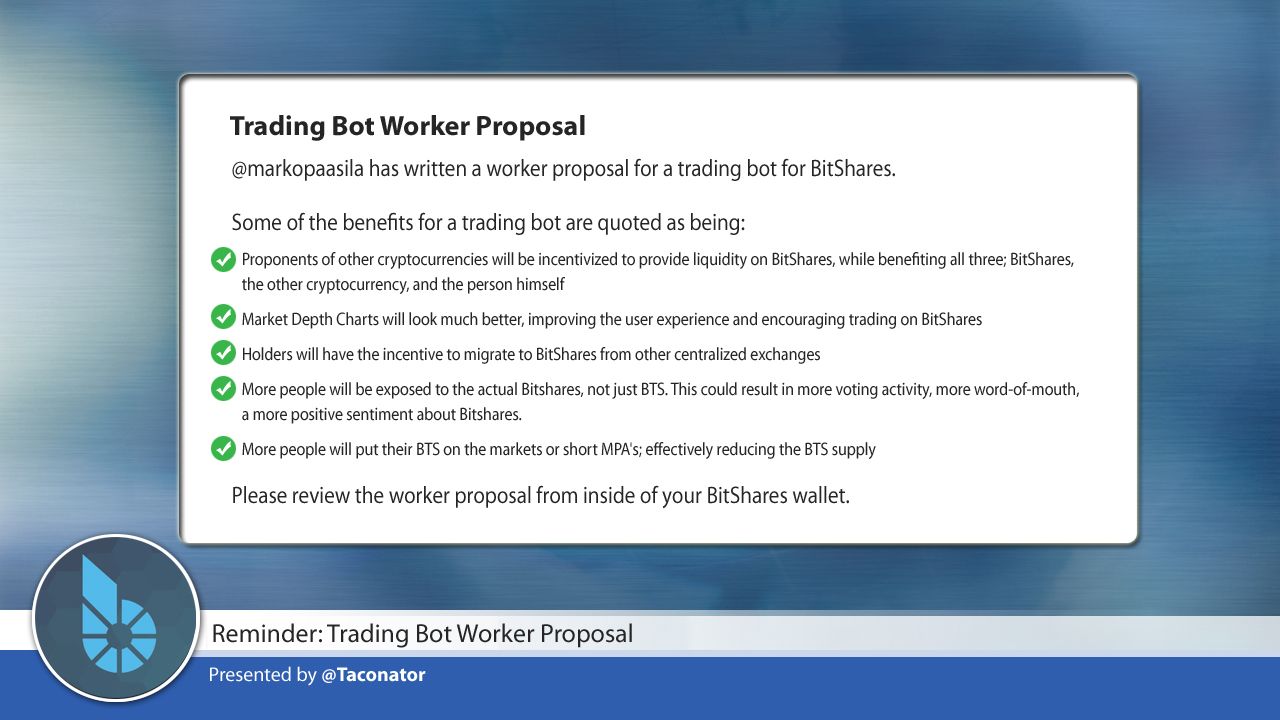 @markopaasila has written a worker proposal for a trading bot for BitShares. More details can be found here.
Some of the benefits for a trading bot are quoted as being:
Proponents of other cryptocurrencies will be incentivized to provide liquidity on BitShares, while benefiting all three; BitShares, the other cryptocurrency, and the person himself
Market Depth Charts will look much better, improving the user experience and encouraging trading on BitShares
Holders will have the incentive to migrate to BitShares from other centralized exchanges
More people will be exposed to the actual Bitshares, not just BTS. This could result in more voting activity, more word-of-mouth, a more positive sentiment about Bitshares.
More people will put their BTS on the markets or short MPA's; effectively reducing the BTS supply
Please review the worker proposal from inside of your BitShares wallet.
1:14:10 BitShares Quick Reference Guide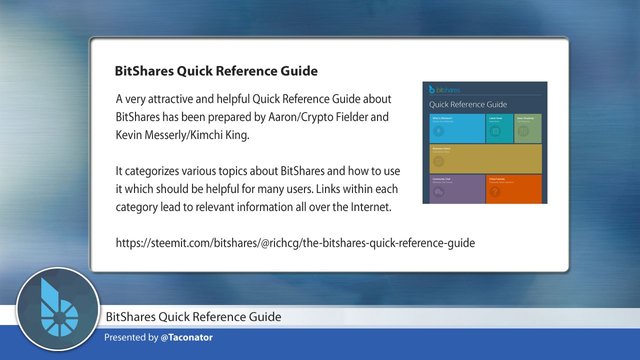 A very attractive and helpful Quick Reference Guide about BitShares has been prepared by Aaron/Crypto Fielder and Kevin Messerly/Kimchi King. It categorizes various topics about BitShares and how to use it which should be helpful for many users. Links within each category lead to relevant information all over the Internet.
1:16:10 Accounting Report by BitShares Blockchain Foundation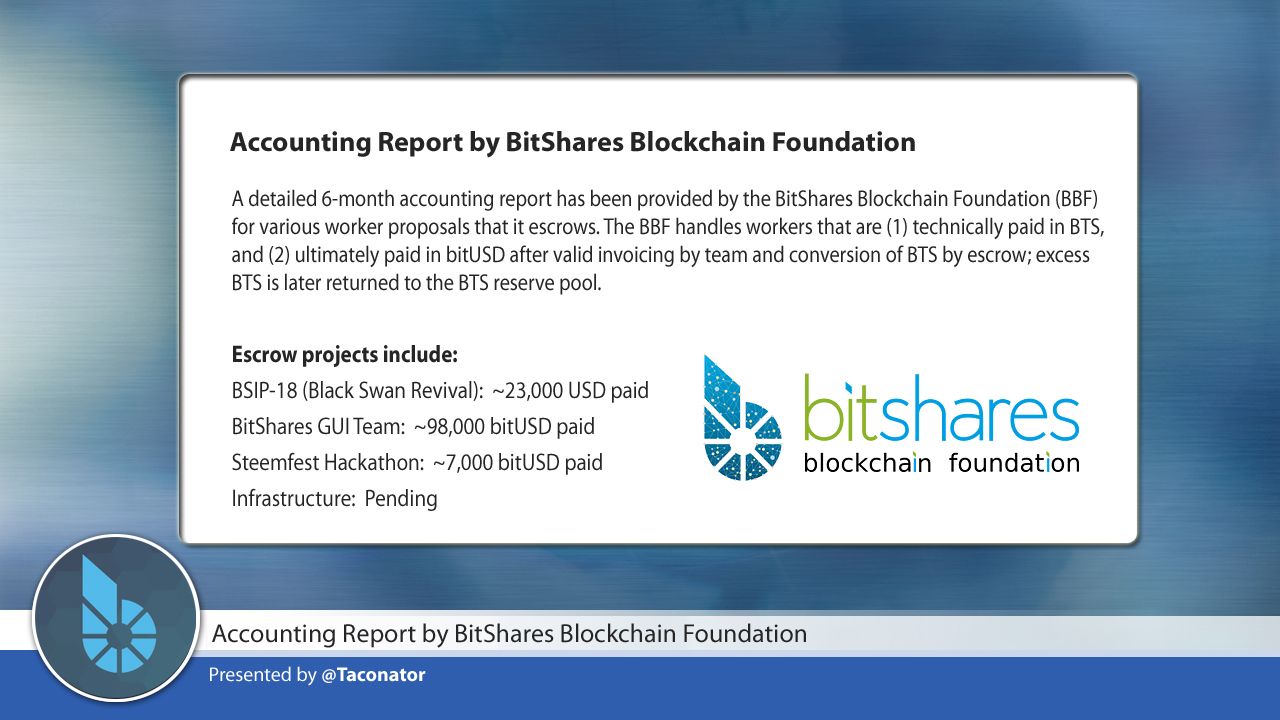 A detailed 6-month accounting report has been provided by the BitShares Blockchain Foundation (BBF) for various worker proposals that it escrows. The BBF handles workers that are (1) technically paid in BTS, and (2) ultimately paid in bitUSD after valid invoicing by team and conversion of BTS by escrow; excess BTS is later returned to the BTS reserve pool.
Escrow projects include:
Afterparty: Hertz updates:
---
A warm thanks to @ash for the recording, @steempowerpics for the slides!