Bitshares - Current Trading State and Price
BTS is the older brother of STEEM, which main function is fully decentralized exchange and ease of token creation (coming to STEEM too!).
Lets have a look on how the currency does on current downtrend of all cryptos and china ban (BTS is very popular in Asia).
BTS Markets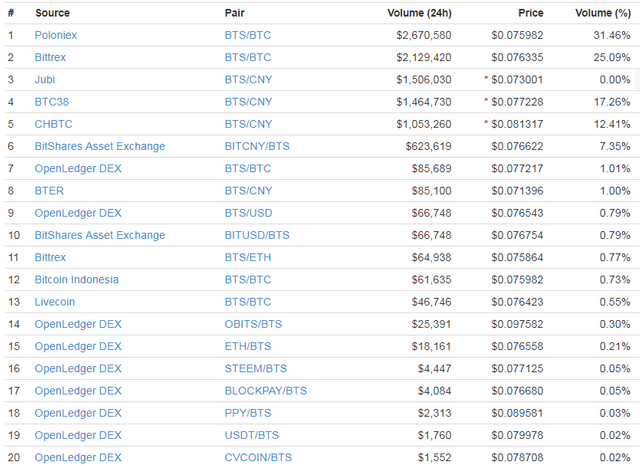 BTC pair runs it but we still see CNY despite upcoming by end of month chinese exchange ban (of course this may change).
OpenLedger which is the most popular exchange on BTS is also high with bitCNY a CNY pegged coin. Livecoin also gets some volume and others are pretty much out of equation.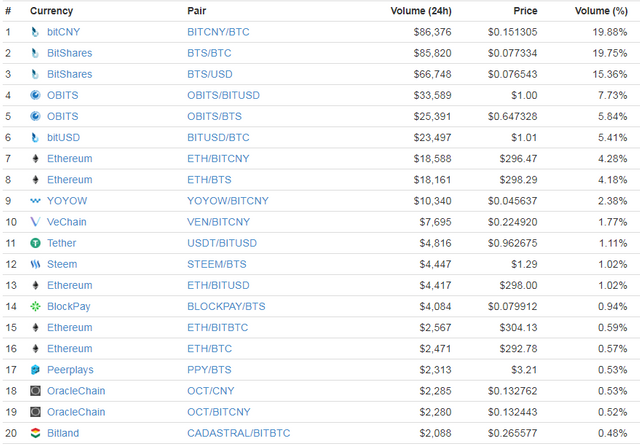 Native BTS exchange also has CNY as top currency traded with OBITS (natural token of OpenLedger also on Livecoin) and Chinese YOYOW VEN. STEEM looks not bad there and often EXCL and LISK is good deal to buy on this one. You can try to arbitrage some of those with HitBTC listnings.