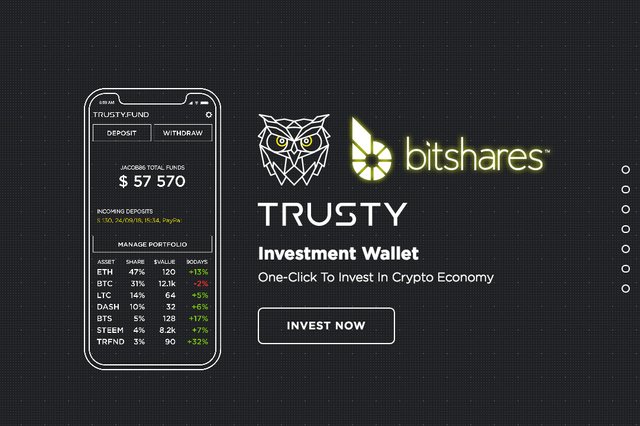 ---
New Mobile App - Open Source and User Friendly 👍
22nd April 2018
@Trusty.Fund is not a person, company or a portfolio management team. It is an open-source wallet for more consumer-friendly crypto investment, with cutting-edge tools for managing a harmonized portfolio of assets. The app is based on the BitShares blockchain (bitshares.org), using vue.js API library. The app employs a slick account creation process combined with a user-friendly brain key backup process. So just like in BitShares, this means the keys never leave your control. However, Only You are responsible for the safety of the Brain Key obtained during signup.
---
Note: Make sure you write down your Brain Key passphrase in different places and store it safely, whenever creating BitShares accounts. This is the only way to access your account! No one but YOU has access to funds which are on the BitShares blockchain.
Verified by Community
---
@apasia.tech team along with community members (more on which below) were called into action upon Trusty arriving to the BitShares Community Telegram group just recently. The code was reviewed, the app tested, and feedback provided. Trusty were able to resolve issues quickly and provided great communication. They announced with a soft-launch last Saturday on the BitShares Open Source Hangout (see below).
Today we are pleased to welcome Trusty.Fund as the first community endorsed mobile wallet for BitShares. We continue to work with Trusty and moving forward look at ways in which they can be supported in building more fiat gateways to BitShares.
Mobile First
---
Trusty is designed specifically for and supported only on mobile devices for now. This allows the team to focus completely on the UI (User Interface) and UX (User eXperience), in perfecting a mobile app; as opposed to all the overheads a fully responsive design entails.
Android native app or Web App (iOS)
---
---
Apple and other devices are supported by going to trusty.fund on a mobile browser, for example, here's the account I have opened (and will continue testing) on Google Chrome for iPhone SE -
---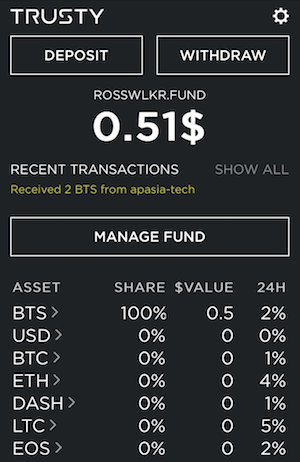 ---
Aimed for all
---
Trusty is aimed at non-experienced users to have a simple means of creating and building and investing in a balanced portfolio of cryptocurrency while having access to a variety of fiat gateways by external parties such as those already available on BitShares. Trusty does not have any fees for usage, however, they ask that 1.4% of a diverse portfolio is held in their token, TRUSTY. In fact, the app has simple settings to set the portfolio percentage of all your holdings and let the app take the strain of balancing them. There will be no ICO planned. As of now, the goal is to evolve into a user-driven mobile eco-system, where it will even be possible to follow the best performing portfolios. The code is open source, and anybody is welcome to inspect it on Github: TrustyFund
---
Futher information about Trusty and their team is available on the website FAQ page
---
Community Feedback
---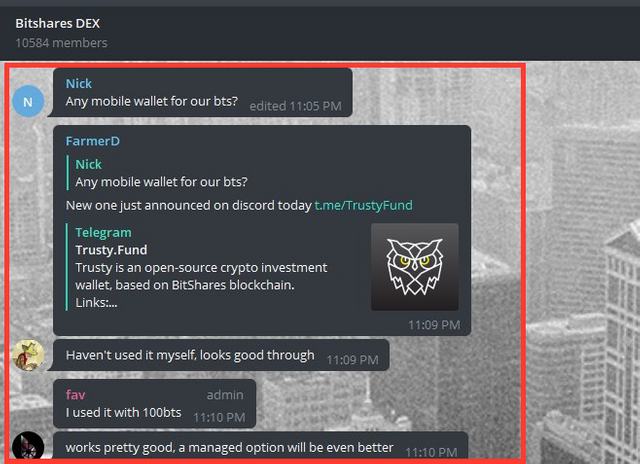 ---
Thanks to @ash (fav) for tests and positive feedback on BitShares DEX Telegram
---
As Featured in BitShares Open Source hangout 21st April 2018
---
Starts at the Trusty guest segment:
---
---
---
---
Learn more about BitShares from previous @apasia.tech articles
---
WARNING: Cryptocurrency investments are volatile and thus speculative. @apasia.tech works for the blockchain technology and community. We do not offer trading advice or investments. Beware of impersonators with fake profiles, who may approach you through any kind of chat groups/social networks.