BITNATION partners with weiDEX exchange
We are glad to announce a new exchange listing! BITNATION partners with weiDEX!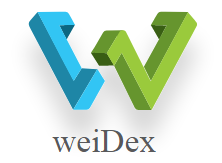 With weiDex, users will enjoy a plethora of extra features not found on other exchanges such as multiple order fulfilment, Bull/Bear Bomb, Crumb Cleaner, high reward referral system airdrops, and our favourite, cross-chain transactions for Ethereum and other Smart Contract platforms and cross-chain atomic swaps.
WeiDEX is immune to the risk factors of centralized exchanges and it is perhaps the first decentralized exchange that incorporates an easy to use user friendly interface. Users are always in control of their funds and there are no withdraw or deposit limits. Further, there is no sign-up hassle or KYC.
WeiDEX entails multiple order fulfilment, which is a unique system where users are only charged the Ethereum gas fee once when filling orders. The Bear/Bull Bomb feature allows users to convert all of their tokens instantly with the press of a button into either Ether or WDX tokens. Another interesting feature is that users can transact between the Ethereum and other smart contract platforms like NEO, Lisk or EOS.
Bitnation's XPAT will be traded on WeiDEX from this moment and we are eager to announce more exchange listings soon!