Background
When I first saw Bitconnect earlier this year, I called it "Crazy". A coin attached to a referal program, mining, stacking and LENDING BOT, half in a "shitcoin" (that havn't been developed on for months) and the other half on centralized services like a website and databases. But today, I think differently about Bitconnect, even it have had some offline days resently and there have been problems with the wallets on the website, I now think that Bitconnect have the potential to be:
THE NUMBER ONE CRYPTO CURRENCY IN THE WORLD WITHIN 1 YEAR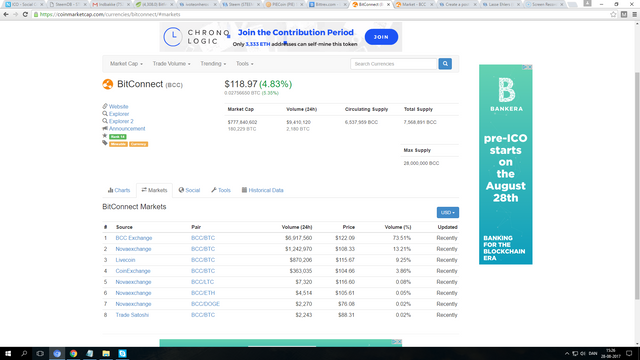 Incentives to stay in business
The number one reason I think that Bitconnect have a great future, is that the company have a huge incentive to stay in business, since the coins value goes up in value, faster then the loans made to the trading bot, meaning that Bitconnect have more then enough money to let this party run for a very very long time.
On the other hand, I have to be realistic, it could be that one day (maybe years from now) then Bitconnect will run away with all the money and the BCC token will go to zero.
It pays more to stake the coin then to lend to the bot, but the outcome of lending to the bot, is more stable then staking.
When you stack the BCC token in the Bitconnect wallet, you currently get 8% in interest and the value of the BCC token have been doubling on average each month! When you lend to the bot, you get around 40% in interest pr month.
https://bitconnect.co/?ref=lasseehlers
*This is not financial advise, but you have the option to play the Bitconnect game together with the rest of us: